Man arrested on suspicion of arson in wildfire that has devastated Northern California community
Firefighters work to contain embers on the remains of a house destroyed by the Clayton fire in Lower Lake, California.
(Gabrielle Lurie / AFP/Getty Images)
A marijuana plant is seen covered in fire retardant material in Lower Lake, Calif.
(Elijah Nouvelage / Getty Images)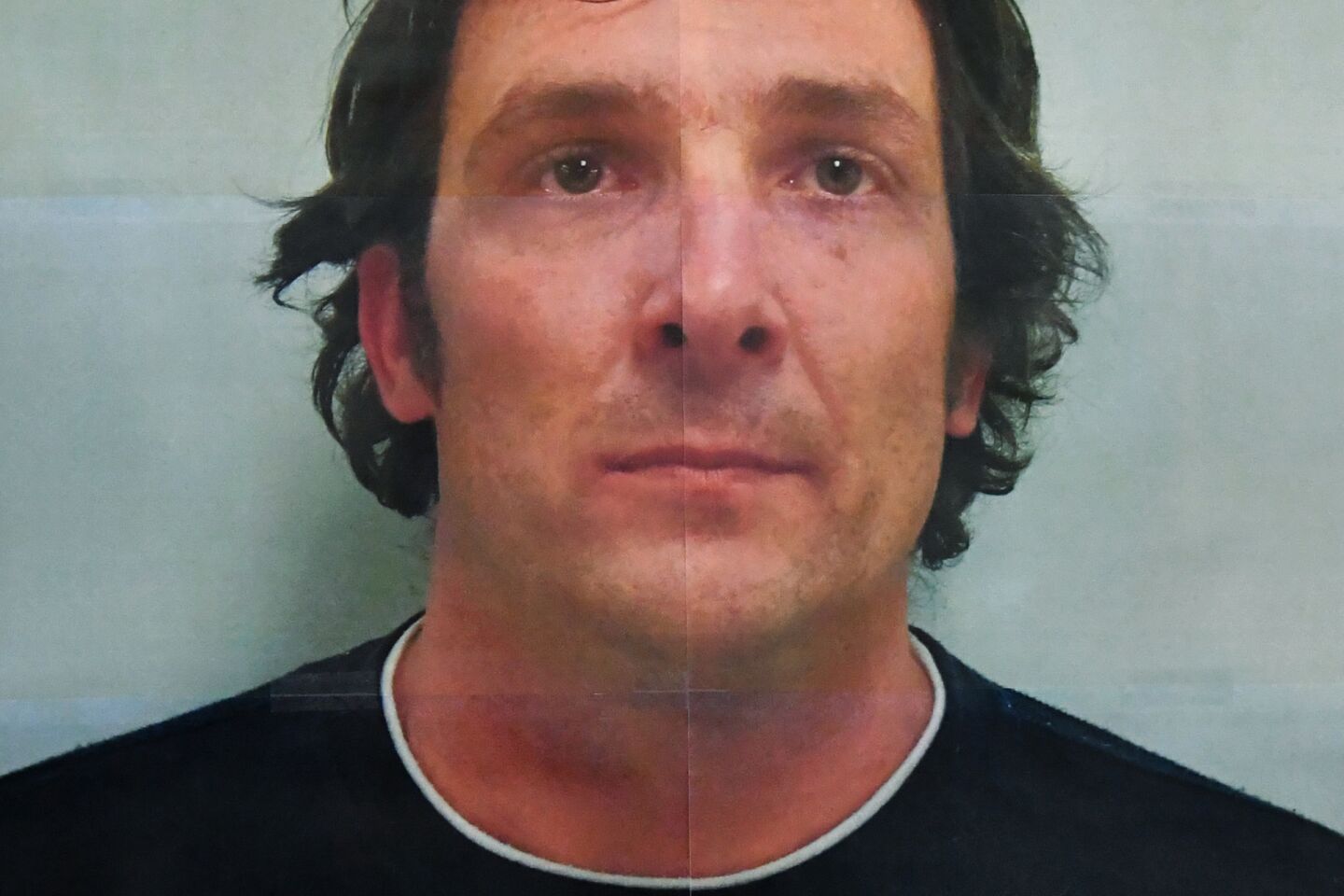 Damin Pashilk, seen here in a poster on display at a news briefing in Middletown, Calif., was arrested on arson charges. Officials say he sparked a wildfire that exploded over the weekend in the Northern California town of Lower Lake.
(Josh Edelson / Associated Press)
Juan Tapia, left, and Alicia Palominos hug their granddaughter Emily Avalos, 1, during a news conference where it was announced that a California man had been arrested on arson charges in connection with a wildfire in Lower Lake, Calif.
(Josh Edelson / Associated Press)
Firefighters work to control flames as a home burns in the town of Lower Lake, Calif.
(Josh Edelson / Associated Press)
Tyrol Martin of the U.S. Forest Service douses flames as a structure burns near the town of Lower Lake, Calif.
(Josh Edelson / Associated Press)
Hannah Lee coordinates with a friend to save horses as flames approach the town of Lower Lake.
(Josh Edelson / Associated Press)
A firefighter rescues goats as flames envelope the area in Lower Lake.
(Josh Edelson / Associated Press)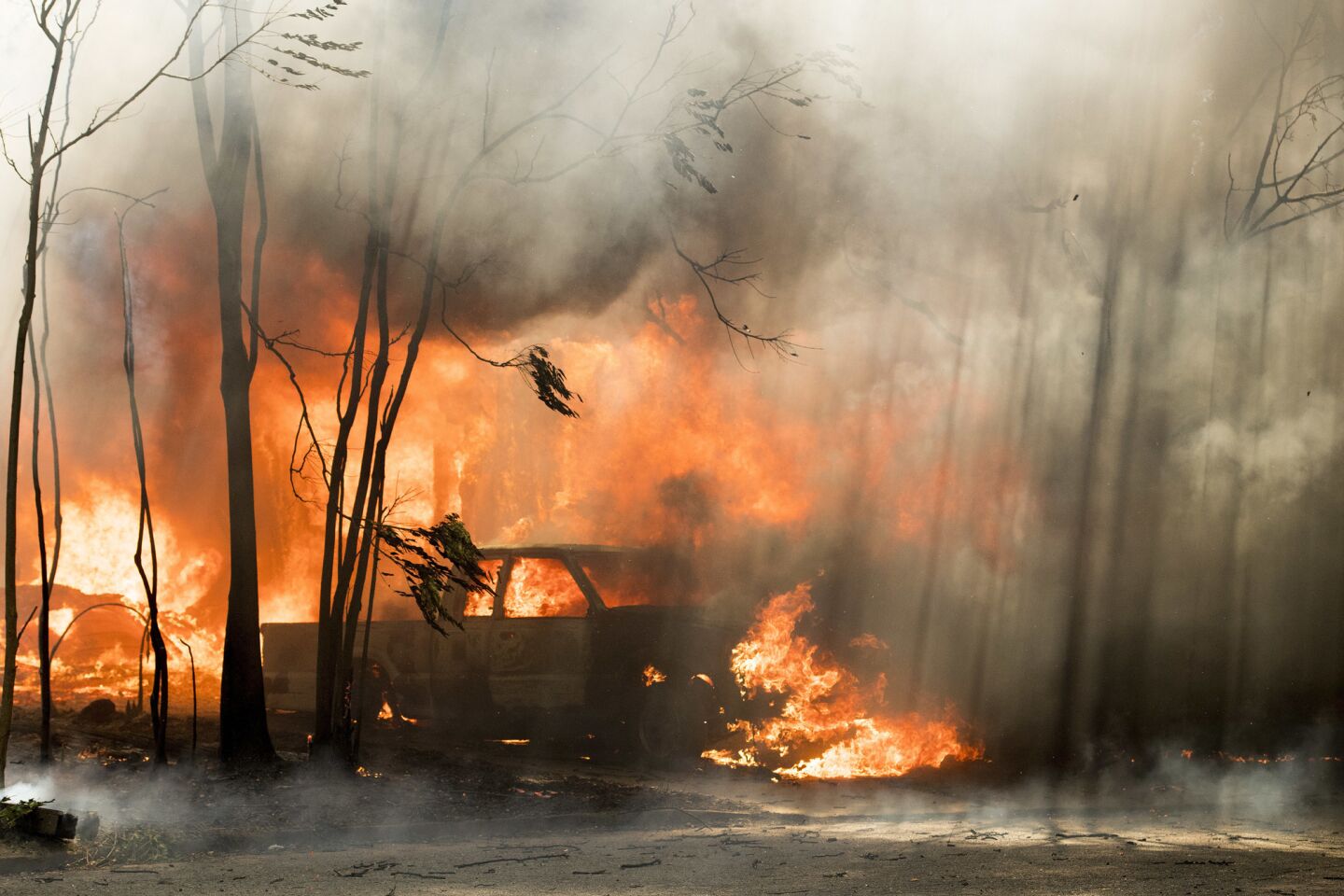 A truck burns in the town of Lower Lake. A wildfire destroyed homes and forced thousands of people in two Northern California towns to flee as flames jumped a road and moved into populated areas.
(Josh Edelson / Associated Press)
A firefighter battles flames as a house is engulfed in the town of Lower Lake, located more than 100 miles north of San Francisco.
(Josh Edelson / Associated Press)
Firefighters battle flames as a house burns in Lower Lake.
(Josh Edelson / Associated Press)
Firefighters work to control flames as the Terrill Cellars Winery burns along Main Street in Lower Lake.
(Josh Edelson / Associated Press)
A helicopter drops water on Lower Lake, where signs and lamp posts are covered in fire retardant.
(Josh Edelson / Associated Press)
Reporting from Middletown, Calif. —
Residents of Lake County were just beginning to recover from a deadly series of wildfires that destroyed more than a thousand homes last summer when a firestorm this weekend blazed a new path of destruction and despair through the rural pocket of Northern California.
The 4,000-acre Clayton fire — which authorities said late Monday was arson — spread with frightening speed through the small town of Lower Lake on the southern edge of Clear Lake, ravaging Main Street and wiping out much of its small commercial district.
Thousands of people — some of them already dubbed "fire survivors" after last year — fled as they awaited word on whether their homes and businesses were still standing. By Monday afternoon, the fire had destroyed at least 175 structures and threatened 1,500 more, according to the California Department of Forestry and Fire Protection. It was only 5% contained.
Lake County Sheriff Brian Martin said late Monday that Damin Pashilk, a resident of nearby Clearlake, had been arrested and booked on multiple counts of arson in connection with the Clayton fire and other fires in the area during the last year.
For some evacuees at the shelter in Middletown, the arrest of Pashilk was the first good news in days, and the crowd burst into applause.
At Hardester's Market & Hardware in Middletown, clerks on Monday said they had already met their first double-fire survivors: a family burned out of Middletown by the Valley fire just lost their new home in Lower Lake right up the road.
"We were just starting to recover," lamented store owner Ross Hardester. The area got through those first bleak months and was starting to see permits being issued and new homes going up on charred lots.
"Now this," Hardester said. "So many people are on edge again."
The ferocious spread of the Clayton fire offers fresh evidence of how five years of unrelenting drought in California leave the state particularly vulnerable to destructive wildfires this year. Wildfires this year have already burned more than 360 square miles and destroyed more than 400 homes and other structures.
Major fires have hit across the state including San Diego, Kern, Monterey, Los Angeles and San Luis Obispo counties, fueled by bone-dry brush and, in some area, miles of dead or dying trees. Fire officials are warning the worst might still be ahead in Southern California, where the traditional fire season — fueled by hot Santa Ana winds — doesn't begin until the fall.
But the situation in the Lake County area is particularly troubling given the devastating fires that hit the same area last year. Together, the Rocky, Jerusalem and Valley fires burned more than 170,000 acres and destroyed more than a thousand homes. The Valley fire killed four people.
"Emotions are significantly raw from the Valley fire," said state Sen. Mike McGuire (D-Healdsburg) at a fire briefing in the town of Middletown, which was devastated 11 months ago by the fire, one of the most destructive in state history. "This is the last thing we needed in the county of Lake."
The fast-moving Clayton fire broke out late Saturday afternoon off Highway 29 and Clayton Creek Road, according to Cal Fire.
It's unclear how arson investigators linked Pashilk to the blaze, or how the fire ignited. Cal Fire Chief Ken Pimlott said Pashilk had been under investigation for about a year.
Pashilk, 40, faces 17 counts of arson in connection with the Clayton fire and other recent fires. He was being held in the county jail, according to the sheriff.
Extreme heat and low humidity, combined with drought-dried brush, fueled the fire's growth, and it doubled in size Sunday as it reached Main Street in Lower Lake, officials said.
Daytime high temperatures near the fire are expected to hover around 100 degrees through Wednesday before cooling slightly going into the weekend, said Eric Kurth, a meteorologist with the National Weather Service in Sacramento.
Fire officials said the wildfire gained ground Monday at a much slower pace than it did over the weekend. Bulldozer operators spent much of Sunday night and Monday morning carving extra-wide fire lines along the town of Clearlake's eastern border in an effort to corral the flames, while helicopters and tankers dropped fire retardant and buckets of water. More than 1,600 firefighters were battling the blaze, and the cost of the firefighting effort has reached nearly $5 million, according to Cal Fire.
Martin, the county sheriff, called Lower Lake "very, very devastated, on the order of the Valley fire, just in a smaller community."
"Entire neighborhoods have been decimated and destroyed," he said.
On Sunday afternoon, McGuire tweeted a photo of a smoky street in Lower Lake.
"Words cannot express sorrow," he wrote.
McGuire had spent the last year immersed in the county's struggles as it tried to rebound. On Sunday, he took a new role, joining sheriff's officials in going door-to-door to warn Lower Lake residents to leave.
"The senator at my door!" said a surprised Manny Cook, 34, who heeded the warning to leave and was parked Monday at Twin Pine Casino & Hotel in Middletown, which is serving as an American Red Cross evacuation center. Three people, three dogs, six snakes, a bird and a kitten were jammed into his red GMC Sonoma.
Nearly 200 people forced out of their homes in Lower Lake spent Sunday night at Twin Pine. The casino was certainly ready: The Red Cross had left behind two trailers of cots and care kits when it pulled out of town last year, and the casino had opened itself up as a fire shelter even before being declared one, said Kyle Lewis, a spokesman for the facility.
People who lost their homes in last year's fires had lived for months at Twin Pine, and the last of them left just a few weeks ago, Lewis said.
The back-to-back wildfires have changed how Lewis, 37, a relative newcomer, views life in the rolling hills of Lake County. He was evacuated from his home last year for a week and considers himself lucky to have just had superficial property damage. He knows many others who lost everything.
"I think it has made us a very strong community that I am very proud of," he said.
Tessie Espinosa said she fled her Lower Lake house the moment she saw smoke.
"We've learned that you can't trust for warnings to get out," she said.
Espinosa is an administrator for the senior center in Middletown, where elderly clients interrupted her every few minutes Monday for updates on what was destroyed the night before and what was still standing in Lower Lake. Her tone was light and reassuring — but on the "I am not sure" list is her own house.
She pulled out her phone and showed a state map of the fires that have affected the region. She pointed at a small, unburned area in the center.
"That's where we live," Espinosa said.
Last year's Rocky fire, which started about 9 miles east of Lower Lake and burned for two weeks in July and August, burned more than 100 square miles of forest and destroyed 43 homes. State fire investigators said that fire was sparked by a malfunctioning gas water heater.
The Jerusalem fire started a few days later, just south of the Rocky fire, and destroyed six homes. The fires briefly ran alongside each other.
The Valley fire — the third-most-destructive wildfire in state history — burned for more than a month in Lake, Napa and Sonoma counties, starting in September. The fire killed four people and destroyed 1,281 homes and 27 multifamily structures, according to state fire officials.
Last week, Cal Fire announced that a hot tub's faulty wiring ignited the 120-square-mile fire. The property owners are being investigated for possible criminal charges, officials said.
On Monday, Gov. Jerry Brown declared a state of emergency for Lake County, as well as for San Luis Obispo County, where the Chimney fire that broke out near Lake Nacimiento on Saturday had burned 5,400 acres and was 10% contained.
Back at Twin Pine Casino in Middletown, Charles Farrell was camping out in his pickup truck in the casino's parking lot, having evacuated from his home outside Lower Lake. The 63-year-old watched the fast-growing fire across a ridge and stayed there, even when the power went out. But when Farrell's water was cut off, the retiree packed his family, tools and a nervous Chihuahua into the truck and fled.
"It's kinda sad," he said, referring to the blackened, dead trees that are now the landscape of southern Lake County. In addition to the four major fires, there also have been a series of smaller fires this summer, fueling rumors of an arsonist and keeping local fire crews busy.
"We've always had fires, but never this big," one woman said Monday. "And on the anniversary of the last three."
paige.stjohn@latimes.com | Twitter: @paigestjohn
hailey.branson@latimes.com | Twitter: @haileybranson
Times staff writer St. John reported from Middletown and Branson-Potts from Los Angeles. Times staff writer Matt Hamilton contributed to this report.
ALSO
Santa Monica loses another round in effort to close its airport
Mono County doctor pleads guilty to looting Native American artifacts from public lands
Metro subway project through Beverly Hills can continue, judge rules
---
UPDATES:
10:00 p.m.: This article was updated with additional details on the cost of the firefighting effort.
8:35 p.m.: This article was updated with information on the arrest of an arson suspect.
This article was originally published at 7:10 p.m.
The stories shaping California
Get up to speed with our Essential California newsletter, sent six days a week.
You may occasionally receive promotional content from the Los Angeles Times.