13 school workers, librarians indicted in textbook theft ring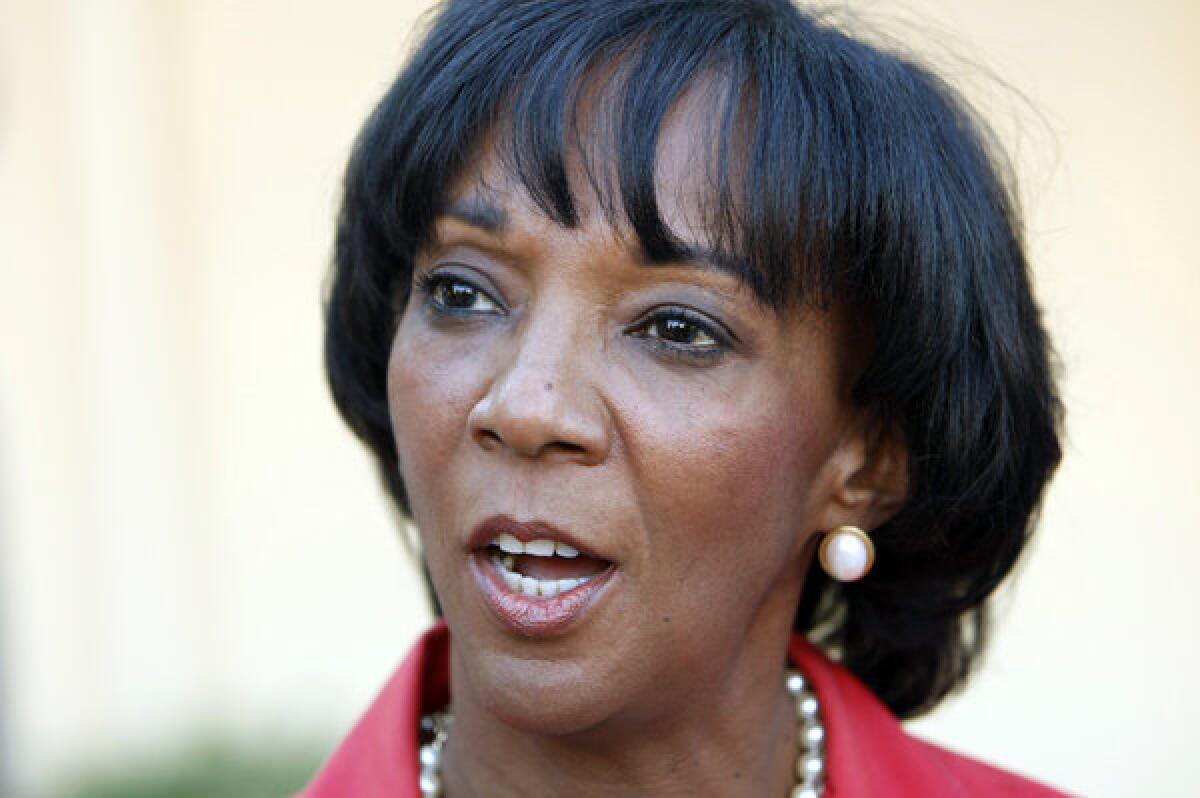 L.A. County prosecutors have charged 13 employees in four of the region's most financially strapped school districts with stealing thousands of textbooks for a book buyer, who allegedly paid them $200,000 in bribes.
A 37-page indictment unsealed Thursday tells of a book-selling scheme in which book buyer Corey Frederick recruited two librarians, a campus supervisor and a former warehouse manager, among others, to allegedly steal thousands of books from schools in Los Angeles, Inglewood and Bellflower.
The scheme ran from 2008 to December 2010, prosecutors said.
In return, the operators of "Doorkeeper Textz" in Long Beach would pay the employees from $600 to $47,000 for acquiring textbooks, which were district property.
In some cases, prosecutors allege Frederick would resell the books through other intermediaries back to the institutions from which they were originally stolen weeks before.
Prosecutors, according to court records, allege the participants pilfered at least 7,000 textbooks from the Los Angeles Unified School District alone.
"Taking books out of the hands of public school students is intolerable, especially when school employees sell them for their own personal profit," Dist. Atty. Jackie Lacey said in announcing the corruption probe.
She called it a "web of deceit at our children's expense."
Prosecutors uncovered the scheme after Inglewood Unified School District police notified prosecutors of an alleged embezzlement in their district.
At the center of scheme was Frederick, a Long Beach book buyer who during a two-year period beginning in 2008 paid a dozen school employees to steal textbooks in literature and language arts, economics, physics, anatomy and physiology, prosecutors said.
The indictment alleges Frederick paid out more than $200,000 in bribes to the school employees. They, in return, allegedly allowed him to take whatever books he requested, even some new textbooks.
Frederick would then allegedly resell the stolen new and used books to various textbook distributors, including Amazon, Seattle book distributor Bookbyte, and Follett Educational Services in Illinois.
Prosecutors on Thursday said the districts so lacked any organized tracking system that they cannot say with any certainty how many books were stolen.
As the alleged mastermind, Frederick is charged with 12 counts of embezzlement and 13 counts of offering a bribe. The individual school employees face charges of embezzlement and accepting a bribe.
Among those accused of accepting bribes was Veronica Clanton-Higgins, 36, a librarian in the Lynwood Unified School District who allegedly accepted $14,214.
Shari Stewart, 46, a librarian at Crozier Middle School in the Inglewood Unified School District, allegedly received $4,200.
Vincent Browning, a now-retired Bellflower Unified School District warehouse supervisor, allegedly received $47,728.
Frank Fuston, 54, worked as a plant manager in the Inglewood Unified School District when he allegedly received $1,100 in checks and cash.
Sandra Williams, 58, an office technician at University High School in the Los Angeles Unified School District, allegedly received $34,718.
Denise Hill, 57, an office technician at Webster Middle School in LAUSD, allegedly received $4,003, and Dinah Goodlett, 53, an office technician at Locke High School in LAUSD, allegedly received $6,099.
Adrienne Dozier, 62, an office technician at LAUSD's Venice High School, allegedly received $12,798.
Sherry Calloway, 60, an office technician at Audubon Middle School in LAUSD, allegedly received $1,191. Stephanie Baurac-Holmes, 48, an office technician at LAUSD's Perry Middle School and Narbonne High School, received $4,675.
Olalekan Animasaun, 37, an office technician at Santee Education Center in LAUSD, allegedly received $21,573
ALSO:
Hunter who allegedly started Yosemite fire remains free
Extreme heat broils Southern California -- even overnight
San Bernardino officer coerced sex from prostitutes, indictment says
Twitter: @lacrimes| Google+
Sign up for Essential California for news, features and recommendations from the L.A. Times and beyond in your inbox six days a week.
You may occasionally receive promotional content from the Los Angeles Times.