9 killed in bus crash; students bound for college tour on board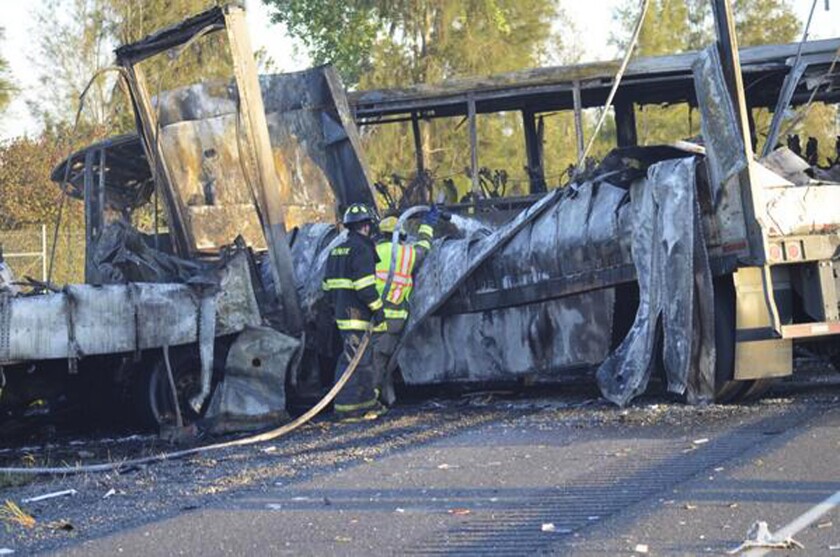 At least nine people were killed Thursday when a tour bus collided with a FedEx truck on the 5 Freeway in Northern California, causing a fire that left dozens of people injured.
The bus was carrying high school students going to Humboldt State University for a spring break tour of the campus, according to university officials.
"Our hearts go out to those who have been affected, and we are here to support them, and their families, in any way possible," said Rollin Richmond, the university's president, in a statement.
There were reports the students were from Southern California, but those have not been confirmed.
The California Highway Patrol said the accident occurred on the northbound 5 near Orland in Glenn County.
A CHP dispatcher told The Times "there were explosions" and that the FedEx truck was engulfed in flames. Photos show both the truck and the bus badly burned.
She said there were 46 people on the bus. It was not clear if the driver of the FedEx truck was injured. A third vehicle involved in the crash, a Nissan Altima, was carrying two people, but neither were injured, she said.
TV stations in Northern California were reporting that the injured were being taken to hospitals across the region and that students were going to a Red Cross facility.
Humboldt State said parents can call (707) 826-5555 for information.
---
The perils of parenting through a pandemic
What's going on with school? What do kids need? Get 8 to 3, a newsletter dedicated to the questions that keep California families up at night.
You may occasionally receive promotional content from the Los Angeles Times.