Amanda Bynes, already on probation, arrested on suspicion of DUI
Amanda Bynes, accompanied by attorney Gerald Shargel, arrives for a court appearance in New York in 2013 on allegations that she chucked a marijuana bong out the window of her 36th-floor Manhattan apartment.
(Bethan McKernan / Associated Press)
Amanda Bynes from the kid's TV show "All That."
(Anne Cusack / Los Angeles Times)
Then-13-year-old TV star Amanda Bynes, sitting with her dog Betty, and her family, and her character "Judge Trudy" on Nickelodeon. From left: Mother Lynn, father Rick, grandmother Ann Organ, brother Tommy and sister Jillian.
(Ricardo DeAratanha / Los Angeles Times)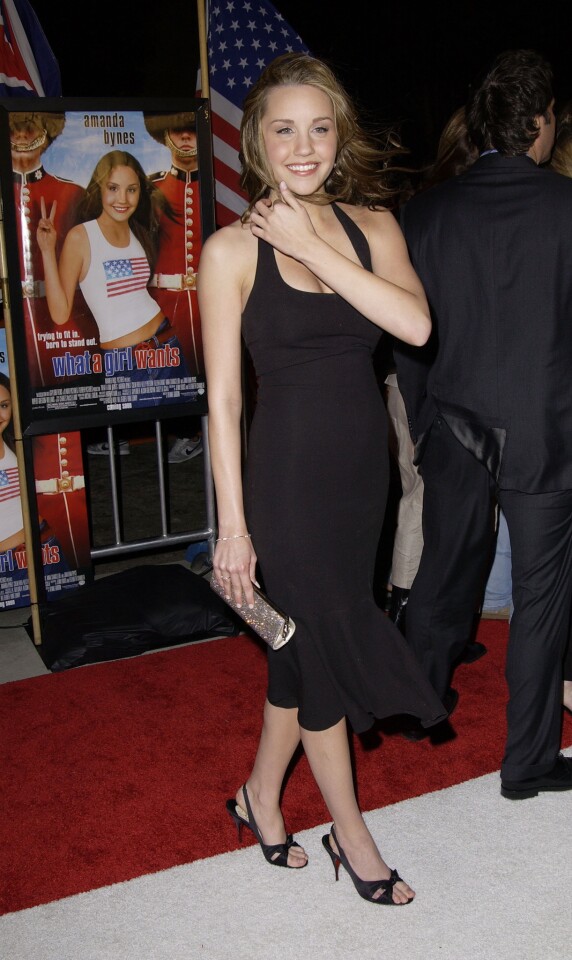 Actress Amanda Bynes attends the premiere of "What a Girl Wants" at the Arclight Cinerama Dome in Hollywood, California.
(Robert Mora / Getty Images)
Amanda Bynes is photographed on the red carpet at the world premiere of "The Matrix Revolutions" at the Walt Disney Concert Hall in Los Angeles.
(Robert Lachman / Los Angeles Times)
Actress Amanda Bynes waves to the cameras as her walks on the red carpet of the 2007 MTV Movie Awards at the Gibson Amphitheater in Universal Studios.
(Stephen Osman / Los Angeles Times)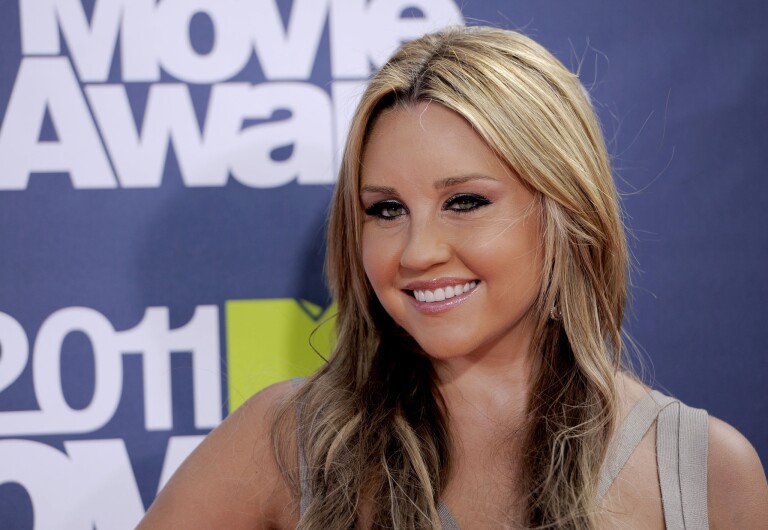 Amanda Bynes arrives at the MTV Movie Awards, in Los Angeles.
(Chris Pizzello / Associated Press)
Actress Amanda Bynes was arrested Sunday morning on a charge of driving under the influence of drugs after she stopped her car in the middle of an intersection in Sherman Oaks, a CHP officer said.
Bynes, 28, a child star turned movie actress who has a history of mental health issues and arrests, was taken into custody about 4:10 a.m. by the California Highway Patrol. Bynes was driving westbound on Riverside Drive when she simply stopped her car at the Van Nuys Boulevard intersection after the traffic signal went red, said CHP Officer Leland Tang.
Tang said Bynes' blood was drawn, but he does not know what kind of drugs the actress is alleged to have been using. She was released from custody at 12:44 p.m. Sunday.
An Irvine resident, according to booking information, Bynes had been attending design school in Orange County.
In April 2012 she crashed her car into a Los Angeles County sheriff's deputy's cruiser. She was convicted of reckless driving in February for that incident. L.A. County Superior Court Judge Edward Moreton sentenced the "She's the Man" star to three years of probation and three months of alcohol education classes.
In the wake of the arrest two years ago, Bynes had several run-ins with law enforcement in L.A. and New York that culminated with her setting a fire in the driveway of a Southern California home and being taken into custody on a mental health hold last year by the Ventura County Sheriff's Department.
Bynes entered a psychiatric treatment facility, and her mother, Lynn, was granted conservatorship of the actress.
In recent months, Bynes has been attending the design classes while continuing treatment.
She is already on probation in California for driving with a suspended license and was accused in New York of throwing a glass bong out her 36th-floor Manhattan apartment.
Follow Southern California crime @lacrimes
---
The stories shaping California
Get up to speed with our Essential California newsletter, sent six days a week.
You may occasionally receive promotional content from the Los Angeles Times.