Bakersfield man who sold drugs stolen by cops is sentenced to prison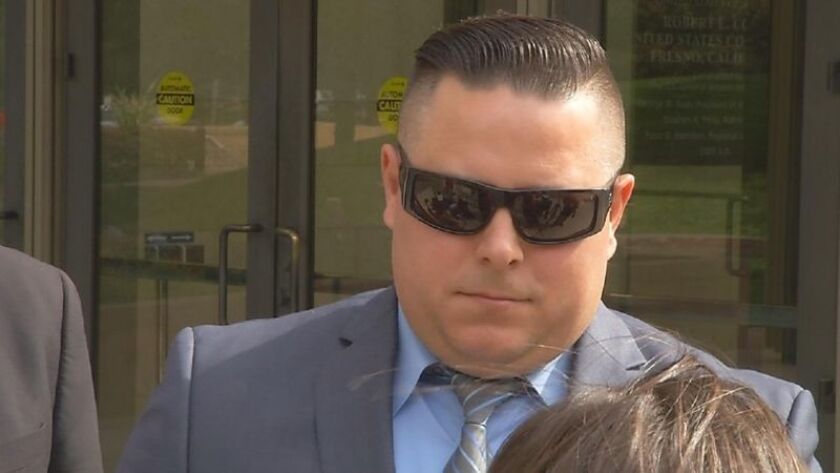 A Bakersfield man was sentenced Tuesday to 7 ½ years in federal prison followed by five years of supervised release for conspiring with two Bakersfield police officers to distribute methamphetamine and marijuana that the officers had seized while on patrol.
Federal prosecutors said in a 2017 indictment that for three years Bakersfield Police Officers Damacio Diaz and Patrick Mara deliberately failed to submit seized drugs into the evidence room and instead provided the stolen narcotics to Noel Carter, 45, so he could sell them for profit.
Mara and Diaz are already serving prison sentences for their roles in the drug ring.
Two Kern County sheriff's deputies have also been convicted of conspiracy to distribute marijuana after being accused of working with Mara and Diaz.
Carter would break down the pounds of drugs he got from the officers into "retail units" of ounces or less and repackage them for sale, federal prosecutors wrote in a sentencing memorandum. Carter also determined the selling price of the drugs, collected the funds and kept a large percentage of the profits for himself, prosecutors wrote.
"Carter in essence ran his own private drug operation," prosecutors wrote. "The officers simply were the suppliers of drugs to Carter's drug organization. Carter was in control of all aspects of the sale and distribution of the drugs."
Prosecutors also said Carter was the manager of a short-term office rental business and would leave envelopes of methamphetamine inside a locked mailbox there for an unindicted co-conspirator to pick up with a keycard Carter provided.
Carter would monitor the person's distribution and sales figures, and the co-conspirator would leave money for Carter in the same mailbox.
Carter was ordered to pay $70,513 in restitution to his former employer and to forfeit $286,251 representing proceeds from his drug trafficking activity, according to the U.S. attorney's office. Carter admitted to embezzling money from the company and depositing the money into his personal account.
The Bakersfield officers were caught in 2015 after another drug dealer they protected revealed their behavior to federal agents. It was a huge fall from grace for Diaz, who was well known in the Central Valley as being a member of the high school cross-country running team portrayed in the 2015 Disney movie "McFarland, USA."
In May 2016, Diaz pleaded guilty to possessing with the intent to distribute methamphetamine, as well as receiving bribes and making a false income tax return. In June 2016, Mara pleaded guilty to conspiring to distribute and to possessing with the intent to distribute methamphetamine.
Former Kern County Sheriff's Deputies Logan August and Derrick Penney were sentenced to three years of probation in a plea bargain with federal prosecutors after they were accused of stealing marijuana from the sheriff's evidence storage unit. The pair confessed to FBI agents that they took marijuana and sold it.
Some of the profits from those sales went to Mara, according to federal court records.
---
For reporting and exclusive analysis from bureau chief John Myers, get our California Politics newsletter.
You may occasionally receive promotional content from the Los Angeles Times.