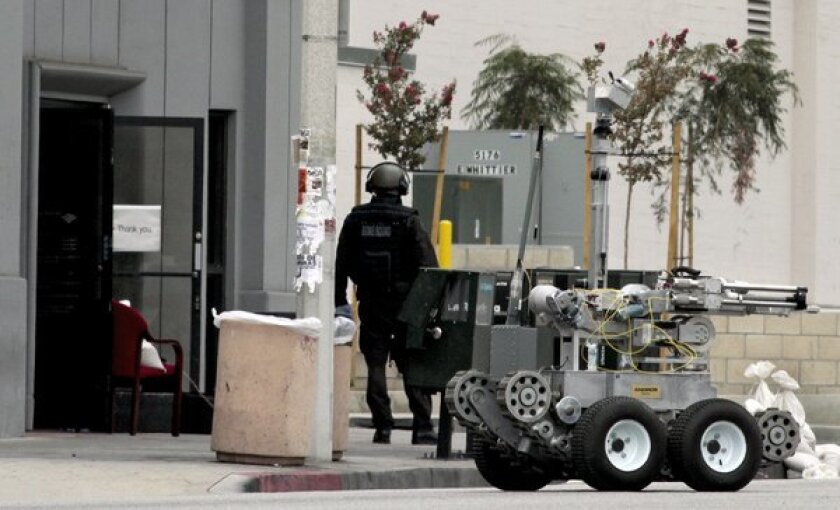 The assistant bank manager who allegedly stole $565,500 from her own East L.A. branch last September because she claimed she thought a fake bomb strapped to her was real has now been indicted by federal prosecutors for being part of the bank robbery crew behind the heist.
Aurora Barrera and her then-boyfriend, Reyes "Ray" Vega, have been indicted by a federal grand jury on suspicion of conspiracy to commit bank robbery and aiding and abetting a bank robbery.
Barrera and Vega are due in a downtown federal courtroom Friday afternoon.
According to the federal indictment, Vega arranged for Barrera to to strap on a fake bomb so she would appear to be a hostage — setting the stage for him to rob the bank in September. Barrera helped Vega formulate the plan, using her knowledge of the South Atlantic Boulevard branch, according to documents.
Vega is one of three men previously indicted on a charge of conspiracy to commit bank robbery. Richard Menchaca and Bryan Perez were also indicted as being part of the bank robbery crew.
Barrera initially told investigators she had been kidnapped from her Huntington Park home by black men, made to wear a bomb and ordered to empty the bank vault or face death.
But a new indictment says she made that story up and was actually working with the bank robbers.
Perez and Menchaca cased the bank the evening before the crime, the indictment says, and early the next morning took a car registered to Vega's father and used it to pick up the money.
On the morning of the Sept. 5 robbery, Vega -- with Barrera's permission -- "attached an item resembling an explosive device" to the assistant bank manager so it would appear Barrera was a hostage in a bank robbery."
Barrera entered the bank about 8:30 a.m. and told her colleagues about the device. The fake explosive was so convincing that another employee helped the woman empty the safe of $565,500, according to the indictment.
The assistant bank manager placed the money outside the bank's door, where Menchaca picked it up, according to the indictment.
A Los Angeles County Sheriff's Department bomb squad used a robot to pry the device off the woman and determined that it was not a bomb.
The money was split up at a hotel later that day, according to the indictment.
ALSO:
Simi Valley fireworks disaster caused by faulty pyrotechnic shell
Montebello mayor's husband arrested on suspicion of selling meth
Two San Bernardino councilmen charged in separate criminal cases

Twitter: @lacrimes| Google+
---