San Bernardino County prosecutors clear Barstow officers in shooting of black man at wheel of Mustang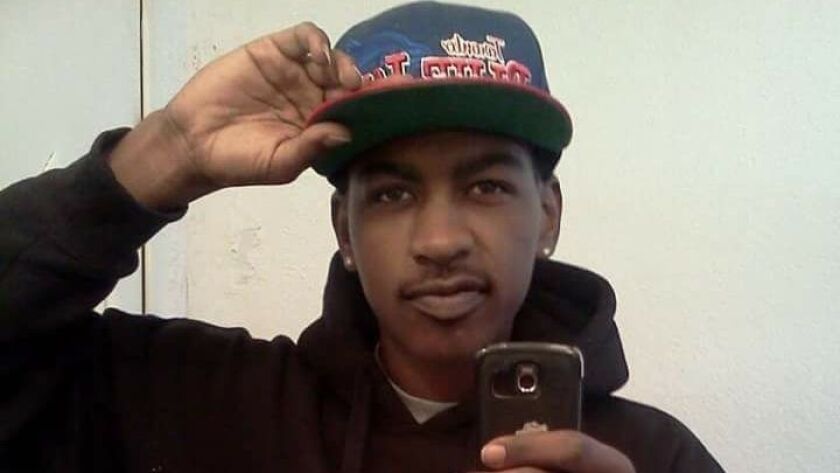 Prosecutors Thursday declined to charge four Barstow police officers who fatally shot a black man while he was at the wheel of a car, finding that they reasonably used deadly force to protect their lives when the vehicle clipped one of them.
Diante Yarber, 26, was driving the black Ford Mustang in a Walmart parking lot when officers fired 30 rounds into the vehicle on April 5. His death received widespread publicity and sparked large protests in front of Barstow City Hall and police headquarters. The incident came a month after the high-profile killing of another African American young man, Stephon Clark, by police in Sacramento.
Yarber was wanted in connection with a stolen vehicle, and officers believed he was likely at the wheel because the car was registered to a relative, a report by the San Bernardino County district attorney's office said.
"The officers were aware Yarber was a gang member known to carry guns and run from law enforcement," the report said.
Citing body cams recordings, prosecutors said Yarber ignored instructions to turn off the ignition and show his hands after he was stopped.
Instead, he "put the Mustang in reverse" and struck the front of a patrol car, the report said. Yarber then accelerated the car toward an officer who pointed his handgun and ordered the driver to stop. Hemmed in, Yarber reversed and struck a passenger who had bolted from the Mustang.
Yarber careened the car into another patrol car and then struck Officer Vincent Carrillo in the left thigh after putting the car in reverse. ,After Yarber drove forward and struck another patrol car, Carrillo and Cpl. Jose Barrientos, "afraid for their safety," fired their handguns, the report said. Officers Matthew Helms and Jimmie Walker "almost simultaneously" opened fire, the report said.
The Mustang then rolled to a stop after striking a patrol car and a civilian vehicle and officers called for medical help to render aid.
"In this case, Officers Carillo, Officer Helms, Officer Walker and Corporal Barrientos each had an honest and objectively reasonable belief that Yarber posed a threat of seriously bodily injury or death to themselves," prosecutors wrote.
Yarber was pronounced dead at the scene while a 23-year-old female passenger was airlifted to a trauma center with multiple gunshot wounds. Two other young men fled from the car during the incident, officials said. Yarber is the father of three girls, ages 9, 7 and 1.
Yarber had prior convictions for fleeing the police and misdemeanor domestic violence and was on three years' probation at the time of the shooting. Court records show he was charged in March with violating his community supervision.
The report from prosecutors noted the background of two of the officers. Walker in 2010 was charged with four misdemeanors including violating a person's civil rights and he later pleaded guilty to disturbing the peace and public intoxication.
Another officer at the scene, who did not shoot, also had a troubled history. Officer Andrew Buesa while at the Los Angeles Police Department was discharged in connection with misconduct in a 2002 arrest
Yarber's family has said the shooting was unjustified and filed a federal lawsuit claiming excessive force was used.
Grainy cellphone video from the scene captured the sound of gunfire as police rounds pierced the vehicle and appears to show the Mustang moving slowly backward as the officers fired. But the video does not show the full incident.
"BPD Officers Walker, Barrientos, Carrillo and Helms drew their weapons and began to shout profanities and other violent threats at Diante Yarber as he attempted to step out of the vehicle," the lawsuit alleges. "The BPD Officers began to take aim at the vehicle and shout threats, profanities and racial slurs."
Family attorney S. Lee Merritt has alleged officers never attempted to render aid to the dying man. Merritt and Yarber's family had demanded that the officers face criminal charges.
Twitter: @lacrimes
---
The perils of parenting through a pandemic
What's going on with school? What do kids need? Get 8 to 3, a newsletter dedicated to the questions that keep California families up at night.
You may occasionally receive promotional content from the Los Angeles Times.