Caitlyn Jenner discusses jail time in fatal crash case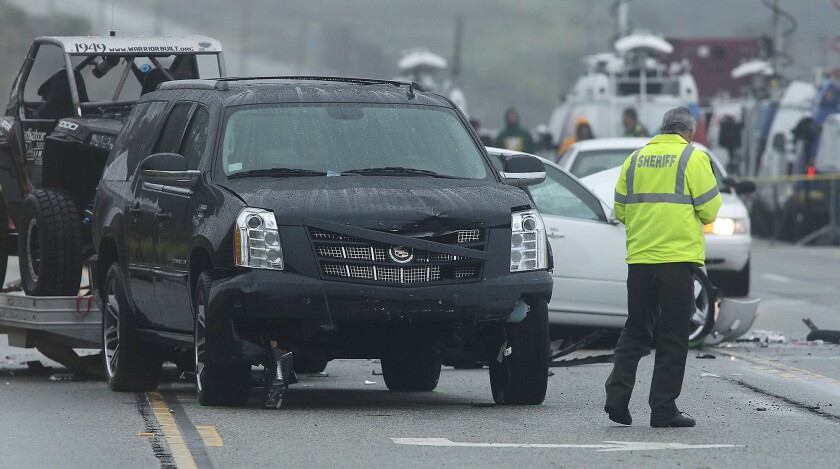 As prosecutors decide whether to file charges against her in a fatal accident on Pacific Coast Highway earlier this year, Caitlyn Jenner discussed the case in an interview broadcast this week.
While legal experts doubt Jenner would face jail time even if charged, she talked about that possibility.
"The media wants that picture, don't they?" Jenner told NBC's "Today" show, with a laugh. "That is the worst-case scenario. I don't know. We'll see. The men's county jail. It is an enormous problem that they would put trans-women in a men's county jail."
L.A. County sheriff's officials said Jenner was driving at an unsafe speed Feb. 7 when her Cadillac Escalade rear-ended Kim Howe's Lexus, sending it into oncoming traffic, ultimately leading to the 69-year-old driver's death.
Interested in the stories shaping California? Sign up for the free Essential California newsletter >>
Jenner was pulling an off-road vehicle on a trailer and had to suddenly slow as vehicles in front stopped. Authorities say Jenner was complying with the speed limit but moving too fast for the road conditions that day. Howe died at the scene after Jenner's SUV hit her car and sent it into the path of a Hummer coming in the opposite direction.
The Los Angeles County district attorney's office will review the investigators' report and decide whether to charge Jenner. Typically, a single misdemeanor manslaughter charge could carry a sentence of a year in jail, though legal experts say a jail term would be unlikely.
On NBC, Jenner said of the accident: "A tragedy like this, you'll never get over it. You just learn to live with it the best you possibly can."
In an earlier statement, Jenner has called the crash a "devastating tragedy," saying, "I cannot pretend to imagine what this family is going through at this time. I am praying for them."
Legal experts describe the charge Jenner could face as low-level.
"Basically, anyone can get into this situation behind the wheel like Ms. Jenner. There is no drugs or alcohol involved. This is just unsafe driving," said attorney Dmitry Gorin, a former Los Angeles County prosecutor. "I remember a law professor getting charged.... If you commit a road infraction that results in a death, that becomes a traffic misdemeanor manslaughter."
For more crime news, follow @LAcrimes.
ALSO:
Here's why Caitlyn Jenner could face a manslaughter charge
With accidents aplenty on PCH, Malibu greenlights safety improvements
Caitlyn Jenner faces new lawsuit in deadly PCH crash
---
The perils of parenting through a pandemic
What's going on with school? What do kids need? Get 8 to 3, a newsletter dedicated to the questions that keep California families up at night.
You may occasionally receive promotional content from the Los Angeles Times.