California storms help where it counts: Sierra snowpack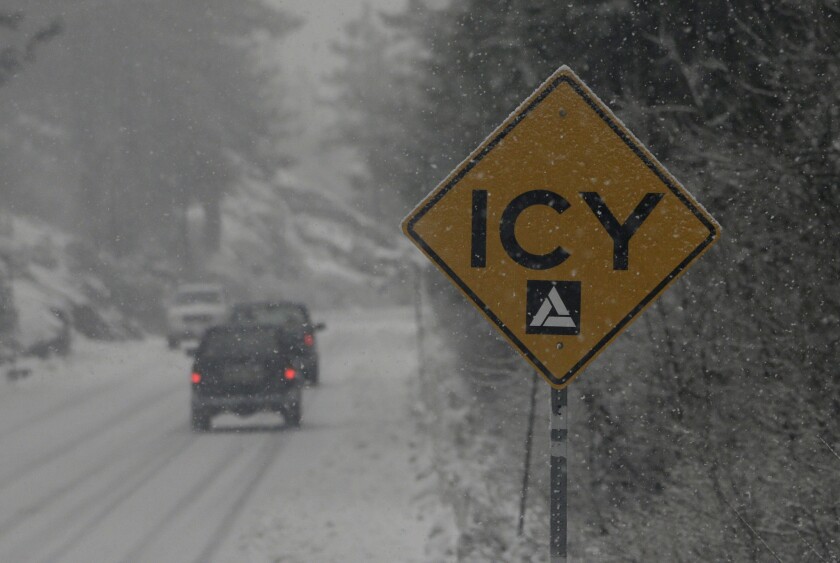 This week's heavy rains are expected to aid California in one of the places it needs the most help: the depleted Sierra snowpack.
Forecasters told state water officials that the storm is expected to add several feet of snow in parts of the Sierra. The state's snowpack is important because when it melts during the summer months, the water can replenish reservoirs.
Snowpack was essentially depleted by the late spring of this year, according to state data.
The recent rains have helped boost the snow pack. As of Friday, it had climbed to 40%.
Water officials have maintained that significant storms such as last week's drenching and this week's downpour would need to continue throughout the winter to make a significant impact on the drought.
The Department of Water Resources measures precipitation at eight stations in the Northern Sierra, which had recorded 18.3 inches of precipitation as of Friday morning or 145% of normal, according to department data. DWR experts have said the state would need about 75 inches of rain by the end of the water year (Sept. 30) to end the drought.
In a sign of the state's dire desire for rain, officials at the DWR flood center packed a standing-room only briefing Thursday morning to hear from the National Weather Service. Forecasters gave officials reason to believe that more rain will arrive in the coming weeks, too.
"This is an atypical winter as far as the last two or three years is concerned," said state Department of Water Resources spokesman Doug Carlson. "We're certainly encouraged that we seem to have broken the [dry] pattern at this snapshot in time, but … it's a long marathon run.
"To have a significant impact on the drought, rainfall would have to duplicate what we're seeing this week and last week over and over again. … We're not even really seeing the light at the end of the tunnel, yet. "
For more, follow @MattStevensLAT.
---
The stories shaping California
Get up to speed with our Essential California newsletter, sent six days a week.
You may occasionally receive promotional content from the Los Angeles Times.