Alan Canter, owner of Los Angeles landmark Canter's Deli, dies at 82
Alan Canter, owner of Canter's Deli, a Los Angeles fixture for decades, died Friday at 82 of natural causes, his family announced.
"He kept his family legacy alive and built an L.A. landmark," relatives wrote in a tribute on Facebook. "He worked 18 hour shifts and took pride in hand-cutting each fruit cup. He taught his children how to run this business just as his father taught him. We are deeply saddened by this loss."
A memorial is scheduled for Monday at 12:30 p.m. at Mount Sinai Memorial Park in Los Angeles, the restaurant said.
Canter's father, Ben, along with his uncles, opened the original deli in 1931 in Boyle Heights. By 1953, Canter's had moved into its present home, the old Esquire theater building at 419 N. Fairfax, and become a 24-hour restaurant — one of the first in the city.
Its cocktail lounge, the Kibitz Room, became a late-night post-concert watering hole for the likes of Jim Morrison, Courtney Love and Jakob Dylan, Bob Dylan's son.
The deli remains a popular gathering place for the old and young, and continues to attract its share of celebrities. Before a speech in Los Angeles in 2014, then-President Obama dropped by and struck up conversations with diners about basketball and his failing jump shot.
Despite his family's loss, Marc Canter was busy at work at the restaurant on Saturday, helping customers and juggling phone calls. He took a moment to reflect on his father's legacy.
"He had a big heart and good work habits and good morals. He ran an institution with 150 employees, 24 hours a day, and made a good name for us," he said. "We're a landmark and institution because of the hard years he put in."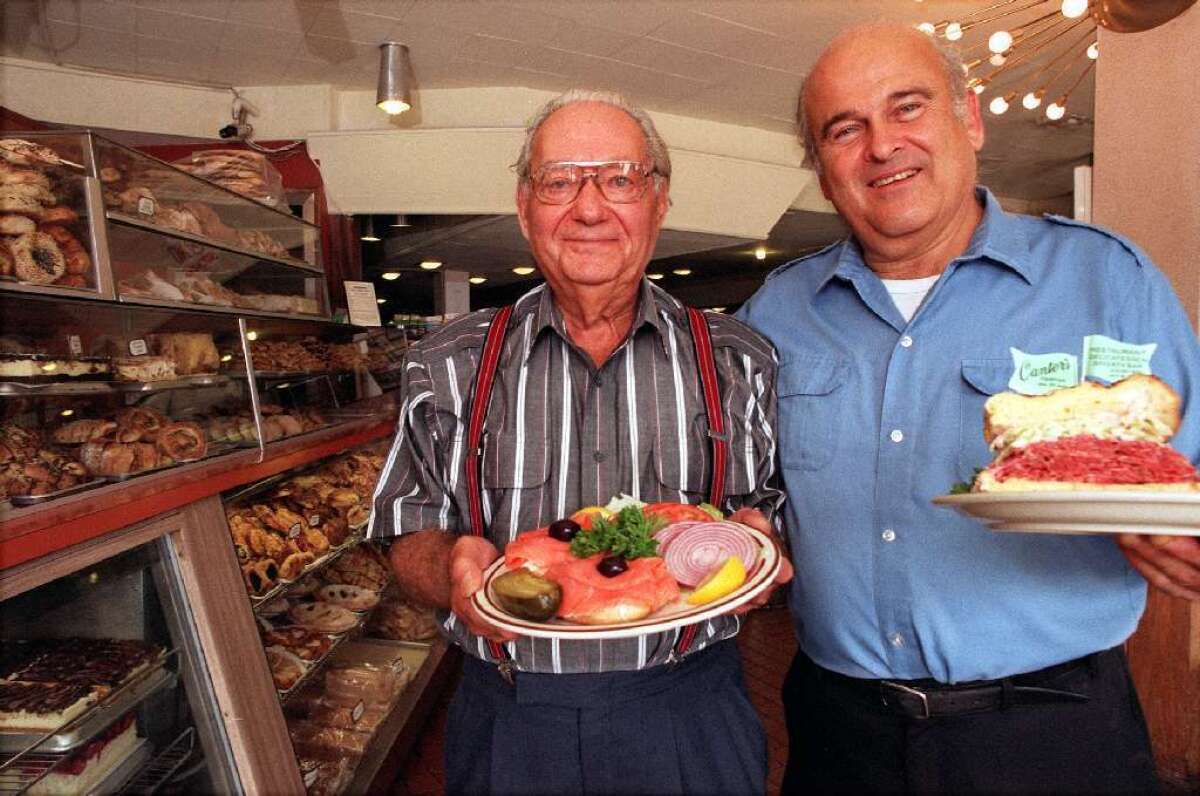 Alan Canter started as a pickle packer and delivery boy when Canter's first moved to the Fairfax area. The restaurant quickly became a fixture in the up-and-coming Jewish neighborhood — the "soul of Fairfax Avenue," as one Times article dubbed it in 1999 — and was a testament to corned beef, hearty pastrami sandwiches, handmade pickles and bagels that customers said tasted good with anything.
Before going into the restaurant business, Alan was a mechanic who loved racing cars and tinkering with new ways to drive faster, Marc Canter said.
"He never lost a race. They even made a rule because of him: Anyone who won the previous week couldn't race the following week, so other people could have a chance."
When Alan took over the family business, no tasks were too small for him: pickling, cutting fruit and selecting all the ingredients with great care before they even got to the restaurant.
Then there was keeping the equipment running: 50 some different refrigeration units. The massive oven for the bakery. "The minute you walk in to work, you're like a pinball in a machine," Marc Canter said. "You get pinged everywhere and just go wherever you need to be."
Working today was what his father would've done, Marc Canter said. "Yesterday when he passed, things kept coming up left and right, and you just have to deal with them. That's what my father did all his life, and that's in our blood."
He always had a joke ready and got a good laugh out of everyone he encountered. When he wasn't working, he was helping anyone who needed a hand.
"He loaned them money, he helped fix things, he always gave to everyone else before him," Marc Canter said. "The only thing I've ever seen him buy for himself was an air conditioning unit for his window.... That was 30 years ago."
Alan Canter is survived by his son, a daughter and five grandchildren. As news of his death trickled out Saturday, thousands of people took to Facebook to share their love for a place where customers keep returning and employees never seem to leave:
Everyone was a friend who walked through the doors at Canter's.
Your fine restaurant has been the source of some of my greatest memories.
My husband ate lunch at Canter's every day for the last two years of his life.
L.A. is not L.A. without Canter's.
And the following words were repeated countless times by customers who shared their engagements, wedding dinners and decades of memories with Alan and his family:
He was the nicest, most generous man. May he rest in peace.
---
The stories shaping California
Get up to speed with our Essential California newsletter, sent six days a week.
You may occasionally receive promotional content from the Los Angeles Times.