An L.A. councilman promoted a charity. Should he have disclosed the donors?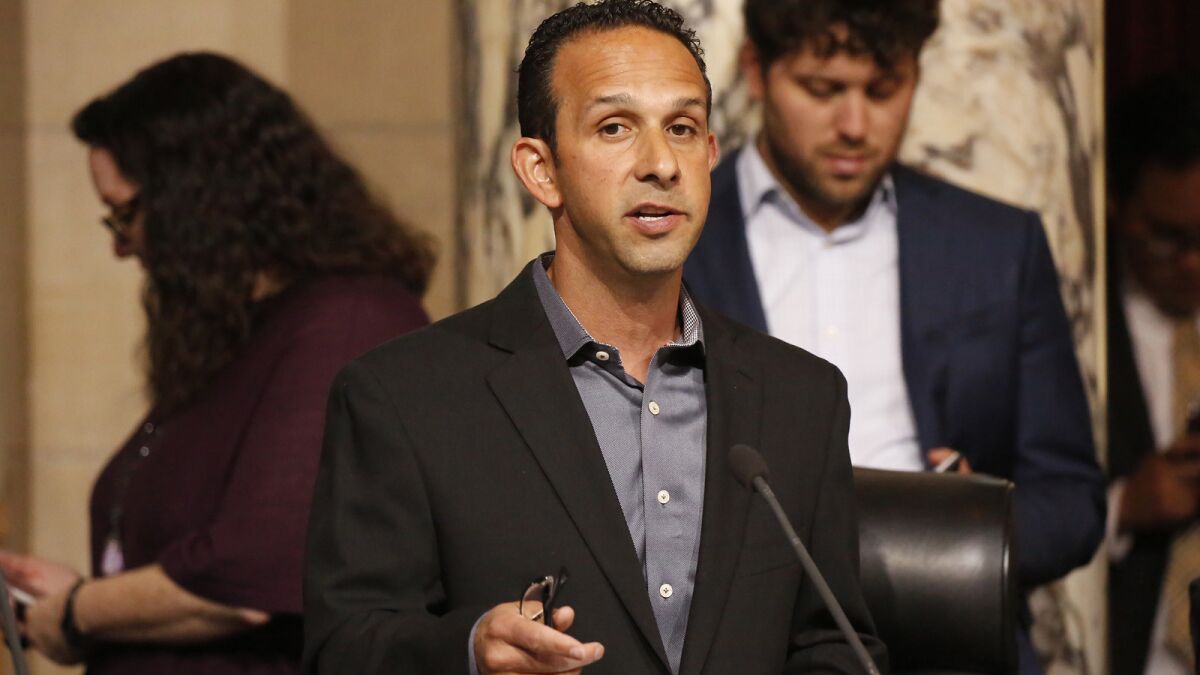 When the North Valley Family YMCA invited donors to its annual fundraising dinner, it was the smiling face of Los Angeles City Councilman Mitchell Englander that appeared on the invitations.
Fundraising invites in recent years identified Englander as the chairman of the group's Booster Club Dinner and featured photos of him surrounded by children. In 2017, the San Fernando Valley councilman went an extra step, signing a letter to potential donors — one with an image of City Hall — encouraging them to contribute to the event.
UPDATE: Ex-L.A. Councilman Mitchell Englander surrenders in federal probe
At least 27 donors with business before City Hall gave to the charity in the last two years, providing sponsorships of up to $10,000, according to event materials reviewed by The Times. They included lobbying firms, city contractors, real estate companies and at least one billboard firm.
Amid an FBI investigation into possible corruption at City Hall, the practice of fundraising for charities favored by politicians has come under new scrutiny. The City Ethics Commission is set to meet Tuesday to look at whether to rein in such contributions, which critics see as another way for special interests to curry favor with elected officials.
The commission is also weighing whether to force politicians to reveal more of the charitable donations that they secure for their favorite causes. In the San Fernando Valley, the yearly dinners held by the North Valley Family YMCA show how donations to charities backed by elected officials can go unseen by the public.
State law requires that elected officials report any donation request they make that results in a charitable contribution of $5,000 or more, which are known as "behested" payments. Yet Englander, who left the council in December, has not reported soliciting any donations to the North Valley Family YMCA in recent years. The last time he did so was 2013.
Englander told The Times that he complied with reporting rules on charitable giving — and that he had done little "direct fundraising" for the event in recent years. Many sponsors, he said in an email, had a history of routinely donating to the group, which sends needy kids to camp and helps seniors live "healthier lives."
"Therefore, there was no real need for me to engage in direct fundraising," Englander said.
L.A. officials have a long history of drumming up charitable donations from a range of City Hall interests. Reports filed on the Ethics Commission website show that Councilman Curren Price has raised hundreds of thousands of dollars for the Central Avenue Jazz Festival in his South L.A. district. Councilman David Ryu did the same for Asian Pacific American Heritage Month.
And Mayor Eric Garcetti has raised more than $40 million in such contributions — much of it to his Mayor's Fund, which has funded programs to combat gangs, reduce homelessness among veterans, and cut back on water use.
Still, many other donations remain unknown to the public: Thousands of dollars given by developers, city contractors and others at the urging of L.A. politicians do not have to be publicly reported because the donations fall under $5,000 — a concept that has raised concerns among residents and good-government advocates.
North Valley Family YMCA executive director Jane Stanton did not respond to questions about the fundraiser and Englander's role. Englander said the event began decades ago with Councilman Hal Bernson as its honorary chairman and that the tradition was passed down to Bernson's successor, Councilman Greig Smith, and on to him.
"Any letters or invitations that were ever sent out with or without my name were all done so by the YMCA directly — not by me nor my office at the time," Englander said. He added that in the rare instances he did direct fundraising for the North Valley Family YMCA, most donations were under the $5,000 threshold.
The Fair Political Practices Commission generally defines behested payments as contributions to charities and government agencies that are made at the request of an elected official, or in cooperation or coordination with the official.
A decade ago, the FPPC attorney advised the California Public Utilities Commission that an official should report such payments if a "reasonable person could conclude" that a written request for donations was from them, including if the request was signed by the official.
Some experts said a letter from a politician seeking a charitable donation should trigger disclosure, even if the charity was the one mailing it.
The requirement to disclose such a donation should apply "whether or not Mitch Englander sent it out or it was sent out by a nonprofit with his knowledge," said Loyola Law School professor Jessica Levinson, a former president of L.A.'s Ethics Commission. "If not, everyone would say, 'Just send it out under your letterhead.' "
Billboards and trash contracts
The Times reported last year that Councilman Jose Huizar and his staff raised money for Bishop Mora Salesian High School, where his wife was working as a paid fundraiser. Huizar did not report any behested payments to the Ethics Commission. The FBI, which raided his home and offices in November, has been seeking information on donations to the school.
The Times also reported that former Deputy Mayor Raymond Chan asked real estate companies building projects in L.A. to help fund Asian Pacific American Heritage Month celebrations while serving as a Garcetti aide overseeing economic development. Experts said that such fundraising could raise ethical concerns depending on how much influence Chan had over their projects.
Donors to the North Valley Family YMCA have included firms with business at City Hall, such as trash-hauling companies Waste Management and Republic Services, which have city contracts for garbage removal; the billboard company Clear Channel Outdoor, which has lobbied the city over regulations on outdoor advertising; and Anschutz Entertainment Group, a city contractor seeking taxpayer support for a planned hotel at the convention center, according to event materials.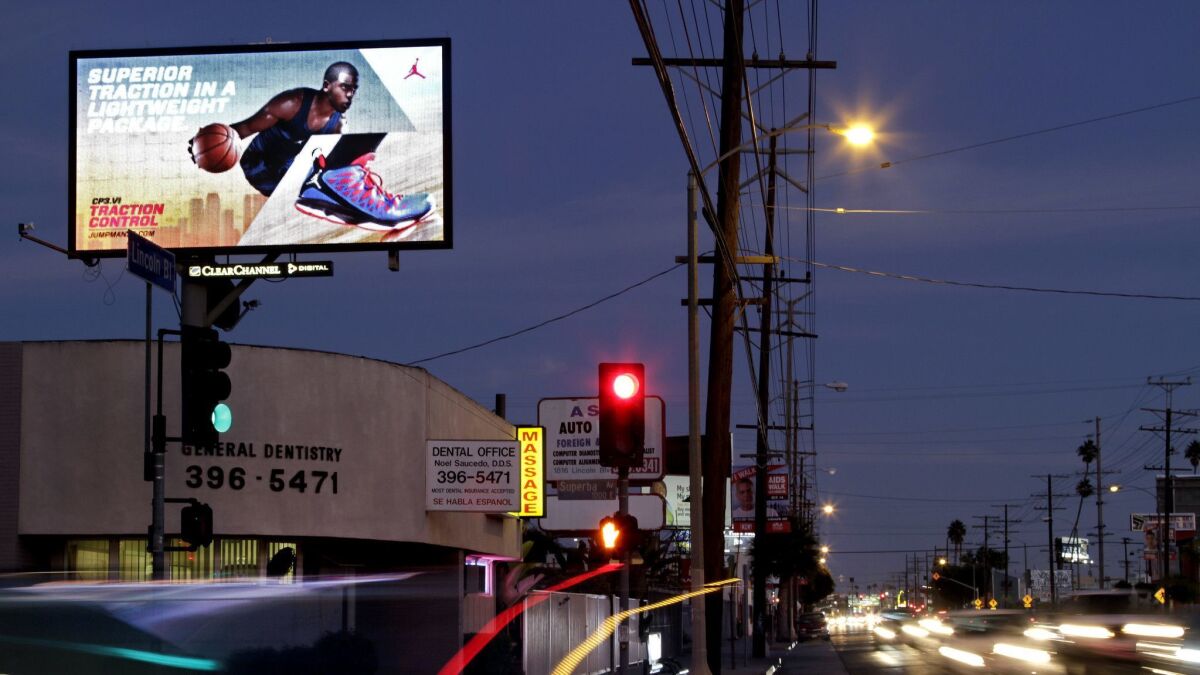 Some contributors said they had their own ties to the North Valley Family YMCA. For instance, Doug Corcoran, a director of public sector services for Waste Management, said one of its managers sits on the YMCA board and that the donation request likely came through them. Waste Management gave a combined $8,500 in the past two years, he said.
Representatives of Clear Channel Outdoor, which was listed on invitations as a $10,000 "gold sponsor" in each of the last two years, had no comment. Neither did AEG or Republic Services, the city trash hauler.
The Times asked to attend the annual dinner in November. A YMCA representative said she needed to consult the council office and later declined, saying it was a private event.
The lack of public disclosure about the North Valley Family YMCA contributions troubled Jim Summers, a former president of the Granada Hills South Neighborhood Council. He said many of his neighbors, still frustrated with how the city responded to the methane blowout in Aliso Canyon, would want to know about donations made by Southern California Gas Co. and other donors seeking to influence city decisions.
Despite those concerns, Summers praised the North Valley Family YMCA for providing quality services to the community, including the tai chi class that his mother regularly attends.
"It helps her with her balance. So it's a great cause, and it's not that I have something against them," he said. "It's just that [the money] is not disclosed."
Chris Gilbride, a spokesman for Southern California Gas Co., said the company has a representative on the YMCA board and that no one had solicited its donations.
Gift cards from Airbnb
Airbnb, which had been locked in a battle over proposed limits on short-term rentals, also made a $2,000 contribution to the North Valley Family YMCA more than a year ago. Emails show that an Englander aide was corresponding with the vacation rental website and the YMCA about the specifics of its donation.
"I spoke to John Choi from Airbnb and asked him to donate Airbnb voucher/gift cards," legislative deputy Stephanie Uy wrote to a North Valley Family YMCA executive, asking if the company could include vouchers as part of its sponsorship.
"Yes he can," responded Stanton, North Valley Family YMCA executive director. "We need the gift cards too!"
A few weeks later, Englander said at a council committee meeting that he wanted to look into loosening some of the proposed restrictions on Airbnb-type rentals.
When The Times asked about the email last year, an Englander spokesman said the Airbnb donation was made in response to a request from the YMCA — and that Uy was simply relaying information about how the contribution could be provided. Airbnb also said its donation had been requested by the charity, but later confirmed that it had received the fundraising letter signed by Englander from the YMCA.
Earlier this month, Englander told The Times that the Airbnb donation did not influence his position, and said that no contribution to the North Valley Family YMCA had ever done so. No matter who asked Airbnb to give, its donation would not have to be publicly reported because it was only $2,000, well under the $5,000 legal threshold.
Some cities have imposed tighter rules. West Hollywood requires elected officials to report behested payments exceeding $1,000. Rey López-Calderón, executive director of the watchdog group California Common Cause, argued that Los Angeles should consider doing the same.
"There's too much mischief between $1,000 and $5,000 that isn't going to be disclosed," he said.
The stories shaping California
Get up to speed with our Essential California newsletter, sent six days a week.
You may occasionally receive promotional content from the Los Angeles Times.