No fleas found amid L.A. City Hall rat infestation, inspection report says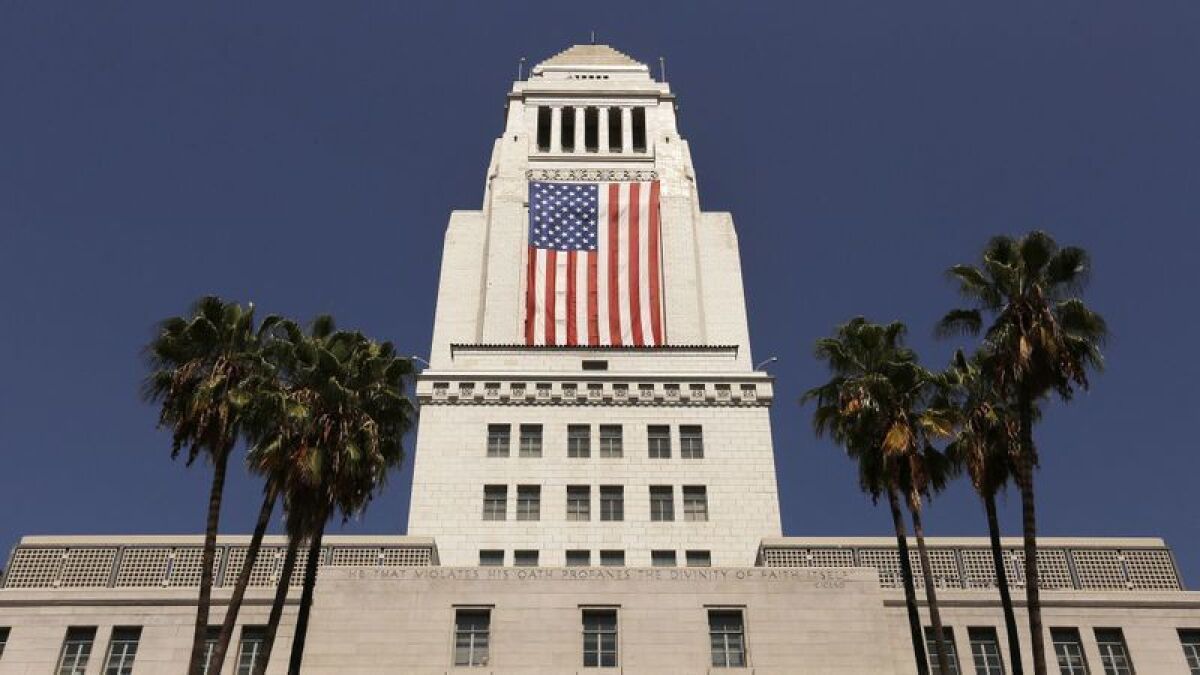 A firm hired to assess the presence of fleas at Los Angeles City Hall said it found no evidence of the disease-carrying pests inside the building or in other municipal facilities nearby, according to a report issued to the City Council.
In the two-page document, North Hollywood-based CatsUSA Pest Control said it found "nothing out of the ordinary" during inspections conducted Feb. 8 to Feb. 15 at City Hall, City Hall East, the 911 call center and the City Hall South child-care facility.
Although the company identified fungus gnats, crickets, ants, flies and centipedes, "no fleas were found during our inspections or noted on any of our monitoring stations," the report said. About 1,800 monitoring stations were installed on the floors and in the ceilings.
"Nothing out of the ordinary but mostly common insects known as occasional invaders which are common to most structures, homes and places of business," said the report, which focused mostly on fleas and briefly on rodents.
The findings, which were presented at Friday's council meeting, were issued several weeks after an employee of City Atty. Mike Feuer reported that she was diagnosed with typhus. The disease can be spread to humans through flea bites or contact with the feces of infected fleas; its symptoms include a rash, fever and fatigue.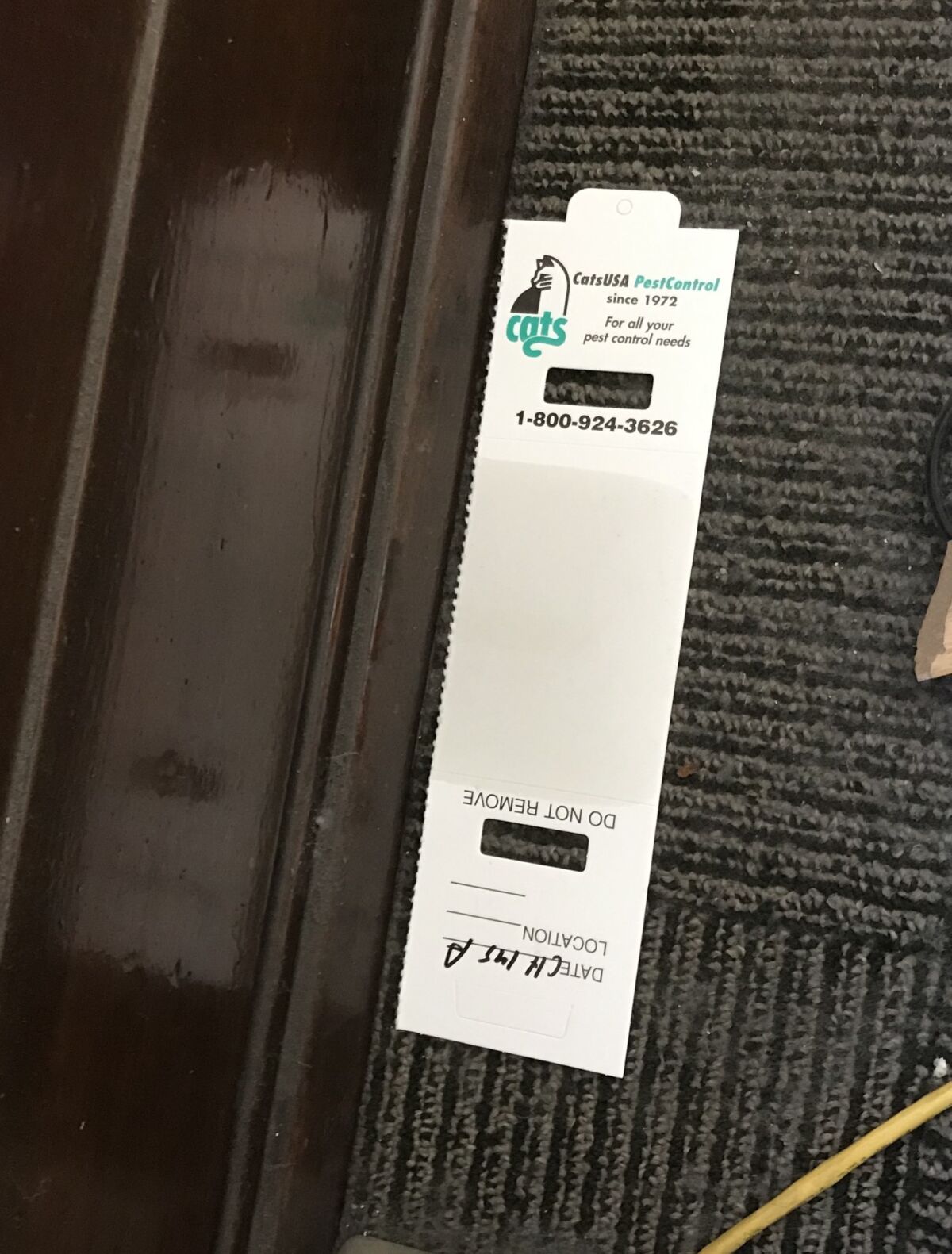 The council responded last month by calling for an audit of rodents and fleas within City Hall, including an assessment of whether carpets inside the building should be removed. Since then, cleanup crews have pruned almost 90 trees outside City Hall, with an additional 70 to be trimmed in the coming weeks.
City workers have reduced vegetation in the Civic Center by about 40% and stepped up the cleaning of carpets and the removal of trash, according to the update presented to the council.
Eighty-eight rat traps set up across the Civic Center are being inspected daily, maintenance officials told the council.
"From this point on, I think it's important we continue to attack and we don't sit back and wait for complaints," said Council President Herb Wesson.
Employees at City Hall have been coping with a rat situation for several months, saying they have encountered rodent droppings, partly eaten houseplants and tiny paw prints on their paperwork. Rodents were found in several council suites last year, three of which were caught in the office of Councilwoman Monica Rodriguez.
Elizabeth Greenwood, a deputy city attorney, said she was found to have typhus last year after finding insect bites on her shin while at work at City Hall East. Greenwood said she experienced symptoms that included severe dizziness, a 102-degree fever and "the worst headache I have ever had in my life."
Even with the city's efforts, rodents continue to be a presence. Rats have been spotted during daylight hours scampering across the south lawn of City Hall. Inside Councilman Joe Buscaino's office, a rat was caught Feb. 28, his spokesman said.
City leaders believe the infestation was triggered by the demolition of Parker Center, the former Police Department headquarters slowly being torn down on Los Angeles Street, across from City Hall East.
Within City Hall, the rat problem has been limited to the building's lower levels, according to officials with the General Services Department, which is responsible for municipal buildings.
In recent weeks, pest control workers have found rodent droppings on the first four floors of City Hall. Officials also acknowledged that a significant population of rodents has been found right outside.
"Most rodents are living in the planters, living in the soil that's adjacent to the buildings in the Civic Center," said David Paschal, assistant general manager for the Department of General Services. "They go into these buildings because you have water, you have food and you have shelter."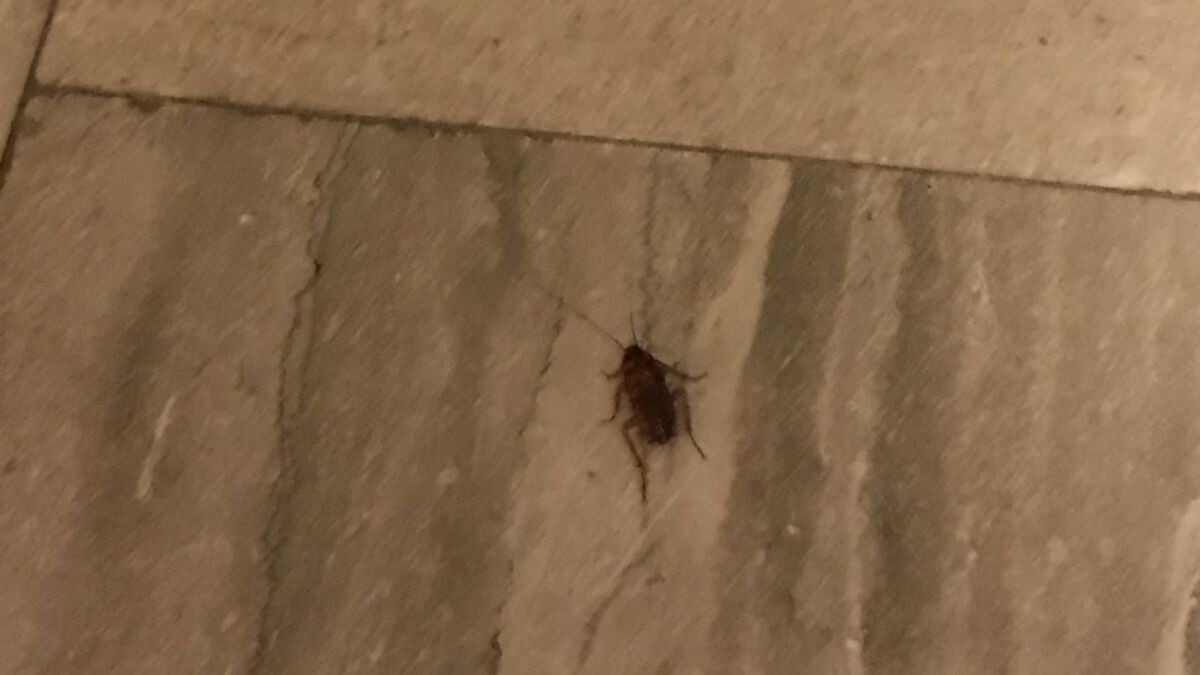 County health officials declared a typhus outbreak around downtown L.A.'s skid row in October. Among the 19 people who were infected, eight were homeless, according to the health department.
Buscaino contends there's a connection between the City Hall rat problem and the city's ongoing struggle to remove piles of debris in and around homeless encampments. Skid row advocates disagree, saying rules restricting the removal of property owned by homeless Angelenos should have no effect on municipal pest control activities.
As part of last month's inspections, CatsUSA placed sticky insect strips on the floors of offices across the Civic Center.
The company's report made no mention of roaches, which are frequently spotted — sometimes alive, sometimes not — on the third floor of City Hall, which houses the mayor's office, the city clerk's office and the council chamber.
In its report, CatsUSA recommended that trash be taken out on a daily basis and that recyclables be "triple rinsed" before they are thrown away. Potted plants should not be overwatered, the company said, to avoid attracting fungus gnats, ants and mosquitoes.
Twitter: @DavidZahniser
The stories shaping California
Get up to speed with our Essential California newsletter, sent six days a week.
You may occasionally receive promotional content from the Los Angeles Times.