Funeral held for retired L.A. deputy who was critically wounded in 1994 traffic stop
A little more than 23 years ago, Los Angeles County Sheriff's Deputy Steven Belanger made the last arrest of what should have been a promising career.
On patrol in Rowland Heights, the then-29-year-old deputy spotted an assault suspect driving by and ordered him to pull over. As Belanger was questioning one of the suspect's passengers, 20-year-old Matthew Hagemann rolled past on a skateboard, gun in hand.
Belanger was shot in the head. The bullet would remain lodged in his skull the rest of his life.
Belanger was 52 when he died this week of complications related to the injuries he suffered all those years ago. He was remembered by his loved ones and a phalanx of Sheriff's Department officials in full uniform at his funeral Thursday.
"While it has been 23 years since Steven was gravely wounded, it feels as if it were yesterday," Los Angeles County Sheriff Jim McDonnell said.
Pictures of Belanger as a young deputy lined the mausoleum at Pomona Valley Memorial Park, where dozens paid their last respects to an officer who McDonnell said earned "a reputation for being an astounding young man" during his seven years in law enforcement.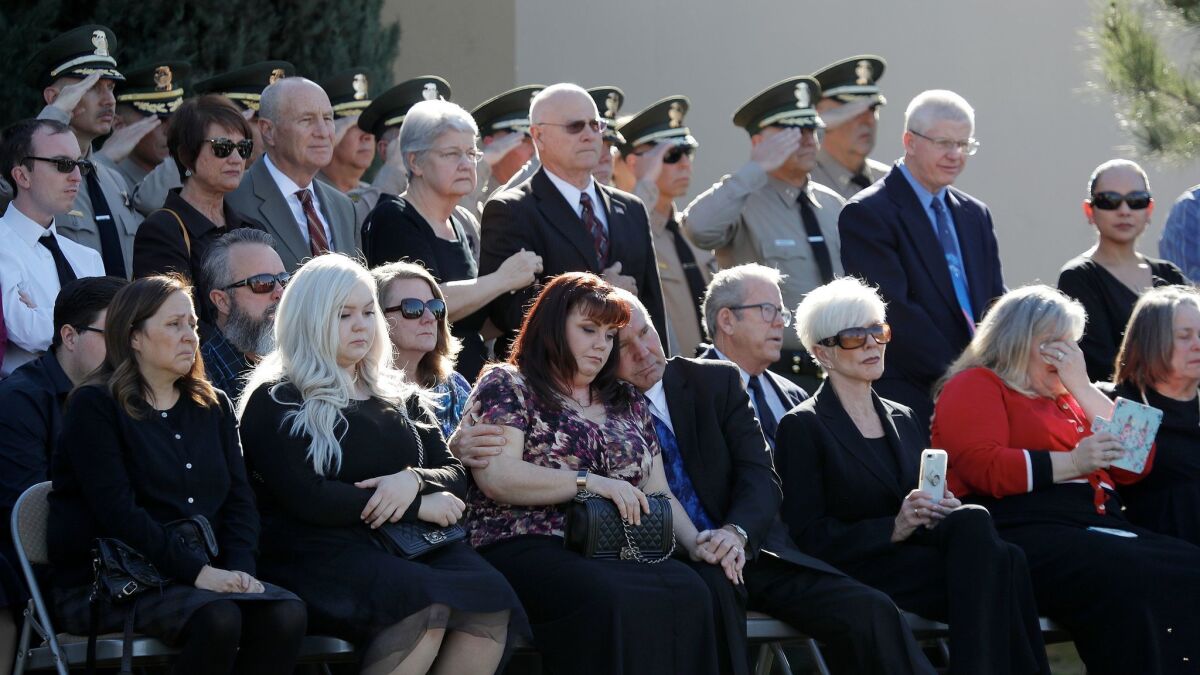 Belanger was shot and gravely wounded Dec. 10, 1994, moments after he noticed Gregory D. Powell drive down a Rowland Heights street.
Belanger stopped the car and handcuffed Powell. As Belanger began questioning a teenage girl who was also in the car, Hagemann, a friend of Powell's, skated past and opened fire. The bullets struck Belanger in the head and foot.
Hagemann escaped with Powell and the teenage girl, authorities said. But about an hour later, an anonymous caller contacted the Sheriff's Department and said Hagemann had confessed to shooting Belanger and was planning to kill himself.
Hagemann fatally shot himself later that night outside Our Lady of the Rosary Church in Paramount. Investigators recovered the weapon used in the attack on Belanger at the scene.
Powell later surrendered and was convicted of the assault Belanger had arrested him for, but he was not charged in connection with the attack on the deputy, said Nicole Nishida, a spokeswoman for the Sheriff's Department.
At the time of the shooting, Belanger was married, and he and his wife were parents to a 15-month-old daughter, Nicole.
Surgeons were able to pull bone fragments from Belanger's head after the shooting but were never able to dislodge the bullet.
Belanger returned to light duty with the Sheriff's Department in 2000 before retiring in 2001, McDonnell said. The injuries Belanger suffered from the gunshot had a severe impact on his health for the rest of his life, officials said.
"While he was shot in the line of duty over two decades ago, Steve and his family bravely faced the challenges of his injuries up until his passing," Ron Hernandez, president of the Assn. for Los Angeles Deputy Sheriffs, said in a statement this week. "Steve's death is a tragic loss that reminds us of the risks that law enforcement officers take every day to keep us safe. His service and sacrifice will never be forgotten."
Belanger, whose father was also a sheriff's deputy, was born in Claremont, McDonnell said. He was an athlete and avid baseball fan, and first met his wife when he was just a teenager, said the Rev. Kimball Coburn.
Belanger's daughter, Nicole, said that her father had a knack for playing pranks on fellow deputies and that his affinity for mischief carried over to his time at home with his family.
"He lived a long, happy life after retirement," she said.
After McDonnell spoke, Belanger was honored with a 21-gun salute and a flyover by Sheriff's Department helicopters before the sheriff presented Belanger's widow with a folded American flag.
"Steve Belanger is one of our heroes," McDonnell said. "A role model."
Belanger's death is the latest heartbreak for California law enforcement in recent months.
San Bernardino County Sheriff's Deputy Lawrence Falce, 70, died in early January after he was assaulted while off-duty following a minor car crash on New Year's Eve. California Highway Patrol Officer Andrew Camilleri, 33, was killed on Christmas Eve last year when a suspected drunk driver slammed into his patrol car in Hayward.
Follow @JamesQueallyLAT for crime and police news in California.
---
The stories shaping California
Get up to speed with our Essential California newsletter, sent six days a week.
You may occasionally receive promotional content from the Los Angeles Times.