For Dodger fans on the edge, it all comes down to a Halloween comeback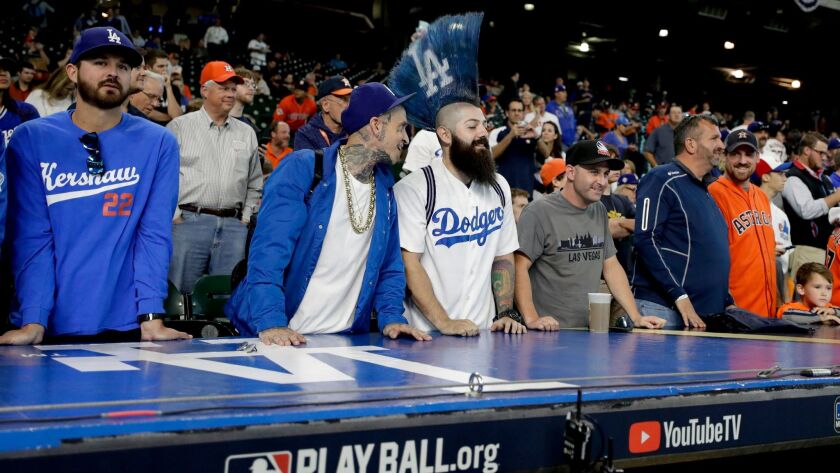 Reporting from HOUSTON —
After Game 4 of the World Series, fresh off a victory and with the Dodgers' ace on the mound, Bishop Collins started to feel cocky.
"I went on Facebook and told everybody I'm living in a city of champions," said the 43-year-old Montebello resident. "I'm ready for the parade."
Then Game 5 happened.
It started good: The Dodgers leading 4-0 early with Clayton Kershaw looking like Clayton Kershaw, future Hall of Famer.
Then the Dodgers started to unravel, only to recover, only to unravel again and recover (and unravel) for five torturous hours — plus 17 minutes. It all culminated past midnight Houston time in one of the craziest games in World Series history. And a crushing 13-12 loss for the Boys in Blue.
As the Dodgers head to an elimination game Tuesday on Halloween night, Bishop isn't so cocky anymore.
"My level of hope is 30% now," he said Monday.
If you watched the Dodgers lose in Game 5 … where to begin?
If you were like Dennis Moss, who watched the game at Minute Maid Park in Houston, then you could perhaps could take comfort in having had a front-row seat to history.
Moss was an usher at Dodger Stadium when Kirk Gibson hit the home run that won the first game of the World Series in 1988. He worked the night Fernando Valenzuela pitched a no-hitter in 1990.
Now he watched his team lose in spectacular but thrilling fashion.
"This tops 1988," Moss said at 12:54 a.m. Monday from Minute Maid Park. "There was so much emotion. They were up by three! And we'd come back. We'd go up by three! And they'd come back."
Moss, a 59-year-old Fountain Valley resident who worked at Dodger Stadium from 1985 to 1995, said it was a last-minute bit of luck that brought him and his 24-year-old son, Brandon, to the game. They were vacationing in Ohio and had planned to be at a Cleveland Cavaliers game Sunday night, but Moss's niece called — and she had two extra tickets to the World Series. They changed their flight.
"It was an amazing game, the best I've seen," said Brandon Moss. "Obviously, I would have liked a different outcome."
In the packed corridors of Minute Maid Park early Monday morning, Astros fans did a call and response: "Woo!" "Woo!" Some, upon seeing Dodgers fans, shook their hands.
Gary Mendoza, 44, of Granada Hills stood amid the orange-clad postgame scrum in his Dodgers gear. He said he hoped the Dodgers' coaching staff made better decisions in the next matchup, but he was feeling optimistic, despite the loss.
"That was the greatest game I've ever seen," Mendoza said. "But I'm very disappointed."
But if you were one of the legion of Dodgers fans who watched the game from afar, it was a challenge to see a silver lining in the outcome.
After all, the Dodgers could have returned to L.A. one game away from the franchise's first World Series win in 29 years.
Now they'll return one game from losing it all and with the Astros' ace, Justin Verlander, staring them down.
Rolando Castro, a nursing student, said the game was just too emotional for him. He ended up turning the television off in the bottom of the seventh inning with the Dodgers down 11-8.
"I couldn't handle it anymore. It was just like, 'What the hell is going on?'" the 34-year-old said. "I already had been sitting in front of the TV for four hours. I'm done with this. I can only take so much."
It had gotten so bad that Castro kept cursing and his 4-year-old son kept calling him out on it.
"He was playing with his toys and I kept yelling and he'd say, 'Dad, turn it off!'" he recalled. "I'd say, 'No!'"
And what made it worse was that the Dodgers had started out so well.
When the Astros tied the game in the fourth inning, Castro started to feel as if there was something supernatural going on.
"This whole series has been wonky to begin with. The game's been back and forth, back and forth," he said. "It kind of seems like there's forces at play here."
Having turned the TV off, Castro eventually learned of the Dodgers' fate through a text from a friend.
"Everything and anything happened in that game," he said.
Would he watch Game 6?
"I don't know if I'll watch the whole game," Castro said with a laugh. "Maybe I shouldn't watch it."
Not everyone in L.A. was sad about the Dodgers' loss. Roberto Gonzalez, 65, likes the Angels.
On Monday morning he found out the Dodgers had lost, and his reaction was probably very different from that of many of his neighbors.
"I was happy," he said. "I was doing a little dance because they lost."
But then he had to go to the Los Angeles Metropolitan Courthouse to deal with a parking citation.
In the end, Gonzalez lost to a different kind of L.A. team: the city's bureaucracy.
"I thought I was going to owe $238. Instead, I had to pay $302," complained Gonzalez, who stormed away, waving at the courthouse and exclaiming: "They're criminals! Forget them!"
hailey.branson@latimes.com | Twitter: @haileybranson
ruben.vives@latimes.com | Twitter: @latvives
ALSO
Here's what the LAPD wants baseball fans to know before Game 6 of the World Series
Dodgers stick to their strategies under full Astros blast
Bill Plaschke: It's been a crazy World Series, and we're clamoring for more
Dylan Hernandez: Dave Roberts' managing skills will be put to the test in Dodgers' must-win Game 6 of World Series
---
The stories shaping California
Get up to speed with our Essential California newsletter, sent six days a week.
You may occasionally receive promotional content from the Los Angeles Times.