In a major improvement, nearly half of California is no longer in a drought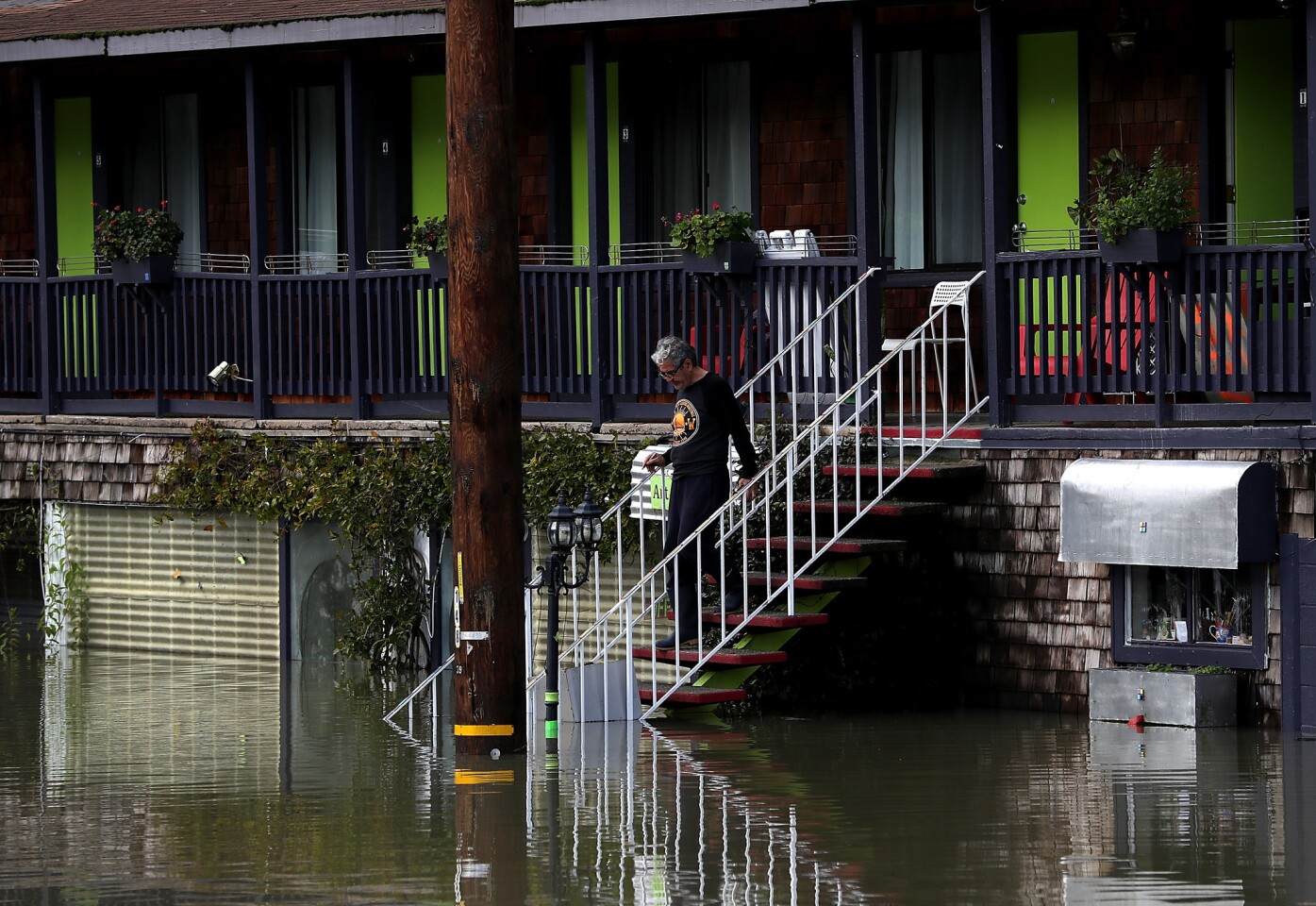 A Guernville resident walks down steps toward the foodwater surrounding his home.
(Justin Sullivan / Getty Images)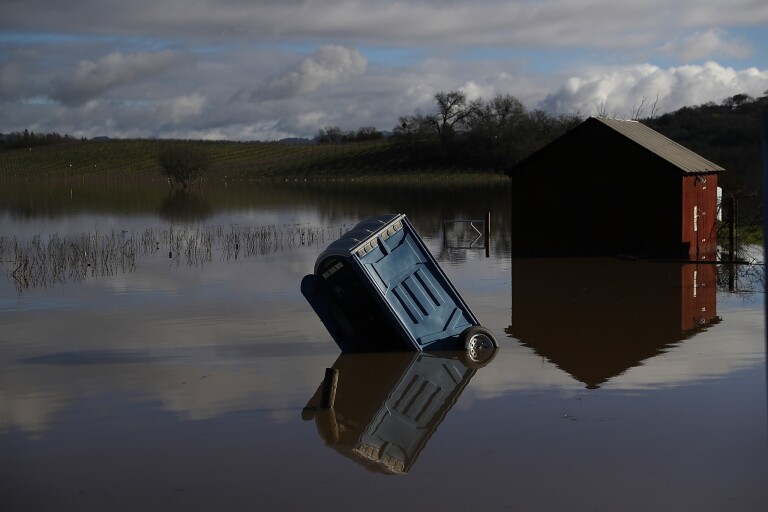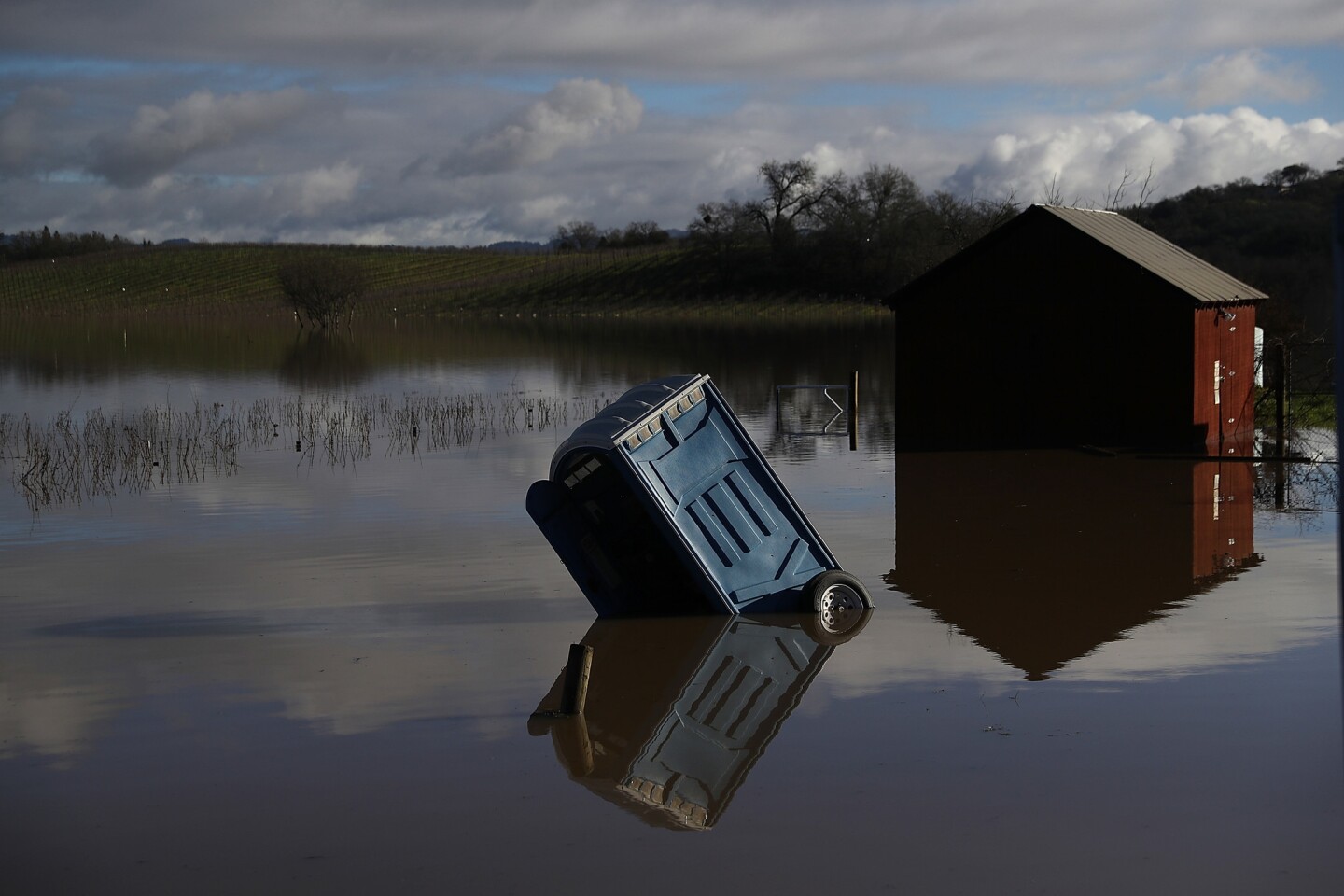 A portable toilet is submerged in floodwaters at a vineyard in Forestville.
(Justin Sullivan / Getty Images)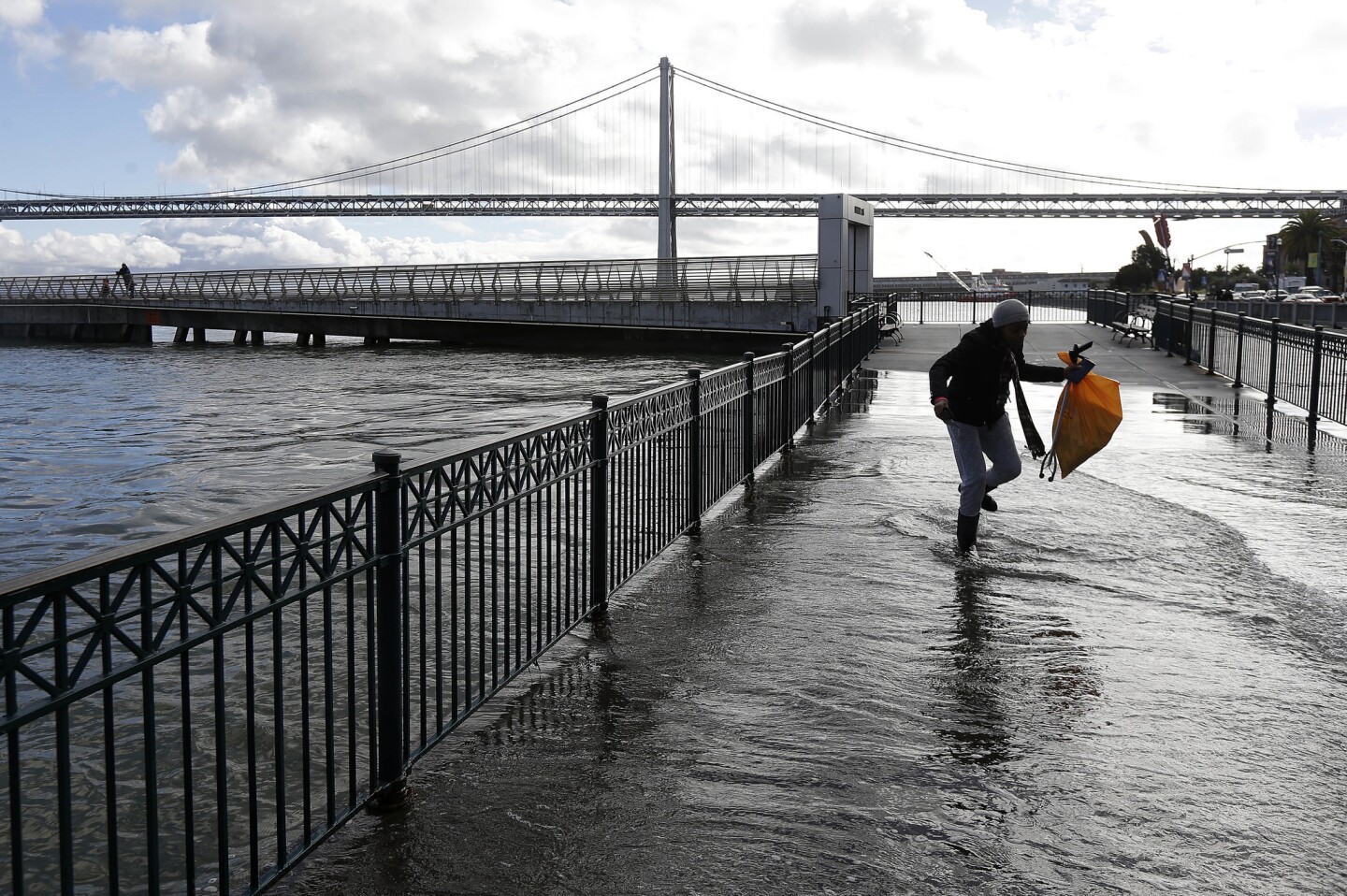 A woman walks through water from a king tide that flooded onto the Embarcadero in San Francisco on Wednesday.
(Jeff Chiu / Associated Press)
Continued rain and snow across California has lifted nearly half of the state out of drought, according to an analysis released Thursday.
Just over 51% of California remains in "moderate" to "extreme" drought, the U.S. Drought Monitor reported. By comparison, more than 95% of the state was listed as being in some form of drought a year ago.
And in another positive development, none of the state was listed as being in "exceptional drought" — a condition that had affected portions of Los Angeles, Ventura, Santa Barbara and Kern counties as recently as a month ago.
Perhaps the most striking change to the color-coded map was the near disappearance of bright red, which signifies "extreme drought." The map showed only 2% of the state as being in extreme drought Thursday, compared with nearly a quarter of the state just a week ago.
Since California's "water year" began in October with above-average precipitation, the state has enjoyed continued wet weather that has gradually improved its drought outlook.
The weekly release of the U.S. Drought Monitor map has largely reflected those improvements, with perhaps the biggest shift coming two weeks ago, when almost all of Northern California was declared not only to be out of drought, but also to be showing no signs of "abnormal dryness."
Thursday's map showed that almost 39% of California — mostly regions north of the Bay Area — lacked any signs of abnormal dryness.
Drought conditions persisted, however, for much of the the Central Coast and Central Valley, where water shortages have been most acute over the past five years.
But as the U.S. Drought Monitor has garnered increased attention, water officials from various state agencies have questioned its merits.
In a recent interview, Jeanine Jones, Interstate Resources Manager for the Department of Water Resources, noted that the product was originally developed to characterize drought conditions at a national scale. Though it has evolved over the years, it remains a subjective blend of information that captures a "snapshot of drought at a moment in time," she said.
The report's weekly time step is also "misleading in California," where dry spells can last throughout a summer, Jones said.
And unlike Nebraska, where the tool was developed, California has many surface-water projects that move the resource long distances; water managers pump groundwater and many rely on recycled water for supply.
"All those conditions don't necessarily imply that if it didn't rain for a week, you're in a drought," Jones said.
She noted that although the U.S. Department of Agriculture uses the drought monitor as a trigger for drought-related financial assistance, "it's not something a water agency would use to manage."
"Drought is managed at a local scale — and Drought Monitor is trying to do this large-scale national depiction," Jones said. "California is highly complicated. … It's very difficult to capture a lot of complex detail on a map that tries to depict all of the United States on one page."
Other parts of the country are more heavily influenced by water supplies such as rain, Jones said. So, "coming out of a drought, if it rains a lot, the tendency is to depict that rapidly — but that doesn't mean that all of the [drought] impacts have gone away."
Indeed, powerful storms have pounded the state in recent weeks, damaging homes, causing power outages and even resulting in deaths.
Officials have said they hoped the storms would be cold enough to blanket much of the Sierra Nevada in snow. That snow is important because it melts during the hotter spring and summer months, refilling reservoirs that recent rains have filled to the brim.
As of Thursday, the water content held by the state's snowpack was about 191% of average for the day.
"We're far better off than we were this time last water year," Jones said recently. "We're cautiously optimistic … but we have another month and a half of the wet season to see how we end up."
Twitter: @ByMattStevens
ALSO
Federal agents raid Los Angeles charter school network
Trump issues immigration orders, but California cities and police aren't onboard
Before Asian Americans could be 'woke,' they had to shed the 'Oriental' label
---
UPDATES:
8:25 a.m.: This article was updated with additional details on drought map changes compared to last week's map.
This article was originally published at 7:50 a.m.
---
Life is stressful. Our weekly mental wellness newsletter can help.
You may occasionally receive promotional content from the Los Angeles Times.