Watch out for scammers trying to take advantage of your earthquake anxiety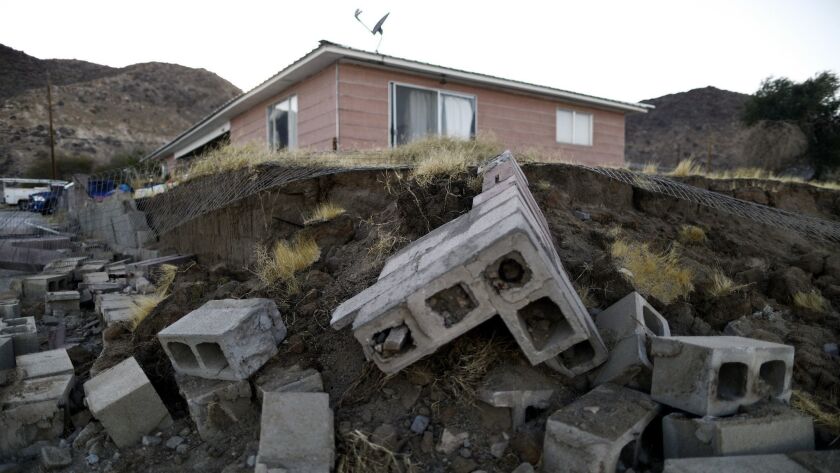 Officials are warning California residents to be wary of scammers trying to take advantage of their earthquake anxiety.
The state is on high alert after two major earthquakes rocked Southern California last week with enough force to rupture Highway 178 between Ridgecrest and Trona. Plus, there's the possibility of more large earthquakes on the way.
While lingering aftershocks continue to rattle the Ridgecrest area, Orange County officials are warning residents of schemes aimed at convincing residents to leave their homes in what could be a prank or a ruse in an attempt to commit burglary.
The city of Aliso Viejo said in a Facebook post Monday that officials have been made aware of a scam in which residents are phoned by an unknown caller who claims to predict earthquakes and tells them to leave their homes for safety.
Your instinct may be to run outside during an earthquake. Here's why you shouldn't »
A spokesperson for the Orange County Sheriff's Department said four calls were reported by Aliso Viejo residents Sunday evening who said they had received a phone call telling them there would be an 8.4 magnitude earthquake and that they should evacuate their homes immediately.
"Dispatchers provided the callers with information that Orange County does not have an alert system that would contact them prior to an earthquake, and that it may have been a scam," said Carrie Braun, a public information officer for the department, in an email.
Braun said it's unclear why the calls were made and her office hasn't received reports of similar calls since.
The Los Angeles County Sheriff's Department and the sheriff's office in Kern County, which is home to Ridgecrest, said they had received no reports of suspicious calls as of Tuesday afternoon.
Earthquake preparedness: What to do before — and during — a big one »
Earthquake scams have come around before. In 2015, Beverly Hills police warned residents about a phone scam in which a caller claiming to be a city official asks to inspect property for earthquake damage.
In Japan, soon after the 2011 earthquake and tsunami that killed thousands, authorities issued warnings that scammers were fraudulently seeking donations for victims.
Orange County officials said anyone who receives a suspicious call should report it to their local law enforcement agency via non-emergency numbers.
In its Facebook post, the city of Aliso Viejo also asked residents to verify the source of the call because local authorities may only use certain communication methods in case of emergencies, which may not include direct phone calls to residents.
The Los Angeles County Sheriff's Department advises residents to be on guard for phone scams by letting unknown callers to go to voicemail. If someone does pick up a suspicious call and shares personal information, the department encourages them to report the incident to local law enforcement.
If you live in California and have received a suspicious phone call related to recent earthquake activity, please share your story with alexa.diaz@latimes.com.
Will my building survive a huge earthquake? Here are some ways to find out »
---
The stories shaping California
Get up to speed with our Essential California newsletter, sent six days a week.
You may occasionally receive promotional content from the Los Angeles Times.