Hundreds pack Ridgecrest town hall after two earthquakes shook community
Reporting from Trona, Calif. —
Hundreds of weary residents from Ridgecrest and surrounding communities packed a town hall meeting Sunday afternoon to discuss top concerns — including mental health, building inspections and access to basic services — in the aftermath of the area's two recent big earthquakes.
Officials from the Ridgecrest police and fire departments, the mayor's office and others addressed the community's pressing needs after the 6.4- and 7.1-magnitude temblors that struck the region on July 4 and a day later.
"Let's try to start recovering now," Ridgecrest Police Chief Jed McLaughlin told the crowd, which erupted in applause.
Ridgecrest Regional Hospital is open again, McLaughlin said. He urged residents to start reentering their houses and asked them to recognize the emotional toll of the earthquakes.
"PTSD [post-traumatic stress disorder] is a real thing and we are all suffering it right now," he said.
Officials reminded residents to keep using boiled water if they couldn't access bottled water, out of concerns that the quakes cracked water mains, creating a risk of contamination.
The gas in some buildings — particularly in mobile home communities — is still not working, residents told leaders. Gas operations officials said they would send teams to fix utilities upon request.
Two women asked how residents with disabilities could access relief services given the lack of transportation in the area.
"I'll take you in my car," McLaughlin told Teresa O'Malley, a resident who has a broken back and can't travel far. The police chief offered the same help to anyone else who needed it.
Ridgecrest Mayor Peggy Breeden asked residents to keep checking on their friends, family and neighbors.
"I know we have heroes in this community," she said.
Earlier in the day, a trio of researchers assessed the damage of buildings in nearby Trona. It was hard for them to tell which were battered by the earthquakes that pummeled this San Bernardino County town in recent days — and which were simply old and abandoned.
"Some of this damage was already here," said Kenneth O'Dell, 55, a structural engineer.
But he nonetheless noted that the earthquake had hit Trona hard, particularly because the walls of most buildings were not reinforced with steel or other material that can keep them upright, or prevent cracking during severe tremors.
"It looks like most of these structures were built during the 1930s and 1940s," O'Dell said. "So it makes sense that they weren't ready for this kind of shaking."
O'Dell had arrived from Los Angeles on Saturday with engineer Martin Hudson and his 25-year-old son, geologist Kenneth Hudson, to assess earthquake damage in Trona and nearby Ridgecrest after massive quakes rocked the region.
Their goal was to study the structural damage of the buildings in Trona so they could understand how exactly the earthquakes affected those structures and surrounding areas. These findings, they hoped, could someday be published in a research paper and help guide future geologists and engineers.
They stopped Saturday afternoon on California 178 between Trona and Ridgecrest, where the elder Hudson stood on one of the fault ruptures caused by Friday's magnitude 7.1 quake.
"It's moved everything three feet to the right," said Hudson, 52, an engineer who forms part of the Earthquake Engineering Research Institute, an organization based in Oakland that brought researchers together in the Ridgecrest area to study the effects of the earthquakes.
After assessing the fault rupture, the three researchers hopped in their car and headed to Trona, about thirty miles northeast of Ridgecrest. At the side of a faded pink house at the community's entrance, the researchers noted that soil liquefaction had caused portions of the ground to crack and collapse — some of the soil had started turning into a liquid state, the researchers explained. Nearby, a chimney had caved in on one of the houses.
"We saw a lot of this type of damage in the '94 Northridge earthquake," O'Dell said.
In the end, the three anticipate that their research could help prevent future building damage during earthquakes.
"The goal of our research is to improve the designs of these structures so that they are not as susceptible, and we're hoping that our work today can contribute to that," Kenneth Hudson said.
More than 45 researchers, including engineers, geologists and others, met Saturday night in Ridgecrest to discuss findings from the weekend, according to the California Geological Survey. At least four more researchers arrived Sunday to study the grounds near Ridgecrest and Trona, said Cynthia Pridmore, chair of the California Earthquake Clearinghouse.
Geologist teams from USGS and CGS have been invited over the last three days to survey the Naval Air Weapons Station China Lake in Ridgecrest, near the epicenter. Pridmore said that one of their goals is to map out the length of the surface rupture from Friday's quake.
In Ridgecrest and surrounding areas, the tremors have subsided, and officials don't expect any of the upcoming aftershocks to cause serious damage.
"The dangerous side of the hazard is tapering off," Pridmore said.
On Saturday, USGS calculated a 27% probability the region will be hit by a magnitude 6 or greater quake in the coming days, Caltech seismologist Egill Hauksson said. The probability that another earthquake will strike with a magnitude 6 or higher is dropping by the minute, he said.
As scientists try to glean lessons in the quakes' aftermath, residents are still sorting through the damage.
In Trona, a family of five sought shelter from the scorching sun on Saturday afternoon under the shade of a tree. In front of them was a deflated air mattress, which some of them planned to sleep on outside that night.
None of them were injured in the quake, but they felt overwhelmed by the work ahead, cleaning up everything they had accumulated over the decades. Cynthia Thompson and her father decided to drive back to their house, along with her 8-year-old daughter, Brooke, to take another look at the damage.
On the way, they ran into their neighbor Susan Witcher, who was cleaning up her home, along with family members, before heading to stay with her father. Their home's chimney had collapsed and fissures lined the walls and roof.
"I have lived here for 35 years," said Witcher, 67, as she carried out boxes of kitchenware to her truck. "And I just had to throw away 45 years' worth of stuff. We don't know if we will ever be able to move back in."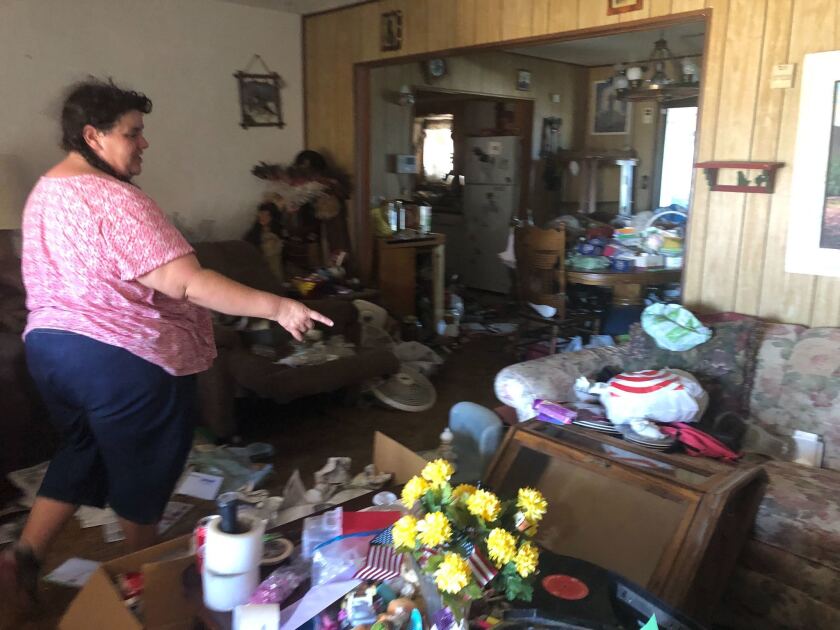 The Thompsons headed around the corner to their home, where broken glasses, toys and food littered the floor. A television had landed face down. Although the home did not seem to have suffered severe structural damage, it was impossible to walk through hallways, and rooms were blocked by belongings. Sinkholes had formed near the exterior walls.
"It looks like a tornado just hit," Thompson said.
Staff writer Laura Newberry contributed to this report.
Twitter: @GiuliaMcDonnell
---
The stories shaping California
Get up to speed with our Essential California newsletter, sent six days a week.
You may occasionally receive promotional content from the Los Angeles Times.