Suspect in custody in teacher's fatal stabbing at Long Beach park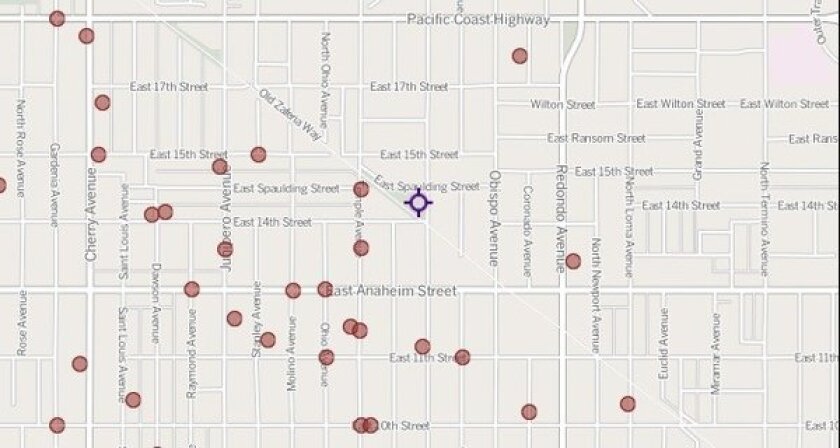 A suspect has been arrested in connection with the fatal stabbing of a Long Beach teacher who was attacked Friday as she was watching her students play in a neighborhood park, authorities said.
Steven Brown, 50, was booked on suspicion of murder and is being held on $1 million bail, authorities said.
Brown allegedly attacked Kellye Taylor, 53, at the park early Friday afternoon, authorities said. Taylor was the grandmother of Brown's four children and had custody of them.
Homicide Report: Track killings in L.A. County
While the motive for the attack is under investigation, Taylor's younger sister, Pamela Huffman, told the Long Beach Press Telegram that the custody arrangement had caused friction with Brown.
According to Huffman, Taylor and two other teachers were supervising nearly two dozen students at Orizaba Park across the street from the Huntington Academy.
As the children played on the jungle gym -- part of their "Fun Friday" activities -- Brown approached Taylor, who was sitting on a folding chair, from behind and stabbed her, according to Long Beach police Sgt. Aaron Easton.
PHOTO: Long Beach teacher killed
Some of the children ran back to the school to tell Huffman, who raced to the park and tried to help her sister.
"How could they do something like this in front of these babies?" Huffman told the Press Telegram. "All I could do was run to her. I saw her slip away. I knew she wasn't going to make it."
Witnesses identified the suspect, and police apprehended him a few blocks from the park. A weapon was recovered, said Eaton, who would not identify it.
Taylor has three children and a husband, according to Huffman.
"She loved children, and she loved being around children," Vanessa Kelly, another of Taylor's sisters, told KABC-TV. "She loved teaching children, and that's what she did."
The Huntington Academy serves nearly 30 students from kindergarten to sixth grade. The school's director, Carrie Bryant, is the mother of Taylor and Huffman.
Counselors will be available to students and staff Monday when school resumes, Huffman said.
"I don't know why he did what he did," Kelly said.
The case is still under investigation. Anyone with information is asked to contact Long Beach Police homicide Det. Hugo Cortes or Det. Peter Lackovic. Anonymous tips may be submitted by calling (800) 222-8477, texting TIPLA and a tip to CRIMES (274637), or visiting L.A. Crimestoppers.
ALSO:
Cabrillo National Monument's centennial bash canceled¿
New questions arise about safety of L.A.'s historic Angels Flight
Mother shocked by allegation that son aided Al Qaeda terrorists
Twitter: @tcurwen | Facebook
---
Get breaking news, investigations, analysis and more signature journalism from the Los Angeles Times in your inbox.
You may occasionally receive promotional content from the Los Angeles Times.