Mayor Eric Garcetti challenges neighborhood leaders to train for earthquakes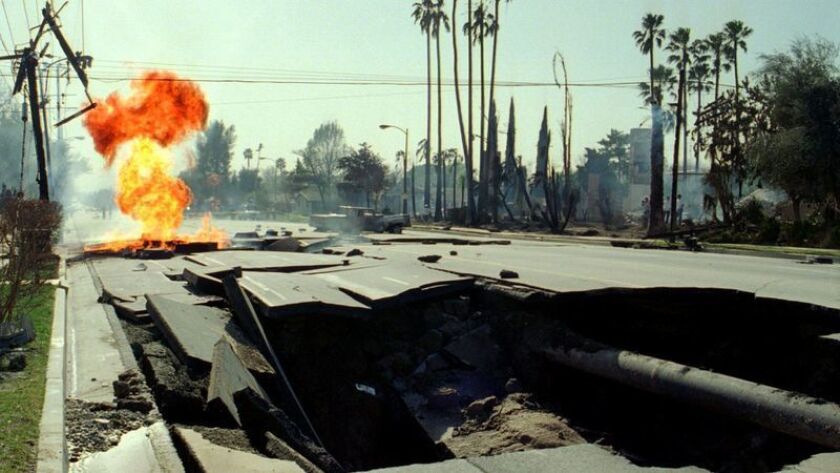 A week after a string of strong earthquakes jolted Southern California, Los Angeles Mayor Eric Garcetti urged neighborhood leaders Friday to prepare for the next big one.
Garcetti called on the city's 100 or so neighborhood councils to appoint "preparedness officers" to work with residents to come up with emergency response plans in case of a massive earthquake or fire.
The mayor wants the preparedness officers to enroll in free, city-led classes on emergencies and disasters, then teach what they've learned to their respective groups at block parties or other events.
The city's Emergency Management Department runs the Ready Your L.A. Neighborhood program, which spells out what residents should do after an earthquake, including checking on elderly neighbors and turning off gas lines.
"You get to know each other, you get to know what to do, and you form a plan for your neighborhood," Garcetti said during a news event at a Los Angeles Fire Department station in Sherman Oaks.
Each neighborhood council represents about 40,000 residents, according to the city's website. The volunteer advisory groups and similar organizations weigh in at City Hall on development, homelessness and other issues. Some of the neighborhood councils already have preparedness officers, Garcetti said.
A magnitude 7.1 earthquake centered near Ridgecrest hit last week, the largest quake in Southern California in nearly 20 years. One day earlier, a magnitude 6.4 temblor shook the Southland.
City Councilwoman Monica Rodriguez, who appeared alongside Garcetti at Friday's event, said several neighborhoods in her northeastern San Fernando Valley district have created emergency plans. For instance, locals can learn which house has tools to excavate a debris field or who can do triage, she said.
Rodriguez encouraged everyone to "be part of the solution of how we make sure that our city is stronger."
Valley Glen Neighborhood Assn. representative Katina Shields said residents on her block came up with a plan to go to a prearranged meeting place after a disaster. Neighbors have also made a commitment to look out for one another, she said.
"We know what to do; we know who's going to do it," Shields said. "We have a much greater sense of confidence."
Garcetti said Friday that the city continues to work on improving its ShakeAlertLA app and that the notification threshold will be lowered to alert users when temblors of at least magnitude 4.5 occur, rather than the existing 5.0 magnitude mark.
The app, released Dec. 31, was scrutinized after the recent quakes when residents complained that they didn't receive warnings.
Twitter: @dakotacdsmith
---
The stories shaping California
Get up to speed with our Essential California newsletter, sent six days a week.
You may occasionally receive promotional content from the Los Angeles Times.