Mayor Eric Garcetti set to upload a new trove of online city data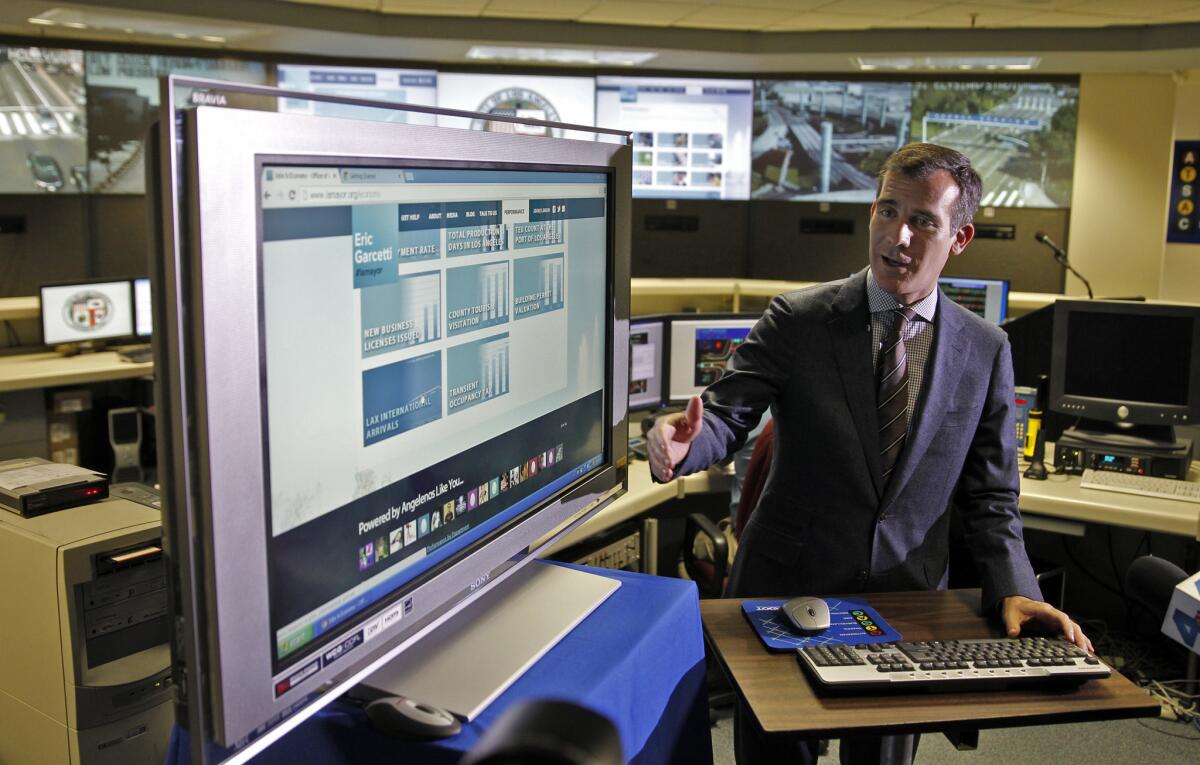 Months after drawing sharply mixed reviews for his initial effort to post city data online, Los Angeles Mayor Eric Garcetti is set to roll out a new trove of information this weekend on crime, car crashes, street lights, business licenses and other municipal minutiae.
The mayor, a proponent of "open data" in government operations, will turn the site, data.lacity.org, live on Saturday as he kicks off a two-day technology and innovation conference at City Hall.
Garcetti unveiled a work-in-progress version of a government performance website in October to mark his 100th day in office. But that effort was a collection of bar graphs, not data sets. One expert said it was about marketing, not open government.
The initiative was eclipsed weeks later by the rollout of Control Panel L.A., a site administered by City Controller Ron Galperin's office. That site made more extensive use of the controller's information on public employee salaries and city spending.
Traffic on Galperin's site dwarfed Garcetti's. Especially popular was Galperin's cheat sheet on the various jobs held by women in different city agencies.
Still, both efforts pale in comparison to the data sites produced by many other major cities. In New York, officials have posted more than 1,100 sets of data, including each service request on that city's 311 system. Seattle's extensive open data site offers a vast compilation of code enforcement complaints -- unpermitted construction, weed-filled lots, illegal junk storage and yards with too many chickens -- letting the public know how and whether those matters were resolved.
Peter Marx, Garcetti's chief innovation technology officer, described the mayor's October initiative as "a beginning" and said the city's data site will involve many revisions. "Five years from now, this should essentially be the go-to place to find data. That's the goal here," he said.
Mayoral aides say L.A. is playing catch-up with other U.S. cities on the open data front and contend the city's technology operations have been "starved" of resources for years. The mayor's data site, said Garcetti spokesman Jeff Millman, will be linked to a new performance Web page (performance.lacity.org) that is considerably more extensive than the one produced last fall.
Garcetti aides offered the Los Angeles Times a preview of their data site this week, showing off sets of information on fire station locations, building permits and a calendar of city-sponsored events. The uploaded data will be available for the weekend conference's so-called hackathon, where competitors will be asked to build apps based on the information posted by the mayor's office.
"We're looking for people to do surprisingly useful things with the data," Marx said.
Around 1,500 people have registered for the conference, which will feature panel discussions on open data, self-driving cars and efforts to increase Internet access in Los Angeles.
Sign up for Essential California for news, features and recommendations from the L.A. Times and beyond in your inbox six days a week.
You may occasionally receive promotional content from the Los Angeles Times.