Waves of rain transform unique Northern California spillway into 'mesmerizing' sight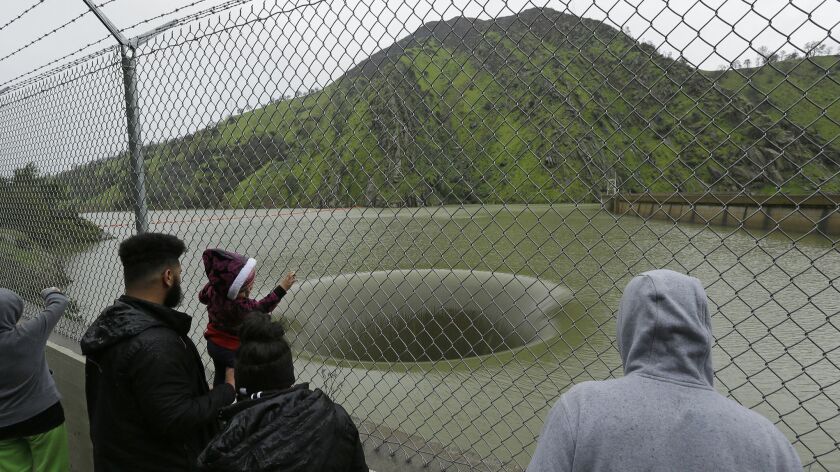 California's wet winter has had a dramatic effect on the state's reservoirs, and one lake has turned the excess rain into a unique waterfall.
The Monticello Dam's Morning Glory Spillway in Northern California — or, as it's commonly known, the "Glory Hole" — has been active for the first time in two years following recent rains that overfilled Lake Berryessa.
The lake is situated halfway between Santa Rosa and Sacramento, and travelers on Highway 128 in Solano County have been stopping to watch the giant funnel that is built into the lake siphon rushing water into a deep hole.
Lake Berryessa normally holds about 1 million acre-feet of water, said Roland Sanford, a general manager for the Solano County Water Agency. But a series of winter storms, many fueled by atmospheric rivers, have dumped nearly 200,000 gallons of additional water into the lake, which is about 45 miles west of Sacramento.
Sanford estimates the lake is currently holding 1.6 million acre-feet of water. If it keeps raining through March, the spillway will be active for about three months, he said.
A new storm was rolling its way across the state Tuesday and was expected to bring plenty of additional rain to the area.
Usually the spillway, which is 72 feet in diameter, is inactive, protruding slightly above the water. But when the lake is full and it rains, travelers often slow or stop along the highway to watch the giant hole swallow water.
A walkway leads to a fence around the dam, where the curious can watch water rapidly plunge into the hole until it flushes into Putah Creek 200 feet below.
On Monday, the water was flowing at a rate of about 5,000 cubic feet per second, but Sanford said it could plunge as fast as 48,000 cubic feet per second down the pipe.
"It is a very unusual and striking spillway. There's only one other one in California — in Redding," he said.
Spillways that drain water through an underwater pipe are generally called "glory holes," said Chris Orrock, a spokesman with the California Department of Water Resources, although Sanford said he thought Lake Berryessa's spillway name came from the morning glory flower.
Fans have taken to social media, posting photos and videos of the unusual site, which one user called "mesmerizing."
Visitors sometimes take drone video to capture the water plunging down like an internal waterfall — something the water company discourages because of safety concerns, Sanford said.
With an atmospheric-river storm sweeping through the state this week, the rain streak is likely to continue. In Solano County, rain is expected from Tuesday night through Thursday, according to the National Weather Service.
"That will boost it up again," Sanford said of Lake Berryessa's water levels.
The last time the spillway was active was in 2017, a record year for rainfall in California after years of drought conditions. Before that, it spilled in 2006, according to the San Francisco Chronicle.
alejandra.reyesvelarde@latimes.com
Twitter: @r_valejandra
---
The stories shaping California
Get up to speed with our Essential California newsletter, sent six days a week.
You may occasionally receive promotional content from the Los Angeles Times.