Gov. Brown signs bill cracking down on L.A. 'veto' for homeless housing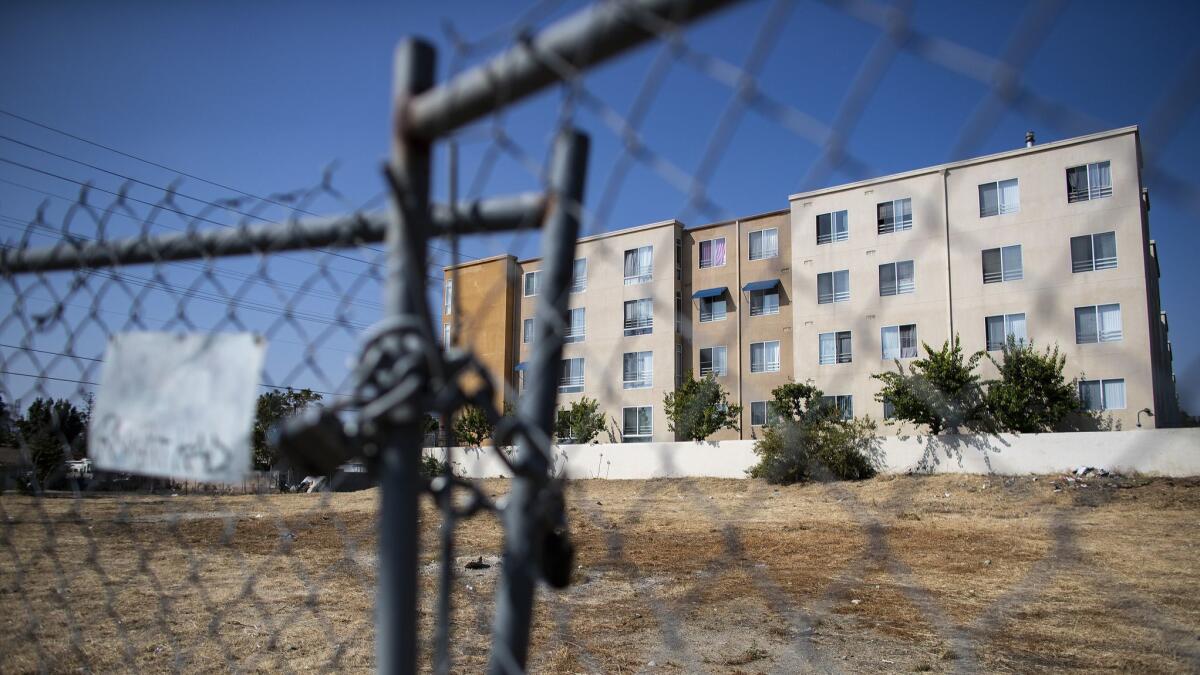 In Los Angeles, members of the City Council have had the power to block funding for homeless and affordable housing projects by refusing to hand over a required letter.
Critics have sued the city over it, denouncing the rule as an unfair and arbitrary "pocket veto."
Now the city must get rid of that requirement — or end up losing out on state funding for housing projects.
Gov. Jerry Brown signed a bill into law Thursday that would prevent state money or tax credits from being awarded to any housing development that requires a "letter of acknowledgment" from a local official. The bill was authored by Assemblyman David Chiu (D-San Francisco), who said that "our homelessness crisis is too severe to say no to proven solutions."
"Local elected officials will continue to have significant input in the planning process, but they will not have a pocket veto to deny badly needed supportive housing projects," Chiu said in a statement.
Chiu proposed his bill after The Times reported on L.A.'s requirement earlier this year.
Under Los Angeles city regulations, housing developers seeking funding for affordable or homeless housing projects must get a "letter of acknowledgment" from the council member who represents the area where they want to build. That rule has been in effect for Proposition HHH, the $1.2-billion homeless housing bond passed by voters, and follows similar requirements for other affordable housing funds.
Council members have argued that requiring the letter ensures that housing developers reach out to them early in the development process, giving them an opportunity to raise any neighborhood concerns and build community support for projects.
City Councilman Gil Cedillo, who heads a council committee focused on housing, called the new law "a solution in search of a problem."
"Council offices are not standing in the way of building permanent supportive housing," Cedillo said in a statement Thursday. "What you have to figure out is how to convince the NIMBY folks that don't want that type of housing in their community."
The Times combed emails and other public records to find that council members had withheld the "letter of acknowledgment" in at least three recent cases, thwarting potential projects in South L.A., Sun Valley and Westlake.
In some cases, council members have used the letter as leverage to get developers to tweak their plans. Cedillo stressed that far more projects had been approved than turned down.
Nonprofits that assist poor and homeless people have complained that the rule allows politicians to block projects without any commonly agreed standards or public scrutiny.
The Alliance of Californians for Community Empowerment sued the city over the requirement, calling it "an illegal, unnecessary, arbitrary, and discriminatory barrier to the construction of affordable and supportive housing."
Attorneys with Public Counsel, which helped represent the community group that sued L.A. over the rule, said they welcomed the new law. But staff attorney Faizah Malik stressed that the state law would not automatically eliminate the disputed requirement, and the city would have to take steps to remove it if it wanted to qualify for state money.
So far, "it hasn't removed it, it hasn't removed any other processes that permit backroom vetoes, and it hasn't taken steps to remediate for the harm that this illegal policy has caused," Malik wrote. "We will continue to litigate to address these issues."
It was not immediately clear Thursday how L.A. officials would respond to the new law, which goes into effect in January.
Los Angeles housing department head Rushmore Cervantes said this week that if Brown signed the law, his staff would work with Mayor Eric Garcetti and the council to craft policies in line with the state regulations.
Garcetti spokeswoman Anna Bahr said that the mayor "will not support any policy that would result in state resources being denied to much-needed affordable housing projects," but it would be up to council members to decide whether to eliminate the letter requirement.
Cedillo said Thursday that he did not want to remove it, but would take that step if needed to retain state funding for housing.
Twitter: @AlpertReyes
Sign up for Essential California for news, features and recommendations from the L.A. Times and beyond in your inbox six days a week.
You may occasionally receive promotional content from the Los Angeles Times.