Homes destroyed by fires and temperature records shattered as heat wave slams Southern California
Heat is getting worse in Southern California.
(Luis Sinco / Los Angeles Times)
Eric Durtschi surveys the damage to his home that was destroyed by a wildfire in Goleta.
(Marcus Yam / Los Angeles Times)
The Holiday fire destroys homes in Goleta.
(Marcus Yam / Los Angeles Times)
A message board tells the tale at Calvary Church on Shoup Avenue in West Hills.
(Brian van der Brug / Los Angeles Times)
Stefano Alippi, dressed as the villain Freddy Krueger, cools off between posing for photos with tourists on Hollywood Boulevard.
(Mel Melcon / Los Angeles Times)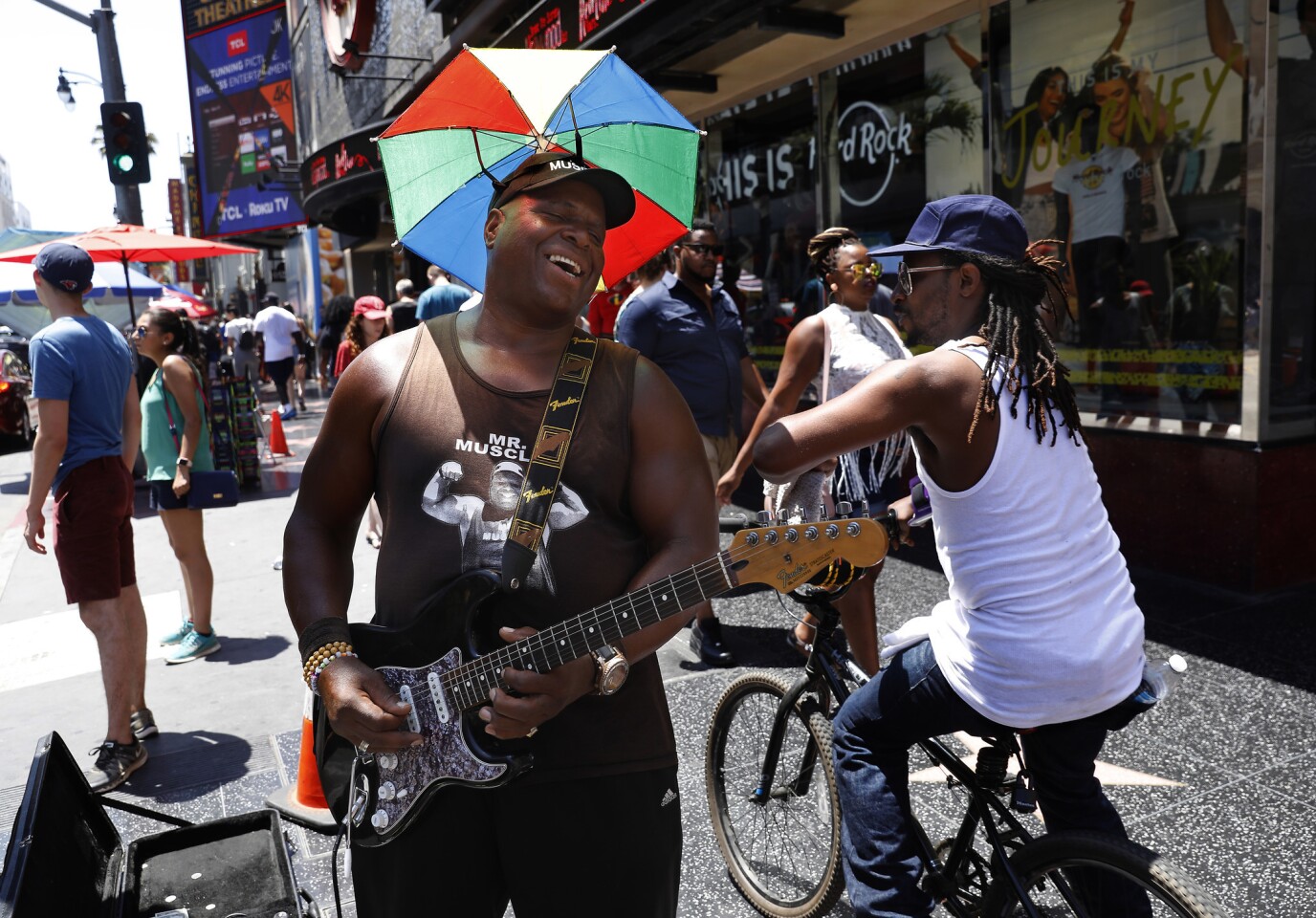 A performer known as Dr. Funkstein shields himself from the sun while playing his guitar near Hollywood Boulevard and Highland Avenue.
(Mel Melcon / Los Angeles Times)
Promise Edmondson, 10, left, of Indianapolis and actress Megan Mills are just a pair of mermaids who don't seem to mind the heat in Santa Monica. Promise was fulfilling a birthday wish to be a mermaid for a day.
(Genaro Molina / Los Angeles Times)
Visitors cool off in the surf in Santa Monica.
(Genaro Molina / Los Angeles Times)
Gary Snyder rides a kayak with what he believes is a gander that he befriended at Lake Balboa in Van Nuys. Snyder said that he first met the bird while walking around the lake about a month ago. He said that since then, the gander joins him for rides about twice a week.
(Mel Melcon / Los Angeles Times)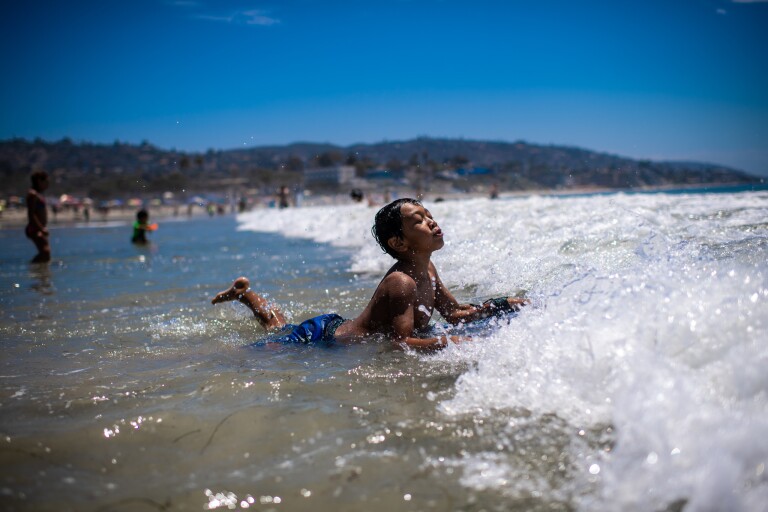 Daniel Navarro plays in the surf in Laguna Beach, where highs along the coast hit the 90-degree mark.
(Gabriel S. Scarlett / Los Angeles Times)
A surfer gets a tube ride amid high surf conditions at the Newport Point in Newport Beach.
(Allen J. Schaben / Los Angeles Times)
A record-setting heat wave sparked brush fires across Southern California that destroyed homes and forced thousands to evacuate from Santa Barbara to San Diego county.
The heat wave, coupled with moderate winds, helped fan nearly a dozen fires across the region, the most serious being in Alpine and Goleta.
Hundreds of residents fled the West Willows community near Alpine, with some saying they didn't know whether their homes were still standing.
By 5 p.m., authorities said that they were getting the upper hand and that forward progress of the fire had been stopped.
"We have made great progress, but there is still a lot of work to be done," said Capt. Kendal Bortisser of the California Department of Forestry and Fire Protection.
On the Santa Barbara County coast, powerful sundowner winds helped fuel the Holiday fire, which burned several homes Friday night in the hills above Goleta and threatened more than 100 others, according to the Santa Barbara County Fire Department.
Temperatures remained around 100 degrees as the fire fight moved into the night. Powerful evening winds were pushing the blaze, which authorities said began as a structure fire, in different directions.
Authorities said 10-20 homes were lost and Santa Barbara County issued a local emergency proclamation.
Firefighters were still battling that blaze Saturday morning.
A fast-moving fire in the San Bernardino National Forest on Friday afternoon prompted authorities to call for the mandatory evacuation of the town of Forest Falls. The fire was more than 200 acres and was burning quickly into the San Gorgonio Wilderness, according to the San Bernardino County Fire Department.
Another blaze at Camp Pendleton sparked more evacuations, while smaller fires broke out in the Cajon Pass, Angeles National Forest, Montecito Heights, Sylmar and Pacoima. It was a grim beginning to what fire officials have warned will be another year of extreme fire danger as much of Southern California remains under drought conditions. Last year was the worst fire season on record in California, with thousands of homes lost and dozens killed from Northern California wine country south to Los Angeles and San Diego counties.
Outside the fire zone, it was a day of triple-digit misery that left sweaty Californians to the mercy of their air conditioning or their resolve to tough it out.
By 1 p.m., the temperature hit 115 degrees in Woodland Hills, breaking the previous daily record of 106 degrees set on July 6, 1976, according to the National Weather Service. It was just four degrees shy of the hottest temperature ever recorded in Los Angeles County: 119 degrees on July 22, 2006. That also happened to be in Woodland Hills.
Several places broke heat records for the day, including downtown Los Angeles, which hit 108 degrees. Van Nuys and Burbank airports set all-time records of 117 and 114 degrees, respectively. The San Diego County community of Ramona reached its highest recorded temperature — 112 degrees — by 11 a.m., forecasters said, and later hit 115 degrees.
The broiling temperatures were the result of a strong high-pressure system combined with offshore winds blowing from the desert to the ocean, said Todd Hall, a meteorologist with the National Weather Service in Oxnard.
Like many Southern Californians, Hall does not have air conditioning at home and was not looking forward to leaving his nice, cool office.
By midmorning Friday, it was already 105 degrees in Los Feliz as Zeneith Evenstar heaved a shopping cart full of her belongings uphill.
A petite homeless woman with graying hair, Evenstar, 56, said she knew how to keep cool after seven years of living on the streets. She pours water on herself as she walks her route collecting cans. She spends afternoons at her church. And she knows the patches of shade where she can rest and security guards won't chase her away.
"I just keep going," Evenstar said. "What can you do?"
Friday was forecast to be the peak of the heat wave, but triple-digit temperatures were expected to linger through the weekend, according to the weather service. Even coastal areas are expected to see temperatures in the high 80s and low 90s.
On the waterfront, temperatures soared to record-breaking heights Friday, climbing to 85 degrees in Newport Beach by the afternoon.
Thousands of beachgoers who sought relief wading in 65-degree ocean water were met with more accommodating conditions than earlier in the week. Sizable surf from Hurricane Fabio that had pounded south-facing beaches with 6- to 8-foot waves in Huntington Beach, Newport Beach and Laguna Beach beginning Wednesday had tapered off by Thursday night, lifeguards said.
Los Angeles has a network of cooling centers for people who lack access to air conditioning and need a place to escape dangerous temperatures. Department of Recreation and Parks facilities, such as recreation centers, museums and senior centers, as well as libraries, would be available as cooling centers during regular hours, city officials said.
The Los Angeles Department of Water and Power also said it would install temporary water fountains in the Tujunga Wash area, San Julian Park, Gladys Park, La Plaza De Culturas y Artes and the Exposition Park area.
In San Diego, the Fire-Rescue Department planned to have extra firefighters, brush engines and water tankers on duty to deal with any heat-related blazes. Critical fire weather conditions were also possible in Ventura County, the valleys and the Central Coast.
The dry heat raises the danger of new fires sprouting throughout the region. A red flag warning was in effect from Friday night through Saturday, with the most at-risk areas in the foothills and mountains.
In an almost ironic twist, the Moo on Mission ice cream shop in South Pasadena was nearly empty around noon as temperatures soared outside.
"Heat kills business," said owner Karen Klemens. "If they have air conditioning, they're going to stay inside."
Klemens said her company started running its ice cream machine at 2 a.m. instead of the normal 8 a.m. to make sure the equipment had time to cool down.
As frozen containers of salty chocolate, organic fresh basil and Thai tea-flavored ice cream sat waiting for customers, Klemens said she hoped it would get busier once the sun went down.
"People will just want to get out of the house," she said.
Inside downtown's Grand Central Market around noon, hordes of people made their way through the various stalls. The clamoring sound of plates and pots echoed while giant fans stationed along the aisles blew cool air. Tourists stopped by one of the fans for a moment, hoping for a respite from the heat.
Outside, Allyson Schaefer was applying sunscreen while the rest of the crowd ordered hot food — and hot coffee. It was 90 degrees.
"I just have to get through today," Schaefer, 25 said, as she sat under the shade of a large red umbrella.
Schaefer, who is from Texas, lamented the timing of her Southern California visit. She said she came to visit a friend — not to experience a Southland heat wave. On Saturday, she hopes to find refuge in San Diego. Until then, she said, she'll stick to her plan.
"Drink lots of water and put on sunscreen," she said.
In Woodland Hills — the north San Fernando Valley suburb that always seems to be the hottest place in the county — people still took to Warner Center Park to walk their dogs, jog and work out, even as the temperature rose above 110 degrees. Many of the men shed their shirts.
Violetta Leclere, who moved to Woodland Hills from Russia a decade ago, lay on her blue yoga mat beneath a tent in the park. She raised and lowered her legs slowly.
"Honestly, my LA Fitness card didn't go through today," said Leclere, a 27-year-old Santa Monica College student. "I try not to quit. I like a challenge."
She planned to work out on the grass for at least 40 minutes.
"I like hot weather," she said. "I don't see many other people here. I'm the craziest one today."
Robert Dill stood shirtless in the park, in direct sunlight, juggling bright orange pins. He's lived in Woodland Hills for 30 years, but before that lived in Dallas, where he was used to unbearable humidity.
"It usually doesn't bother me that much…. It's kind of a piece of cake," he said of Southern California's drier heat.
But Sara Waxman, who has lived her entire life in Woodland Hills, didn't share that laissez faire attitude. She was walking her pit bull, King, through Warner Center Park, and he tried nuzzling his nose in a wet spot on the grass.
"I hate the heat," Waxman, 24, said. "I can't stand it."
She had to walk the dog, but she planned to hide inside for the rest of the day. King spends hot days laying on cold tile floors.
"He hates the heat, too," she said. The dog just panted.
Times staff writers Victoria Kim, Emily Alpert Reyes, Javier Panzar and Benjamin Oreskes in Los Angeles contributed to this report. Hannah Fry of Times Community News in Orange County and Teri Figueroa, Karen Pearlman and Pauline Repard of the San Diego Union-Tribune also contributed.
alejandra.reyesvelarde@latimes.com
---
UPDATES:
6:30 a.m.: This article was updated with new details on fires.
---
The stories shaping California
Get up to speed with our Essential California newsletter, sent six days a week.
You may occasionally receive promotional content from the Los Angeles Times.