At least one skull used in Santeria ceremonies found in Compton shop, authorities say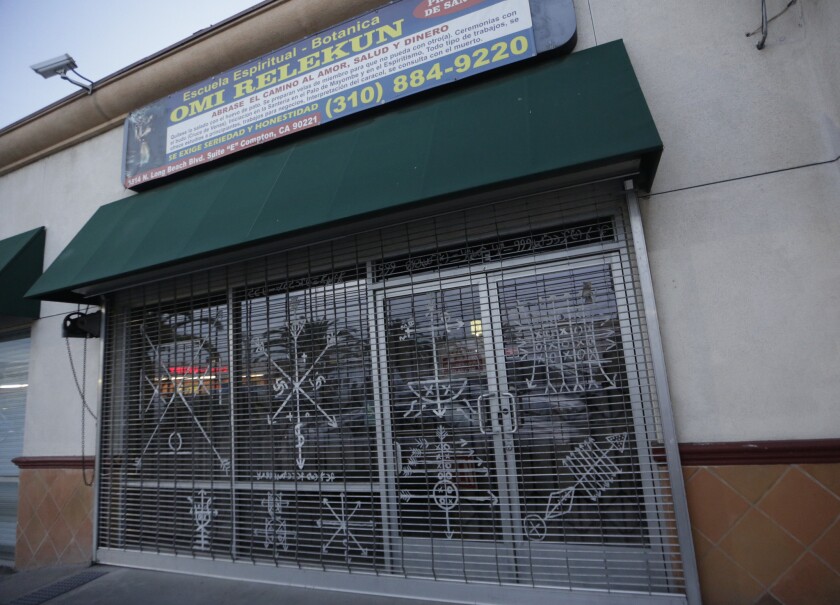 Los Angeles County Sheriff's detectives recovered at least one apparent human skull and possibly others from a Compton store where they were being used for Santeria religious ceremonies, officials said Friday.
Sheriff's homicide investigators said no foul play is suspected. But questions remain about how the skull was acquired. Eight other containers, still unexamined, were also recovered.
"There is nothing sinister here," said Sheriff's Homicide Capt. Steve Katz. "The skull and possible eight other skulls in vessels were being used in Santeria. The question is were the skeletal remains acquired appropriately."
Katz said skeletal remains can be obtained legally under certain circumstances and that coroner's experts will determine whether the remains are human.
He said one container was opened by investigators and they found a skull but the other eight said to contain skulls have yet to be examined.
Sheriff's investigators went to the scene, a storefront advertising spiritual advice, in the 1500 block of North Long Beach Boulevard after reports of animal cruelty, Katz said.
Those reports are still under investigation, he added.
On Friday, the parking lot was filled with television crews and curious residents.
Angie Garcia, 28, of Compton, said she used to attend Friday ceremonies at the location, called Omi Relekun.
Inside, spiritual advisors dressed in white said they could communicate with the dead and cast out negative energy that clung to participants, she said.
Sometimes, the ritual called for the sacrifice of a live chicken, bird, or goat.
The mother of two said she was shocked to learn that authorities found what might be a human skull in the shop.
"How scary," Garcia said. "I have kids around here. I know they worked with animals but not human skulls."
The Santeria religion originated with the Yoruba people of West Africa and came to the Caribbean with blacks who had been sold into slavery. During the 19th Century, it became enmeshed with elements of Catholicism.
The religious shop is tucked into a strip mall next to a store selling bottled water and another with blacked-out windows.
Metal bars covered the windows of Omi Relekun, which were plastered with arrows, Xs and other symbols written in white paint.
For SoCal crime & investigations follow me on Twitter @lacrimes
---
For reporting and exclusive analysis from bureau chief John Myers, get our California Politics newsletter.
You may occasionally receive promotional content from the Los Angeles Times.