Iranian Americans' views on the Iran deal often fall along generational lines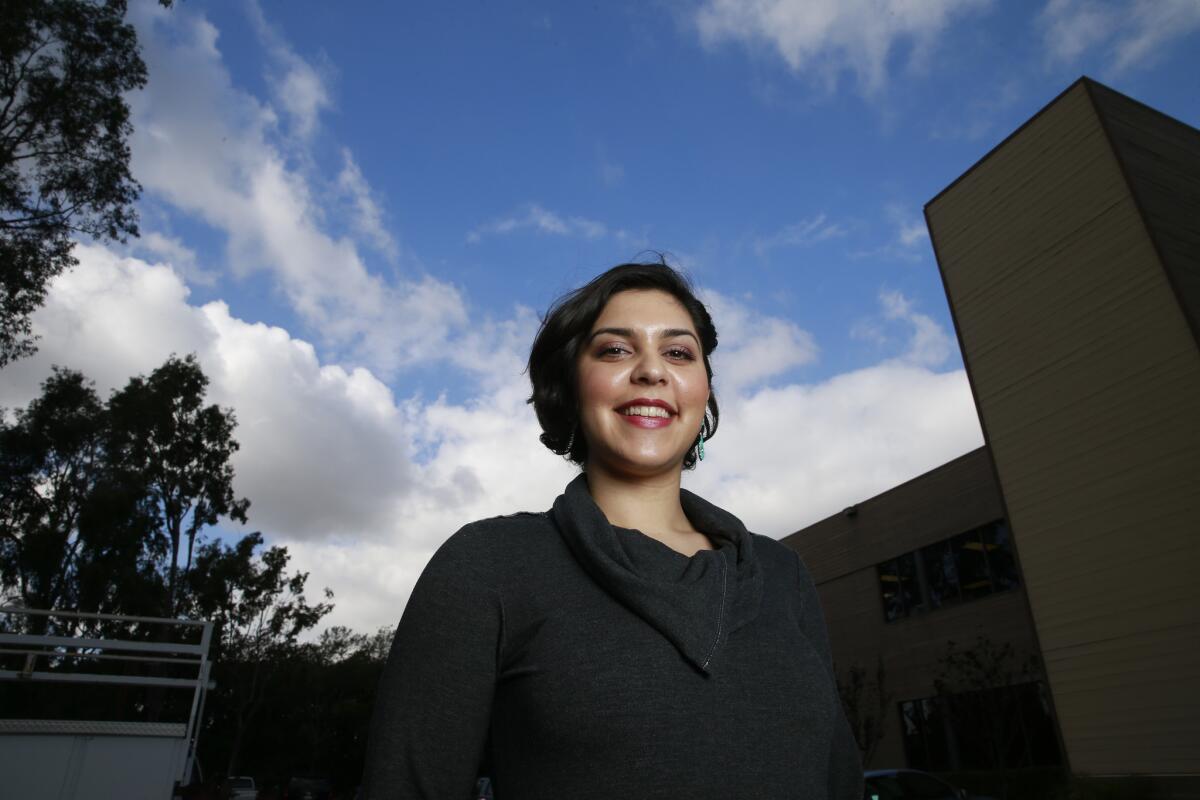 Negeen Sadeghi-Movahed dreams of hopping on a plane from John F. Kennedy International Airport straight to Iran, where she would spend weeks learning about her roots.
It is, for the 22-year-old, one of the simple, hoped-for fruits of a nuclear accord with Iran.
Roozbeh Farahanipour, 44, has a darker vision — of a deal that strengthens a regime that doesn't care about human rights.
See more of our top stories on Facebook >>
The historic pact is stirring diverse reactions in Southern California, home of the largest community of Iranians outside of Iran, whose experiences with the motherland can be starkly different.
Sadeghi-Movahed embodies the attitude of many young Iranian Americans who welcome the deal with a sense of the adventures they could have — and capture on Instagram — in the land of their fathers and mothers. Farahanipour represents many in an older generation who have watched in anger and disappointment as the Iranian government has isolated the country from much of the international community.
"The only thing that gives me a good feeling is when I see fellow Iranians happy," said Farahanipour, the president of the West L.A. Chamber of Commerce. "The thing is … in the near future they will realize nothing is going to change. Poverty will continue, nobody will talk about human rights violations anymore and the regime will get stronger."
Iranian and U.S. officials announced Saturday in Vienna that Iran had complied with the terms of last summer's landmark deal to dismantle its nuclear program and that the sanctions that have crippled the nation's economy would be lifted. The move will give the Iranian government access to more than $50 billion in frozen assets and oil revenue. It also allows some exceptions to trade embargoes against Iran.
Any money that comes from Iran's previously frozen assets, Farahanipour said, will "fund state-sponsored terrorism" instead of advancing human rights in that country.
The deal marks a "period of uncertainty" for Iranians across generations, said Majid Rafizadeh, president of the International American Council. But skepticism over the accord — including a lack of faith that Iranians will see sanctions relief trickling down, or fear that hard-liners will be empowered to suppress civil liberties — are more common among older generations, he said.
"The older generation focus on the economic aspect of the deal, while the younger generation focus on building better ties with the world, traveling to the U.S.," he said.
Reza Marashi, research director for the National Iranian American Council, said Persian youth — including those who were part of the diaspora — should use the deal's momentum to push for better relations, he said.
"Far be it from me to tell older Iranians what their view or relationship should be, but I can say that for 37 years, talking about how terrible the Iranian government is did not provide actions that would help the situation," Marashi said. "If you encourage peaceful change, then over time the type of change you would like to see becomes more likely."
For young Iranian Americans like Sadeghi-Movahed, the agreement isn't just about trade, terrorism and other geopolitical questions. It's also about the simple, even mundane, things she hopes the deal can deliver: being able to wire money to relatives, bring home Persian rugs, or talk on the phone with her family without having to use apps that smooth notoriously choppy connections.
Many of her friends have family members who still live in Iran and can't afford certain medication as a result of the downtrodden economy.
"Now they can make sure the money to purchase that medicine gets transported," said Sadeghi-Movahed, who works for an organization in Orange County that mentors Iranian American women.
But maybe the simplest test of all, she said, will be whether young, politically active Iranian Americans like her will be able to travel to Iran without ending up in jail, being harassed by police or generally getting a taste of what older generations fled.
"My parents worry that I will be targeted at the airport or by Iranian authorities for my dual-national identity, being an American citizen," Sadeghi-Movahed said. "They also worry that the authorities could be tracking my political posts via Facebook and Twitter, since the Iranian government has a very harsh position on censorship."
Many young Iranian Americans haven't returned in years because their parents warned that they may be unknowingly caught in a battle between Iran's hard-liners and more moderate politicians. They cite Jason Rezaian, the Washington Post reporter jailed in Iran for more than 500 days. Rezaian and three other Iranian Americans were released to the U.S. as part of a prisoner swap on Saturday.
"I'm an outspoken feminist on the Internet and a lot of people worry," said Sadeghi-Movahed, who hasn't been to Iran since she was 8. "It would be nice to go and see my family and not fear for the possible implications."
Donya Nasser, the U.S. youth observer to the United Nations, said she would love to travel to Iran every year.
"I'm tired of people telling me, 'Donya, be careful,'" Nasser, 23, said.
She would like to spend a few months in Iran so she could master the Persian language, she said.
She'd also like an easier way to call her family in Iran. Thanks to constant bans on new forms of communication, Iranians find themselves struggling to download the latest apps to make phone or video calls each month.
"First it was Viber and then WhatsApp and now it's Imo," Nasser said. "And it's like, for God's sake, all we want to do is talk to our family."
She concedes that many of her generation have a more romantic view of Iran than older generations, which bore the brunt of the country's inequities as well as its war with Iraq.
"They are more disillusioned," Nasser said. "We only have memories of how amazing Iran is."
"When we think of Iran, we think of chelo kabab and sangak and mehmoonies," she added, referring to Persian food and parties. "We have this intense love ... It's very much home in our hearts."
Marashi said he understands why many people in America who trace their roots to Iran are concerned about the deal. Many have a personal story from the 1979 Islamic Revolution — and the tales don't often end well.
"The deal doesn't guarantee an Iranian government that facilitates the aspirations of its own people. I'm clear-eyed about that," he said. "But it shows that if the Iranian community works together, we can build a track record of success."
Despite the generational differences, Sadeghi-Movahed is convinced that Iranians of all ages can get behind the accord.
"My grandpa wasn't supportive at first. Then, as soon as it passed, he was very supportive," she said. She paused for a moment before mimicking his Persian accent:
"He said, 'I knew this was going to pass. Very good.'"
Twitter: @sarahparvini
ALSO
Why markets are anxious about Iran's reentry into the global economy
Are any of the Iranians in the prisoner swap a threat to national security?
Where are Iran's billions in frozen assets, and how soon will it get them back?
Sign up for Essential California for news, features and recommendations from the L.A. Times and beyond in your inbox six days a week.
You may occasionally receive promotional content from the Los Angeles Times.