Jahi McMath is brain dead; hopes for life are futile, experts say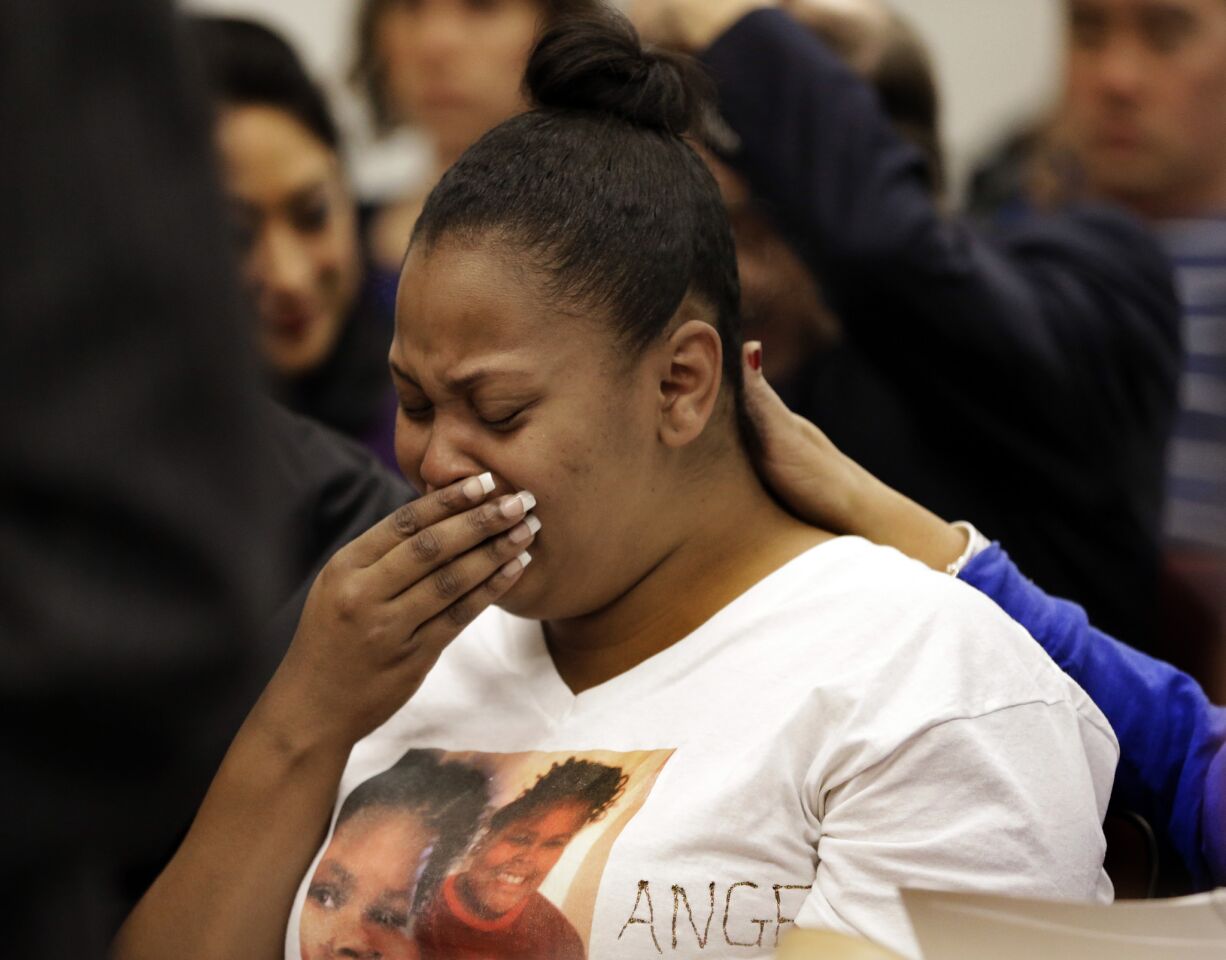 Nailah Winkfield, mother of 13-year-old Jahi McMath, cries before a courtroom hearing regarding McMath, on Dec. 20, 2013, in Oakland.
(Ben Margot / Associated Press)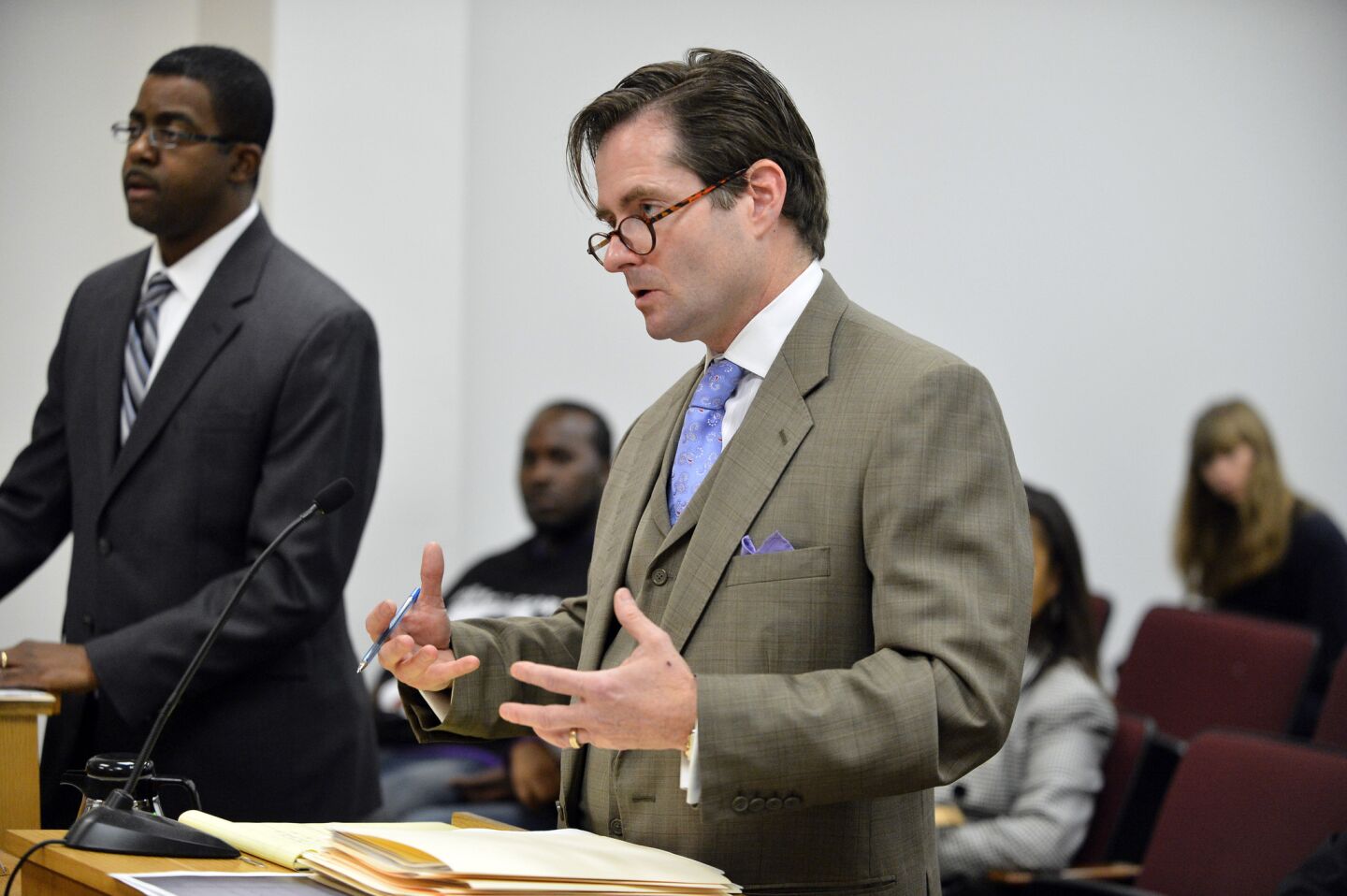 Christopher Dolan, attorney for Nailah Winkfield, mother of Jahi McMath, speaks during a court hearing in Oakland on Dec. 23, 2013.
(Kristopher Skinner / Associated Press)
Marvin Winkfield places his arm around his wife, Nailah Winkfield, mother of 13-year-old Jahi McMath, as they wait outside a courtroom Friday.
(Ben Margot / Associated Press)
Omari Sealey makes a statement to the media on the condition of his niece Jahi McMath on Monday.
(Marcio Jose Sanchez / Associated Press )
With the clock winding down on a court order keeping 13-year-old Jahi McMath on a ventilator, medical ethicists say the public drama over the brain-dead girl has fueled a misconception that her condition is somehow treatable.
Multiple doctors, including a Stanford neurologist, have concluded that Jahi is brain-dead -- the result of complications from having her tonsils removed at Children's Hospital & Research Center Oakland early this month. But her parents have fought to keep her on a ventilator, telling reporters they believe "there's still life there."
Arthur Caplan, director of the Division of Medical Ethics at NYU Langone Medical Center, told CNN last week that the case is "giving the impression that dead people can come back to life."
That, in turn, has fueled the falsehood that brain death isn't as final as cardiac death.
Jahi's family has been trying to find a facility to take her in but have so far been unsuccessful. Two facilities in Southern California reportedly withdrew their offers, and a family attorney is said to be in talks with a care center in New York.
The attorney, Chris Dolan, told NBC Bay Area that the family views the New York site as its "last, last hope."
Children's Hospital & Research Center Oakland has said it is willing to work with the family but said any transfer would have to be approved by the county coroner.
Dolan has said that moving Jahi would require the insertion of tracheostomy and gastrostomy tubes -- something that the hospital's chief of pediatrics, David Durand, has said he would oppose.
"Children's Hospital Oakland does not believe that performing surgical procedures on the body of a deceased person is an appropriate medical practice," he told CNN.
In a court petition seeking to rescind an order keeping Jahi on a ventilator, attorneys for the hospital argued that because Jahi is dead, "practically and legally," there is no course of medical treatment to administer.
"To be blunt, Children's is merely preserving Ms. McMath's body from the natural post-mortem course of events," attorneys said. "There is no legal, ethical or moral requirement that it continue to do so or that the family consent in the decision to stop doing so."
The court order keeping Jahi on a ventilator will expire at 5 p.m. Monday, unless the family is successful in seeking an injunction.
During the Dec. 9 surgery to remove her tonsils, Jahi went into cardiac arrest, and the flow of oxygen to her brain was cut off. She was declared brain-dead after three tests showed there was no "cerebral activity," according to court records.
ALSO:
Plane crashes into used-car lot in Pacoima; 2 injured
Gay wedding planned for Rose Parade float draws criticism
Two teens due in court on murder charges in death of graphic artist
jason.wells@latimes.com
Twitter: @jasonbretwells | Facebook | Google+
---
Life is stressful. Our weekly mental wellness newsletter can help.
You may occasionally receive promotional content from the Los Angeles Times.