Celeb spray-tanner Jimmy Jimmy Coco sues West Hollywood council candidate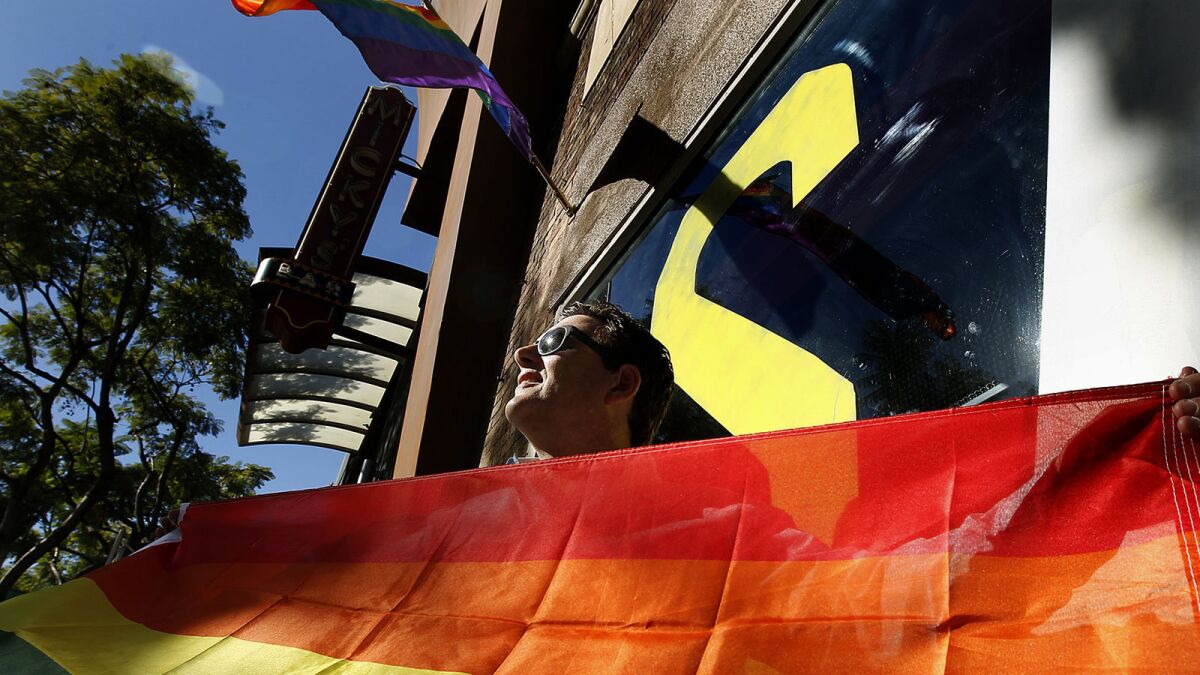 A celebrity spray-tanner and former Chippendale's dancer has sued West Hollywood City Council candidate Larry Block, alleging Block unfairly evicted him from his home.
The lawsuit was filed by James W. Snyder, a.k.a. Jimmy Jimmy Coco.
The self-styled "spray-tanner to the stars," whose clients include Heidi Klum, the Kardashian sisters and Victoria Beckham, says he rented a converted garage on Block's West Hollywood property that he later learned was an "illegal bootleg unit." Block tried to evict him after a disagreement about a parking permit, the complaint alleges.
With the city's March 3 election approaching, Block and West Hollywood political observers say the suit filed in Los Angeles County Superior Court on Jan. 29 is politically motivated.
Snyder's attorney, Neal S. Zaslavsky -- who was appointed last year to a municipal committee -- provided what he called "embargoed courtesy copies" of the lawsuit to various city officials. Block said those officials saw it before he did. He was served on Feb. 2, he said.
Zaslavsky sent a copy of the lawsuit to Mayor John D'Amico, who is running against Block. D'Amico said the copy sent to his e-mail was "unsolicited" and that he didn't comment on the lawsuit or share the e-mail. The 52-page complaint mentions Block's City Council candidacy numerous times.
"This is absolutely politically motivated," Block said. "This is a bogus lawsuit, a frivolous lawsuit that has no merit whatsoever. … They're trying to derail my candidacy."
The lawsuit says Block was an abusive landlord who took advantage of Snyder's "vulnerabilities and his well-founded fear of the purported City Hall connections that Block often ballyhooed about."
Block, who owns a Santa Monica Boulevard clothing store, allegedly made unwanted sexual advances toward Snyder and installed "spy cameras" pointed into Snyder's residence, according to the suit.
"Mr. Snyder is a former dancer with the Chippendale's Male Dance Revue, a show well-known for having handsome and well-built men performing in minimal clothing," the lawsuit states. Block "pointed his cameras directly into Mr. Snyder's large bedroom windows with the hopes of catching Mr. Snyder … in a state of undress as he emerged from the shower, got out of bed or got dressed."
Block said the allegation was false and that he had installed several security cameras around his property because Snyder let so many people onto the property.
According to the lawsuit, Snyder and Block entered into an "oral contract" in June 2014 regarding the renting of the converted garage. The relationship soured when Block declined to get a street parking permit for Snyder's guests, including sitters for his asthmatic cat.
When Snyder tried to obtain a guest parking permit himself from City Hall and tried to prove residency, he learned the property was an illegal unit, the lawsuit states. Block tried to evict him after that, according to the lawsuit.
In an interview, Block said he's "not a landlord." He said Snyder, who travels often, needed a place to store his things, so he paid to store them in Block's garage, which Block described as a place where he stores clothes for his store and watches TV sometimes. He said it was never meant to be an apartment.
"I never signed a lease; I never offered a lease," Block said. "I never had a 'For Rent' or a 'For Lease' sign on any part of my house."
Snyder's attorney said his client "feels so violated by all of this" and that Snyder and Block had been friends for more than 15 years.
Zaslavsky said the suit was not politically motivated and that Snyder moved out of the unit in November.
"For months and months, he was put under tremendous stress," Zaslavsky said. "He does travel quite a bit for his work. … The last thing you want is having to deal with a landlord that's doing crazy stuff to you. You don't want to worry where your cat sitter is going to park while you're gone. You don't want to worry about the city condemning your unit because it's an illegal unit."
"The big thing he wants," Zaslvasky said, "is an apology."
For more West Hollywood news, follow @haileybranson on Twitter.
The stories shaping California
Get up to speed with our Essential California newsletter, sent six days a week.
You may occasionally receive promotional content from the Los Angeles Times.