Court commissioner calls Venice boardwalk cleanups 'troubling,' refuses to punish homeless advocate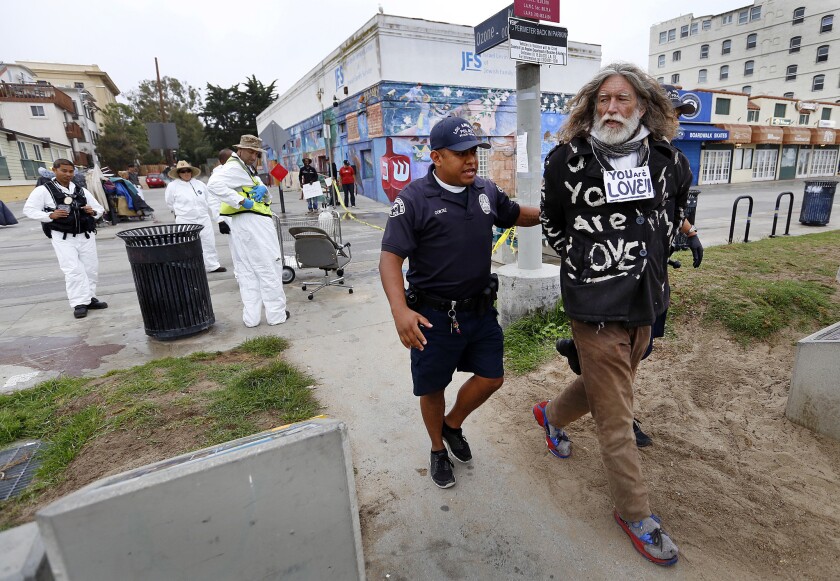 Calling Venice homeless cleanups "troubling," a Los Angeles court commissioner has turned down the city attorney's request to punish a homeless man for protesting by lying in the path of a sanitation truck.
"People are not disposable property," Commissioner Alan I. Rubin said Monday during a sentencing hearing at the Airport Courthouse for activist David Busch. "You just can't sweep people up."
Busch, a homeless activist who had long accused the city of illegally seizing and destroying homeless people's belongings, was arrested during a March 2015 cleanup on the Venice boardwalk, and later pleaded guilty to disturbing the peace.
Prosecutor Claudia Martin had asked Rubin to sentence Busch to a year's probation and order him to stay off the boardwalk on cleanup days. Rubin suggested the city overstepped its bounds by destroying homeless people's property during the weekly sweeps and rejected any further sanctions for the activist.
It seems to me a lot of personal property is being thrown away that should not be thrown away.
Commissioner Alan I. Rubin
"It seems to me a lot of personal property is being thrown away that should not be thrown away," Rubin said. "It's not for the Bureau of Sanitation to decide what clothing is valuable to people."
The city has long been embroiled in controversy and litigation over the sweeps, which were dramatically increased as homeless encampments spread throughout the city last year. Officials say their policies balance homeless people's property rights against the need to maintain public safety and health in the streets.
In Venice, the sweeps take place every Friday on the boardwalk, where teams of police and sanitation workers power-wash the concrete as well as they grassy and sandy areas where homeless people congregate. In addition, the workers search and discard contaminated belongings left unattended while their owners line up for food, collect cans for recycling or seek a bathroom.
The city also confiscates oversized possessions and impounds them in storage on skid row, 18 miles from Venice Beach.
Busch's attorney, Venice-based John Raphling, argued that Busch was exercising his 1st Amendment rights to protest what he sees as unjust city politics.
"This is a very important case," Raphling said. "It's a test of our moral values and how we as a society choose to deal with the problems of poverty and homelessness."
Raphling showed photographs to the court of city workers taking neatly bundled clothing, bedrolls and pill bottles and throwing them in a dumpster, and tagging and confiscating bicycles. Raphling also presented a city report indicating that of the ton of belongings discarded the day of Busch's arrest, only 50 pounds were contaminated with feces, needles and other hazardous residue.
Rubin appeared particularly concerned that the city stored items, including bicycles, so far away from homeless Venice residents.
"You take away their means of transportation, their bicycle, and then tell them to go downtown," the commissioner said. "There's a certain irony there, don't you think? How are they supposed to get downtown? Hitchhike? Walk?"
See the most-read stories this hour »
Martin argued that the court appeared to be taking Raphling's "interpretation" as fact, and said she could present counter-testimony that the items destroyed were contaminated. She declined Rubin's offer to delay sentencing so she could bring in city officials to take the witness stand.
"Sometimes in a free society, the peace needs to be disturbed," said Rubin, who invoked Martin Luther King Jr. and his own history of protest of the Vietnam War during the hearing. "I have to think there is some sort of justification for their protest."
"How many judges have to say these things to the city before the city stops wasting judges' time?" Busch said after the decision. Martin declined to comment.
Follow me for homelessness news on Twitter: @geholland
MORE LOCAL NEWS
In Westlake, homeless people take cues from immigrant street vendors
Metrolink unveils new locomotives that could help improve the region's air
Airbnb strikes deal with L.A. to collect millions in lodging taxes
---
For reporting and exclusive analysis from bureau chief John Myers, get our California Politics newsletter.
You may occasionally receive promotional content from the Los Angeles Times.