More Californians are insured in 2016, but many still worry about medical costs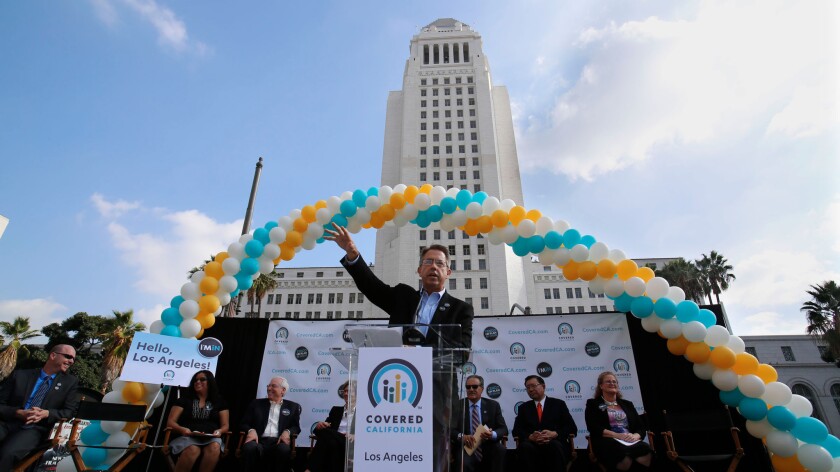 Nearly three-quarters of Californians who didn't have health coverage before the Affordable Care Act are now insured, yet many are still concerned about their medical expenses, according to a report released Thursday.
A Kaiser Family Foundation survey tracking the state's uninsured population found that 72% of those without insurance in 2013 had a health plan in 2016.
That's a small increase from the 68% who had coverage last year and 58% the year prior.
Bianca DiJulio, the foundation's associate director of public opinion and survey research, said there wasn't a big jump in coverage this year because most Californians who were likely to sign up for insurance had already done so.
"The remaining uninsured are an increasingly hard group to get," she said.
Kaiser's annual survey follows a group of 2,001 adults in California who were uninsured before the healthcare expansion under the ACA, also known as Obamacare, in 2014.
This year, the researchers found that 33% of the formerly uninsured are now enrolled in Medi-Cal, 21% receive insurance through an employer and 11% buy a plan through Covered California, the state's health exchange.
They uncovered good news among the newly insured: More than 75% of those who are now insured say their health needs are being met today, while fewer than half said the same thing while uninsured in 2013.
Across insurance types, however, many Californians still worry about the cost of medical care.
About one in five of the recently insured said they went without needed medical care sometime in the past year due to cost. Fifty-three percent said they were very worried that they wouldn't be able to pay their medical bills if they were stricken by a serious illness, and 60% said it was difficult for them to afford healthcare in general.
DiJulio acknowledged that expenses can feel burdensome for the newly insured. But she pointed out that 80% of those surveyed in 2013 said they were very worried about large medical bills and 85% said it was difficult for them to afford healthcare.
"Once people get insurance their concern about cost is mitigated somewhat, so they still might have that concern but … at a much lower rate," she said.
The survey found that half of those who recently gained coverage said it made them feel more financially secure.
Cost remains a big deterrent for those without insurance. Forty-seven percent of the uninsured said they didn't sign up for a health plan because it's too expensive and they can't afford it.
The survey found that the largest group of Californians without insurance are immigrants in the country illegally, who make up about a third of the uninsured. Those people cannot sign up for insurance under Obamacare.
Since the Affordable Care Act took effect, advocates in California have been trying to find ways to provide insurance to this population. The state is now seeking federal permission to allow those here illegally to buy insurance through Covered California without subsidies that are available to others.
Already, Gov. Jerry Brown allowed immigrants under age 19 who are in the U.S. illegally to sign up for Medi-Cal. Since enrollment began in May, more than 133,500 people have signed up, in what Sen. Ricardo Lara (D-Bell Gardens) called a success for the effort to insure all Californians.
"We are well on our way to ensuring that every kid, in every community, gets the coverage they need to live healthy, productive lives," Lara, who advocated for expanding Medi-Cal to kids, said in a statement.
soumya.karlamangla@latimes.com
Twitter: @skarlamangla
ALSO
Gov. Brown signs bill that could help immigrants get access to health insurance
Amid meningitis outbreak, officials urge vaccination — but not for everyone
This terminally ill man says California's aid-in-dying law means he can end his life 'fully, thankfully and joyfully'
---
The stories shaping California
Get up to speed with our Essential California newsletter, sent six days a week.
You may occasionally receive promotional content from the Los Angeles Times.