L.A. City Controller says too many LAPD cops are cubicle police; civilians can do that work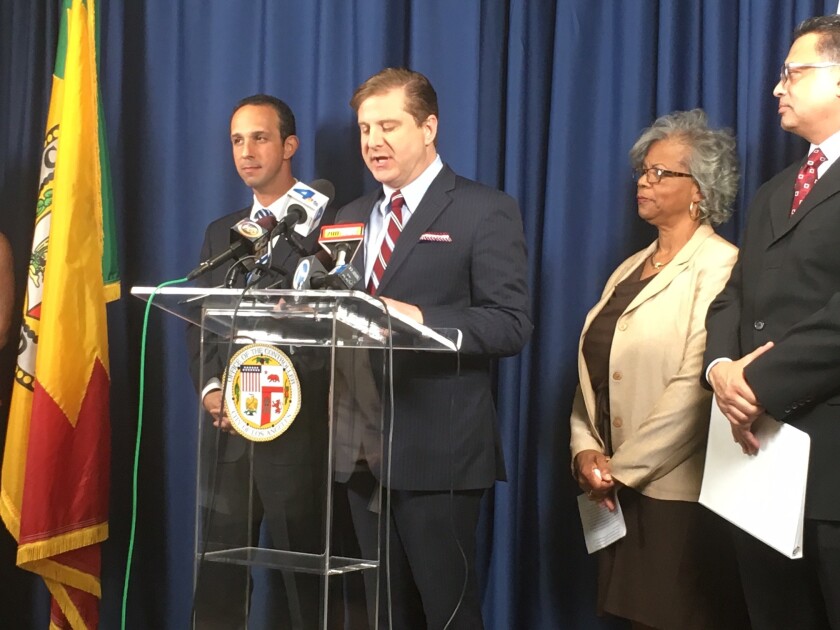 Los Angeles police could better combat crime in the city by freeing more than 400 able-bodied officers from desk jobs and hiring more civilians to perform clerical duties, according to an audit released Tuesday.
The report by City Controller Ron Galperin highlighted a issue that has been persistent and problematic for LAPD brass: As the department's sworn officer ranks grew slightly to just under 10,000 in the last decade, 621 of those officers are filling civilian clerical positions because of a shortfall in administrative staff.
Some of those officers are injured, but the bulk -- 458 -- are fully capable of patrolling city streets, Galperin's audit found.
"Our highly trained and wonderful police officers should do more officer work and less office work," Galperin said at a news conference at City Hall.
He recommended that city officials prioritize a long-term budget plan to fill civilian jobs and get cops back on streets.
"These jobs we have to identify don't require specialized training or expertise of a sworn officer," he said
They include positions such as manning desks, managing equipment rooms, time-keeping, clerical work, auditing work, performing digital media tasks and acting as couriers. Some 83 officers also work as jailers.
The LAPD employs about 2,888 civilians. Increasing their ranks to free up officers would cost the city $53.6 million, less than 4% of the LAPD $1.4-billion budget, Galperin said.
That is far cheaper than hiring 400 additional officers, who would cost $44,000 more per position than hiring a civilian.
Galperin called on city officials to enact a multi-year hiring plan.
He acknowledged that similar calls had been ignored in the past from his predecessors. But he said there was now a broader consensus, with police union officials, top department brass, the police commission president and Mayor Eric Garcetti seeing the need to use civilian hiring as a means of bolstering patrol operations.
Hiring more cops has been reliable political rhetoric of mayors and police chiefs for 15 years. LAPD Chief Charlie Beck, like his predecessor, William J. Bratton, has said that Los Angeles is the most under-policed big city in America and needs 12,500 cops to patrol the city adequately.
Former Mayor Antonio Villaraigosa made a rallying cry of the 10,000-officer number. But Garcetti, in his state-of-the-city address last week pushed a plan to commit an additional $10 million for police overtime and hiring of civilians for administrative duties.
The move, he said, would put 260 more officers on the street. Garcetti is scheduled to release his proposed 2016-17 budget Wednesday.
"Cops belong in our communities, not in cubicles," Garcetti said.
In a statement, Police Commission President Matthew M. Johnson endorsed Galperin's recommendations.
"The audit recommendations appropriately identify positions that are better performed by civilian professional staff, which will result in the redeployment of our police officers to our patrol force…" Johnson said.
Councilman Mitch Englander said he supported the recommendations, citing an uptick in crime.
"Put the pencils down and get away from the cubicle and back to the black and white," he said.
The audit comes as the LAPD continues to grapple with a citywide rise in overall crime that reverses years of declining crime statistics. Violent crime jumped 20.2% in 2015 compared with the year before; property crime increased 10.7%.
Craig Lally, president of the Los Angeles Police Protective League, said the crime surge was sufficient cause to endorse Galperin's proposals.
"Our city continues to be less safe for the residents and our police officers," Lally said.
The issues raised in the audit are hardly new, Galperin said. Former Controller Laura Chick in 2008 also found hundreds of officers ensconced in desk jobs that could be handled by civilians.
If anything, the problem has only worsened, with the number of administrative posts filled by officers increasing by 14%, Galperin said. Since Chick's report, only one position has been transferred from a sworn officer to a civilian, he added.
Galperin said transitioning officers from desk duty could save millions in overtime, which between 2009-10 and last year more than doubled to $93 million.
Beck said Galperin's audit shined a light on a critical issue.
"Freeing up police officers from positions that can be performed more capably and efficiently by civilian personnel," the chief said, "enables us to effectively deploy more officers on the streets."
For SoCal crime & investigations follow me on Twitter @lacrimes.
ALSO
L.A.'s effort to equip officers with body cameras stalls
LAPD shooting of unarmed man in Los Feliz was justified, Police Commission finds
LAPD's first 'volunteer citizen patrol' to hit San Fernando Valley streets to battle property crime
---
The stories shaping California
Get up to speed with our Essential California newsletter, sent six days a week.
You may occasionally receive promotional content from the Los Angeles Times.