Rescue crews searched unsuccessfully into the night Friday off the coast between San Pedro and L.A. Harbor for survivors of a possible midair collision between two small planes.
People aboard a private fishing vessel alerted the U.S. Coast Guard about 3:30 p.m. that they saw a plane plunge into the water, said U.S. Coast Guard Petty Officer Andrea Anderson.
Authorities launched a massive search of the area, about two miles south of the Port of Long Beach, with boats, helicopters and divers rushing to the crash site. Amid the debris, a piece of the plane with the tail number was recovered, Anderson said.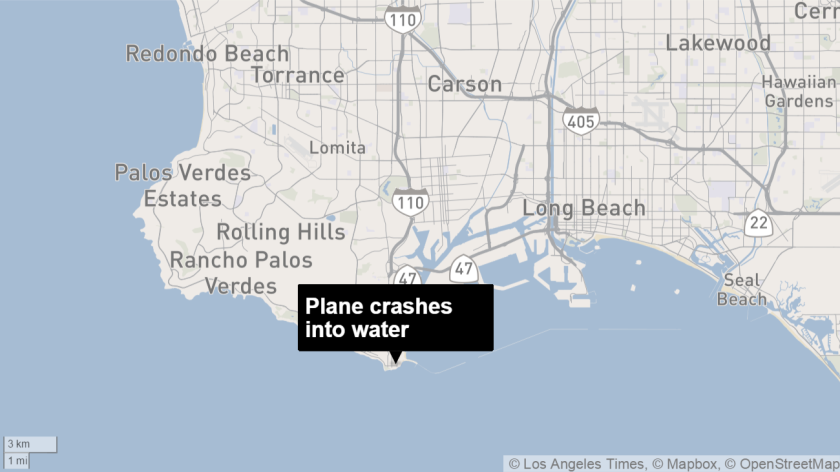 No survivors were found by Friday evening, and the number of passengers was not known, Anderson said. Officials said rescue crews would continue to search hundreds of square miles of ocean throughout the night and the next morning.
U.S. Coast Guard officials said at least one plane plunged into the water and are investigating the possibility that second plane may have been involved. At the time of the crash, two small planes were picked up on radar, Anderson said. The second plane has not been located, and authorities are treating the investigation as a search for two downed aircraft, she said.
The crash site is in an area that is popular among pilots, located about a quarter-mile south of Angels Gate Light, a historic lighthouse in San Pedro.
For breaking California news, follow @JosephSerna.
ALSO
Open-air urinals in S.F. park 'disgusting,' critics say
Third Santa Clara University student tests positive for a meningococcal infection
Soccer mom pleads guilty to embezzling $174,000 from youth sports club
---