L.A. reacts to Obama immigration pledge: 'We're leaving the darkness'
About 200 people watch a jumbo screen showing President Obama's speech on immigration reform during a rally outside the Metropolitan Detention Center in downtown Los Angeles.
(Gina Ferazzi / Los Angeles Times)
A large crowd gathers at MacArthur Park in Los Angeles on the night President Obama makes his immigration speech.
(Francine Orr / Los Angeles Times)
Protesters attend a vigil at the Mexican Consulate near MacArthur Park for 43 students killed in Mexico.
(Francine Orr / Los Angeles Times)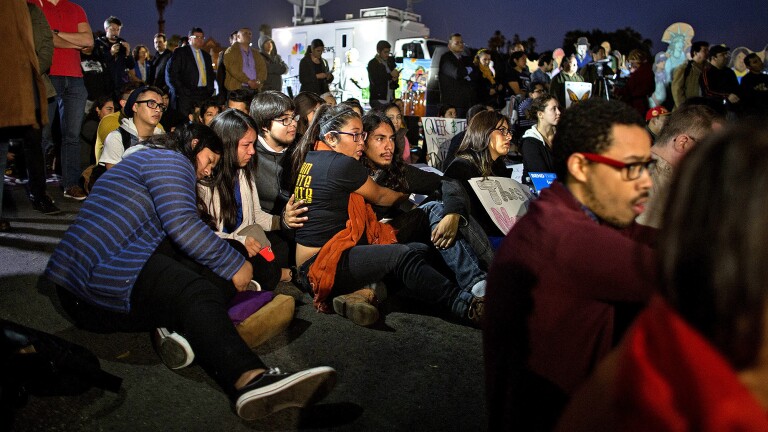 Friends Miriam Lopez, left, Faby Jacome, Dulce Saavedra and Hairo Cortes console one another while watching President Obama's speech. "It's just unfair," Saavedra said.
(Gina Ferazzi / Los Angeles Times)
At Plaza Mexico in Lynwood, vendors Maria Sanchez, 72, and son Luis Garcia watch the president's speech.
(Ricardo DeAratanha / Los Angeles Times)
Demonstrators watch the president's speech during a rally outside the Metropolitan Detention Center in downtown L.A.
(Gina Ferazzi / Los Angeles Times)
Miriam Lopez, from left, Faby Jacome and Dulce Saavedra hug as they watch President Obama's speech outside the Los Angeles Metropolitan Detention Center.
(Gina Ferazzi / Los Angeles Times)
Two men watch the president's speech in a storage room at Restaurant Santa Cecilia in Boyle Heights.
(Barbara Davidson / Los Angeles Times)
Rosalio Mendiola, 77, participates in a march and vigil for the 43 students killed in Mexico at the Mexican Consulate in Los Angeles.
(Francine Orr / Los Angeles Times)
Dancers perform in front of the Mexican consulate near MacArthur Park where a large crowd gathered.
(Francine Orr / Los Angeles Times)
At a rally in front of the Mexican Consulate in downtown Los Angeles, Citlali Gomez was cautiously optimistic.
The 34-year-old came to the U.S. 12 years ago and started a family. Life is better in America, she said, though she fears driving and entering government buildings. Her cousin was deported.
But President Obama's announcement of sweeping changes to the nation's immigration policy gave her sudden hope, and a reason to "celebrate a little bit."
"We're going to leave the darkness," Gomez said. "We're going to stop being scared."
Across Southern California, people reacted similarly to Obama's pledge to offer deportation reprieves to as many as 5 million immigrants now in the country illegally.
"Our immigration system is broken, and everybody knows it," Obama said in a national address.
For Gomez, Obama's plan could give her a new career. In Mexico she worked as a nurse, but here she cleans houses. She says she'd welcome the chance to take up her old profession.
"I want to better my life," Gomez said. "I don't want to stay in the same situation."
Outside a federal prison in downtown Los Angeles, several hundred immigrant activists gathered to watch Obama's speech on a massive screen erected for the occasion.
The group hosting the event, the National Day Laborer Organizing Network, has been holding a weekly protest concerts outside the prison because it sometimes holds people facing criminal charges for illegal reentry to the U.S. after being deported.
The activists booed after the speech concluded. The group had called on the administration to stop deportations against everyone, even immigrants convicted of crimes.
While the organization welcomes Obama's extension of relief to the parents of U.S.-born children and certain other demographics, Pablo Alvarado, the director of the group, says it is not enough. He encouraged the crowd to remember "the person walking through the desert right now."
"We will not rest until everyone is free," he called out through a loudspeaker.
An immigrant from El Salvador, Alvarado said his cousins and a nephew do not qualify for relief. But his niece Martha does. In the crowd, she stood listening with tears in her eyes.
The 27-year-old engineering student did not qualify for deportation relief under Obama's old plan because she came to the U.S. at 17, and relief was offered only to those who came at 16 or younger. She will qualify for the expanded version.
"Finally," Martha said. "Finally. This means I'm going to be able to get an internship. This means I'm going to be able to get a real job."
At Mexico Plaza in Lynwood, others were disappointed with the program's limits. Luis Garcia and his 72-year-old mother watched the president's speech translated into Spanish from a small TV on their shopping cart as Garcia took notes with a black Sharpie.
"As a Latino, as a Mexican, I'm saddened that this isn't going to affect everyone," Garcia said in Spanish. "But it's a first good step."
The 50-year-old permanent resident came to the U.S. in 1987 from Mexico. He said he owes his legal status to Ronald Reagan. But Obama's administrative action will benefit several of his friends whose children were born here.
"I haven't spoken to them yet," he said. "But I know they've been looking for this day."
At the offices of the Korean Resource Center in the Koreatown neighborhood of Los Angeles, S.J. Lee breathed a sigh of relief as Obama's speech concluded.
He came to the U.S. 13 years ago with his parents to explore the sights of California, and he never left. When his tourist visa expired, he worried constantly about his immigration status. He got married, had two children, and lived in fear.
"It has been really difficult for us to uphold our family traditions and feel comfortable when we're out in public," the Buena Park salesman said.
"The president's reassurances give us a bit of hope because he's showing that he cares. He understands this is not an issue affecting just Latinos," he added.
Lee was among a group of Koreans of various generations who had gathered at the center's offices to watch Obama's announcement. Many Korean families in the U.S. are afraid to give birth in America because they fear deportation would separate them from their children, said the center's attorney, David Son.
The threat of having a divided family, he added, is "a constant nightmare."
At a home decor store on 4th Street in Santa Ana, Diana Cid folded comforters as she listed her loved ones without legal permission to live in the U.S.: A brother-in-law from Honduras who works as a house painter in Riverside. Two cousins attending high school in San Bernardino. A third cousin who can never have a stable job because of his immigration status.
"Look around us. So many have to deal with daily worries. I see it on their faces, but I don't like to ask too many questions," Cid said.
She hadn't heard about the executive order, but now she plans to spread the word.
"Every day, they deal with not knowing if this is the day they will be sent back," Cid said. "Imagine if they didn't have that worry. Imagine if they can have a normal life."
Edna Monroy, an organizer with the California Immigrant Youth Justice Alliance, says her family has been living in the U.S. for 13 years, but without enjoying many of this country's freedoms.
Her mother, a street vendor, has been robbed several times while walking to their home in Westmont -- crimes that went unreported because of fears about their immigration status. Her father, a maintenance man, has received multiple citations and had his car impounded for driving without a license.
Under Obama's plan, her parents can apply for deportation reprieve and feel at ease in America for the first time in more than a decade, Monroy said.
"It's a huge weight off my shoulders," said Monroy, 25. "Though my parents may be protected, not every parent will be. At least we got a small victory."
But she has an uncle picking fruit in Northern California to worry about. And another uncle was deported years ago after being charged with a DUI. "It's a struggle," she said. "This movement is so much bigger."
Although the details of Obama's plan have trickled out over the last few days, Lidia Rosa, 32, got the news Thursday night from her sister, who called and told her to turn on the television in her Pasadena apartment.
As Obama described his plan, her sister summed up his speech in two words: "We qualify."
Rosa says she and a friend both have children born in the U.S., and they've both been in the country for more than a decade. Now, the accounting major will have an easier time finding a job.
"I was dancing with my friend earlier today," she said. "We kept yelling out, 'We qualify, we qualify!'"
---
For reporting and exclusive analysis from bureau chief John Myers, get our California Politics newsletter.
You may occasionally receive promotional content from the Los Angeles Times.