L.A. homicides, after big jump in August, are up 7% for 2015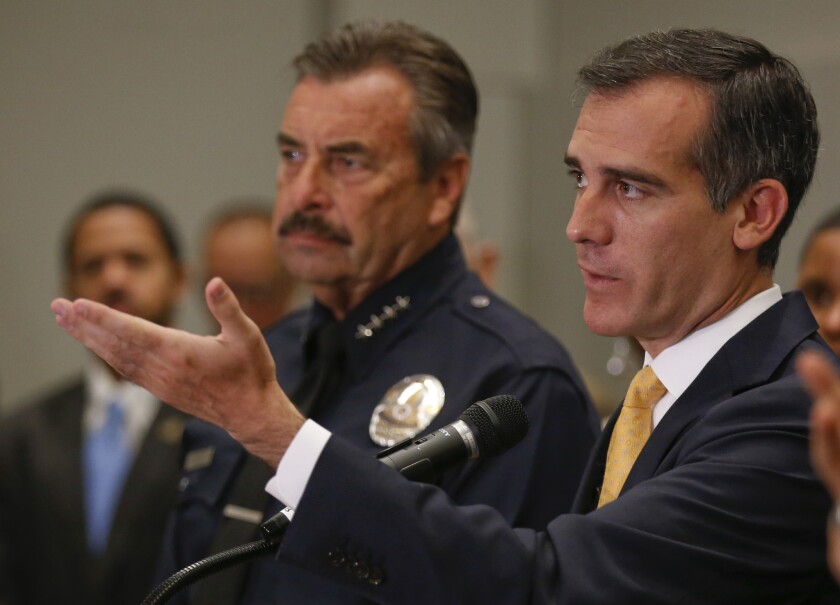 After remaining relatively flat for much of the year, the number of people killed in Los Angeles surged in August, leaving police scrambling to rein in the violence.
Through Saturday, the city recorded a nearly 7% increase in homicides -- which amounts to 12 more killings -- since the start of the year, compared with the same time period in 2014, according to LAPD data.
Across the city, 185 people had been killed through Saturday. And at least one other homicide occurred since then -- the fatal shooting of a 26-year-old homeless man along the Venice boardwalk on Sunday morning.
Thirty-nine people were killed in L.A. last month, LAPD Chief Charlie Beck said, making it the deadliest August the city has seen since 2007, when 41 people were killed.
"You can't draw huge conclusions over one month," Beck told the Police Commission on Tuesday. "But the month of August hopefully does not portend what will occur during the following months of the year."
LAPD top brass spent Tuesday discussing how to better deploy their resources to areas most affected by the violence. Beck mentioned the uptick to his civilian bosses earlier in the day, telling police commissioners that up until August, the number of killings in Los Angeles were down.
Nearly half of the 39 killings occurred in South L.A., Beck said. The chief attributed the majority of the violence to gang crime, which he said had also increased this year.
Later, Beck told reporters that August was a "horrible month." He said the department would continue to send more officers to especially violent neighborhoods and reach out to residents in hopes of quelling the bloodshed.
"Whether this is going to be a one-month issue or whether it's going to be something that we see for the rest of the year, it's something that we'll watch very closely," he said. "It's important that we recognize that while the police are responsible for this — while I am responsible for this — this is something that the entire community needs to address."
LAPD Det. Chris Barling heads the homicide squad in South L.A.'s 77th Division, which has seen the highest number of killings so far this year with 43. Barling said August was the deadliest month for the division in at least five years.
Barling said it was hard to pinpoint why exactly August saw so many deaths. Factors like the summer heat, traditional gang truces going sour and community attitudes toward police can all have an influence. He said it appears that several gang feuds have contributed to the increasing violence.
Interested in the stories shaping California? Sign up for the free Essential California newsletter >>
Barling and his team of detectives are centralized with other South L.A. divisions, meaning other detectives can step in to investigate new cases when one division sees an uptick.
"The bottom line is, we are trying to give each case it's time," he said.
Follow @katemather and @nicolesantacruz for more crime news.
ALSO
L.A. County officials approve $25,000 reward in dog burning attacks
Dramatic rise in crime casts a shadow on downtown L.A.'s gentrification
Man charged in connection with '94 theft of O.J. Simpson's Heisman from USC
---
The stories shaping California
Get up to speed with our Essential California newsletter, sent six days a week.
You may occasionally receive promotional content from the Los Angeles Times.