LAPD officer convicted of sending 'harmful' texts to teen, acquitted of child annoyance charges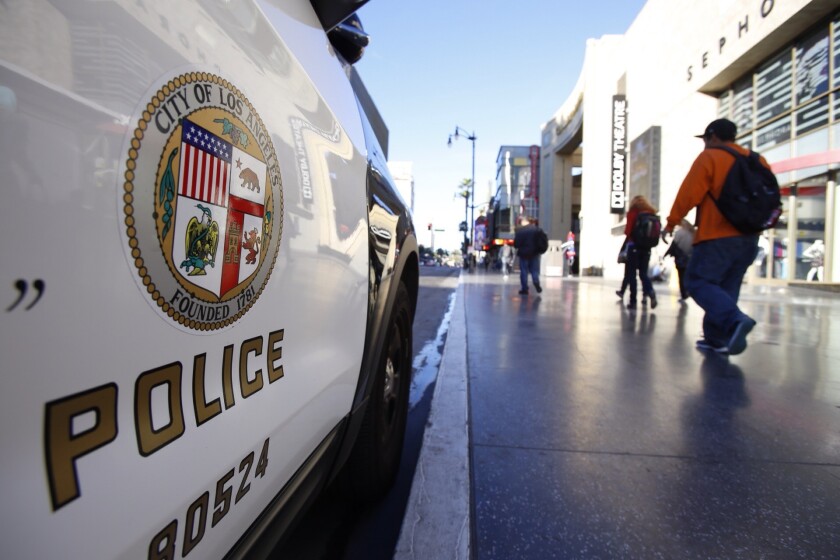 A Los Angeles police officer who worked in an LAPD youth program was convicted Tuesday of distributing harmful matter to a teenage girl, authorities said.
After a five-day trial, a downtown L.A. jury convicted Abel Montes De Oca of two misdemeanor counts: destroying evidence and distributing "harmful matter" to a juvenile, according to the L.A. city attorney's office.
Montes De Oca, 32, was acquitted of two counts of child annoyance.
After the verdict was read, the judge remanded Montes De Oca into custody, and he is being held on $100,000 bail, prosecutors said.
He faces up to 18 months in jail at his sentencing, scheduled for Friday.
Prosecutors say that in September 2015, the officer met a then-16-year-old girl who was a cadet in the L.A. Police Department's Community Youth Program. The program runs 18 weeks and provides physical training and criminal-justice education to students ages 13 to 20, according to the program's website.
Through October 2015, prosecutors alleged that Montes De Oca sought an inappropriate relationship with the girl, sending her text messages and other missives via social media.
Once the officer's mistreatment of the girl was disclosed, prosecutors alleged, he tried to delete photos and messages from his phone and computer. He also told the girl to wipe out any evidence of his correspondence, according to the city attorney's office.
Police arrested Montes De Oca in August at the LAPD's downtown headquarters.
Montes De Oca's defense attorney, Lou Shapiro, said his client did not dispute that he inappropriately texted with the girl or destroyed evidence. Shapiro said the key issue was whether Montes De Oca was guilty of two counts of child annoyance — graver charges that carry stiffer penalties. The jury ultimately acquitted him of both counts.
"Defense expert Dr. Sanjay Sahgal testified that for a 31-year-old male to be sexually attracted to a 16-year-old post-pubescent female was not abnormal or unnatural from a clinical point of view," Shapiro said. "[Sahgal] conceded that it was not normal from a moral point of view."
Shapiro thanked the jurors "for being able to set aside the fact that he was a police officer and simply judge him based on the facts and evidence."
Los Angeles City Atty. Mike Feuer had harsher words for Montes De Oca after the verdict was announced.
"This was an egregious breach of trust by an LAPD officer responsible for supervising student cadets," Feuer said in a statement. "It is essential to hold the officer accountable for taking advantage of his position to victimize a minor. Our cadets commit to public service. They deserve our respect and our protection."
Montes De Oca was required to stay at home during the months-long investigation into his conduct by the internal affairs division.
The officer has been with the department for about nine years. It's unclear how long he was assigned to be a youth-services officer, the position in which he encountered the teenage girl.
In a statement, the LAPD said it treats allegations of misconduct seriously, especially those involving youth programs.
"When we learned about Montes De Oca's actions, he was immediately relieved of duty and the LAPD's criminal investigation led to today's conviction," the LAPD statement said.
It's unclear whether Montes De Oca is still employed by the LAPD or faced any disciplinary action. Under state law, officers' personnel records and disciplinary history are kept private.
Twitter: @MattHjourno
ALSO
Protesters fear L.A. County sheriff's drones could be used for spying
Former USC football player is sorry that he 'lashed out' at lawyers after plea
Contra Costa sheriff's deputy arrested on suspicion of attempted murder in house party shooting
---
UPDATES:
Jan. 18, 2017, 3:50 p.m.: This article was updated with comments from the police officer's defense attorney and clarifies that the officer's surname is Montes De Oca.
Jan. 17, 2017, 6:55 p.m.: This article was updated with a statement from the LAPD.
This article was originally published at Jan. 17, 2017, at 6:05 p.m.
---
The stories shaping California
Get up to speed with our Essential California newsletter, sent six days a week.
You may occasionally receive promotional content from the Los Angeles Times.