California sees biggest June snowpack in nearly a decade thanks to spring storms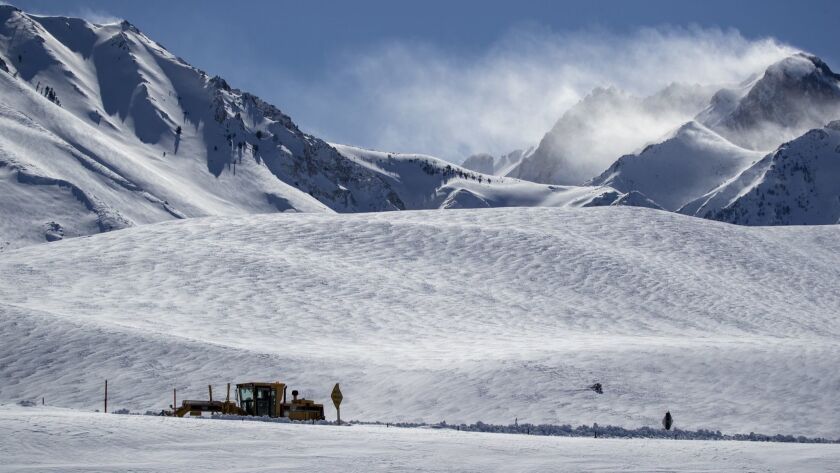 During a weekend that's widely known as the unofficial start of summer in California, visitors who trekked to Lake Tahoe for Memorial Day were met with a flurry of snowflakes that turned the landscape into a winter wonderland in May.
The storm responsible for the late-season snow in the Sierra Nevada town was one in a series of chilly spring systems that kept temperatures low following a marathon wet winter that filled reservoirs and streams and brought once-dry waterfalls back to life in the region.
Most importantly, the storms have maintained the snowpack — a key source of the state's water supply — at its highest level for early June since 2011.
As of Monday, the snow blanketing the vast mountain range was 201% of average for the day — even larger than the snowpack on the same day in 2017, a banner year for precipitation that pulled large swaths of Northern California out of persistent drought conditions.
On June 3, 2017, the snowpack measured 187% of average, according to data compiled by the California Department of Water Resources.
In most years over the past decade, the snowpack had dwindled to tiny or nonexistent levels by June, diminished by rising spring temperatures that cause the accumulated snow to melt. At this time last year, it measured just 4% of average.
The last time a snowpack measured as large as this year's on June 3 was in 2011, when it was 336% of normal for the day, data show.
"Typically this time of year, we don't have a lot of snow, but this year we've continued to see rain, snow and mild conditions that have allowed the snowpack to remain," said Chris Orrock, spokesman for the Department of Water Resources.
Though California saw significant precipitation in 2017, most of that rain was the result of warm atmospheric rivers, which created conditions that caused the snowpack to melt quickly during the spring season.
The atmospheric river storms the state experienced this year often were coupled with a cold front, which lowered temperatures and kept the snowpack intact longer. This could bode well for the state's water supply, Orrock said.
The fact that the snow isn't melting as quickly as it has in past years could allow reservoirs — most of which are nearing capacity from winter and spring rains — to take in more of the snowmelt without being forced to release large quantities of already stored water to make room.
"If it all melted rapidly with the reservoirs full, they'd have to release more water than we can use and we'd lose some of it," Orrock said.
Currently, the snowpack has 15.6 inches of snow-water content, slightly above the water content for the same day in 2017. At this time last year, the snow-water content was less than an inch.
The Sierra snowpack is one of California's most important water sources, providing about 30% of the annual fresh water supply for the state. Its spring and summer runoff feeds rivers and reservoirs and is eventually doled out to various water agencies for urban and agricultural use.
While a lush snowpack is beneficial, it also presents some hazards to downstream communities as it melts.
In preparation, water district managers are constantly coordinating how much water they're planning to release from reservoirs into the state's labyrinth of rivers, creeks, bypasses and canals. Since one reservoir's release may meet with another, managers chart how much water rivers and levees can support before overflowing.
As the weather heats up over the coming weeks, officials say they are keeping a close eye on flood-prone areas like the narrow San Joaquin watershed, where rapid snowmelt in 2017 caused flooding in Yosemite National Park.
"There's always a danger of flooding if we do get an extended hot period," Orrock said. "We're being vigilant and monitoring that."
Twitter: @Hannahnfry
---
The stories shaping California
Get up to speed with our Essential California newsletter, sent six days a week.
You may occasionally receive promotional content from the Los Angeles Times.