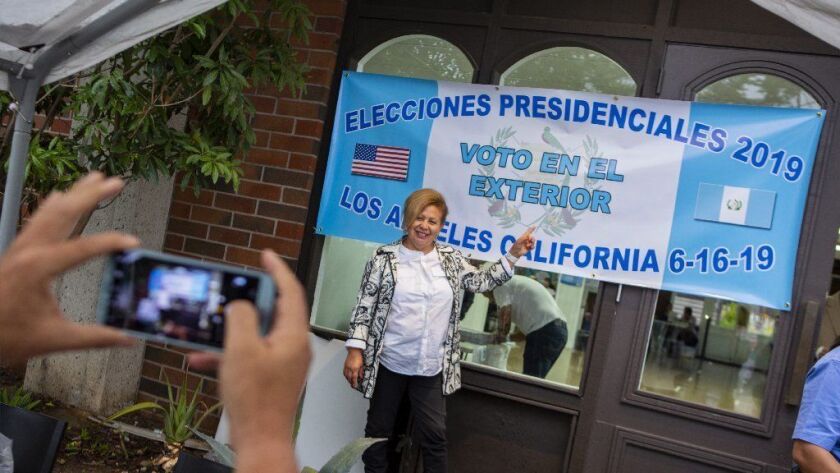 After traveling six hours by bus from Oakland, Mynor Hernandez arrived in Los Angeles late Saturday with his wife, 6-month-old baby and 7-year-old son. His aim: to vote in Guatemala's national elections without having to go back to his homeland.
Hernandez cast his ballot shortly after 7 a.m. Sunday, when the polls opened at the Guatemalan Consulate General in Echo Park. He lifted his red-stained finger — marked with ink after he handed in his ballot — to volunteers and others at the consulate on Riverside Drive as organizers applauded.
Sunday was the first time that Guatemalan citizens living in the United States could vote in their country's elections without having to return to Guatemala. In Guatemala, voters are electing a new president, Congress members and other lawmakers. But in the U.S., Guatemalans can vote only for their president and vice president.
Los Angeles is one of four U.S. areas — along with New York City, Houston and Silver Spring, Md., all home to large Guatemalan communities — where Guatemalans were able to cast absentee ballots. The Guatemalan community in the United States had pushed for the right for years.
"It makes me so happy to be able to do this," Hernandez, 32, said outside the consulate. "I want the governmental systems in our country to change and the corruption to stop." His 7-year-old son stood next to him, clutching a fuzzy yellow blanket, while his wife cradled their infant.
More than 20,000 Guatemalans registered to vote in Los Angeles, according to the country's Supreme Electoral Tribunal, which organizes the nation's balloting and has been preparing the foreign voting process for months. Five members of the tribunal traveled last week to Los Angeles to make arrangements.
The morning was off to a relatively slow start — 100 people had voted by 10 a.m., but officials expected that number to sharply increase over the course of the day. The polls opened at 7 a.m. and will close at 6 p.m.
Los Angeles County is home to almost 215,000 Guatemalans, according to 2010 census figures, though the numbers have risen to more than 250,000, according to estimates. California is home to the nation's largest Guatemalan community, mostly concentrated in the Los Angeles area.
Voters had to bring their official Guatemalan identity card — known as a DPI, after its Spanish initials — to the consulate. Those outside Guatemala had to also register online to vote by March 17.
Officials from the country's electoral tribunal oversaw activity at dozens of tables set up at the consulate and checked in with volunteers at the polling station, who numbered more than 120. "Everyone is excited to be here; people have been here since 5 a.m. setting up," said Silvia Castellanos, 42, one of the tribunal coordinators.
Castellanos said reforms passed in Guatemala four years ago allowed eligible emigrés to cast ballots from outside the country. But the new law did not take effect until this year. Guatemala joins Mexico and other countries that have long had systems in place to allow for expatriates to cast ballots from abroad.
For some Guatemalans such as Alba Rojas, the news didn't come soon enough. Rojas, 70, came to the United States more than 20 years ago. She did not yet have her DPI when she learned this year that voting would be available in Los Angeles. She had to go to the consulate to request her identity card, but it wasn't ready until after the March registration deadline.
"The electoral tribunal didn't let us know on time about all the documents we needed in order to vote," said a frustrated Rojas. "You really have to beg these officials to hurry up the process. And even so, my ID took forever to come, and now I can't vote."
Rojas, who is from the city of Quetzaltenango in western Guatemala and makes her living selling traditional Guatemalan candies, arrived well before 7 a.m. at the polling station to support her fellow Guatemalans and set up her vendor stand, stacked with snacks for voters.
"We need jobs in Guatemala; all the young people graduate and can't find work because all the politicians take our money," Rojas said. She has 10 children in Guatemala, many of whom cannot find work after graduating college, she said. "That's why there are so many people, like me, who continue to migrate to the United States. We have to fight for our families back home."
Her friend Edgar Barrera, 59, manager of Chapines Express, a store that sends clients' packages to Guatemala, said he also was unable to get his documents in time to register to vote. "All the information they gave us was confusing and just came too late," he said.
Like many Guatemalans, both inside and outside the country, Barrera expressed a sense of disillusion with the rampant corruption in the country. "The election is frustrating when you have to vote for the candidate who you believe is less corrupt than the others," he said.
In Guatemala, the elections have been fraught with controversy. Nineteen candidates are vying for the presidential vote, but because none of the contenders is expected to win a majority, a runoff between two top candidates is projected for August.
But at the consulate in Los Angeles, morale was still generally high. Volunteers held pamphlets that showed the presidential candidates along with their vice presidential choices. Voters were assigned specific tables, where volunteers checked identity documents and handed out ballots. Organizers then sent voters to mark their choices at a small polling station.
The ballot is the same one that voters cast in Guatemala, said volunteer Marta Alicia Barrientos, 46. She arrived in Orange County from Guatemala 10 months ago and wanted to support her fellow chapines, she said, using an endearing term to refer to her Guatemalan community members. "I'm here because I want transparency within our institutions," she said.
Aroldo Ramirez, 61, was one of the first voters of the day. He said he traveled to Guatemala with other community leaders several times over the course of six years to discuss the process of the foreign vote with electoral officials.
Despite the registration hurdles, Ramirez said this day represented an important advance for the Guatemalan community in the U.S.
"For 35 years living in the United States, I haven't been able to cast a vote in my home country," he said. "Though there were problems with the organization of the foreign vote, I feel like our government, in some way, is finally taking us into account."
---