Prospector Pete packs up and sharks swim in as Cal State Long Beach's new mascot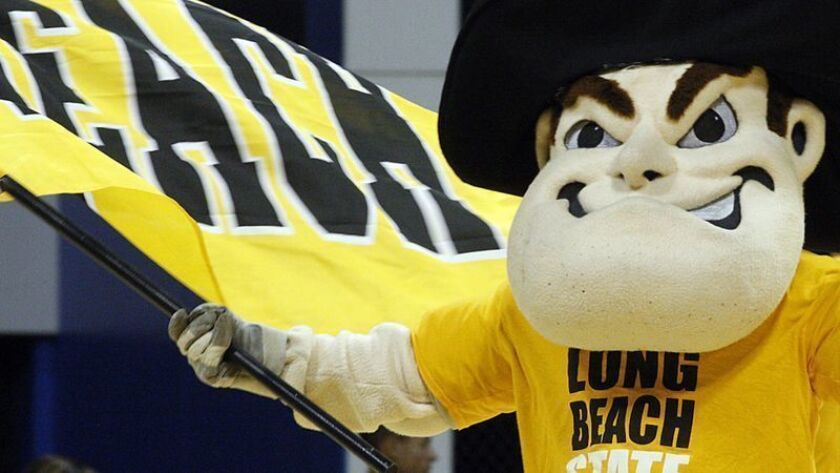 Move over, Prospector Pete, a famous ocean predator is taking over Cal State Long Beach.
After a months-long process to replace the former mascot, which was ousted in 2018 following years of outcry that he was offensive to indigenous people, students have selected a shark as the new face of the college, university officials announced.
After soliciting ideas for a new mascot, a university committee narrowed the options to six: Stingrays, Sharks, Pelicans, Giraffes, Kraken (a mythical sea monster) or Go Beach (essentially a vote for no mascot). Three finalists — Sharks, Stingrays and Go Beach — were selected in a community-wide vote.
Ultimately, students selected their favorite during a three-day vote this month. With 53% of the vote, Sharks won by a wide margin over Stingrays and the option of having no mascot at all, according to the university.
"We have benefited from a thoughtful, thorough, and inclusive process by our students," President Jane Close Conoley said in a statement. "I am grateful to all the university's stakeholders for their participation."
The students' choice was fitting given the university's famed Shark Lab, which studies the movement, behavior and physiology of sharks and other select marine life, and the campus' proximity to the beach, the university said in a statement.
Cal State Long Beach's previous mascot, Prospector Pete, evolved from the creation of the campus in 1949 and founding President Pete Peterson's reference to having "struck the gold of education" by establishing the college.
However, students have seen it for years largely as a commemoration of prospectors and their participation in the violence inflicted on Native Americans and others during the state's Gold Rush.
Despite Prospector Pete's retirement, the often-used term "49er," which references the institution's founding year, will remain an informal nickname and identifier for anyone affiliated with the college as an alumnus/alumna, employee, student or supporter, according to the university.
Several organizations on campus also use the term, including the Daily 49er student newspaper and the 49er Foundation.
A university committee will spend roughly a year determining the visual look of the new shark mascot, its personality and characteristics and the design of the mascot uniform and illustrations.
The shark will make its official debut in late spring 2020.
Twitter: @Hannahnfry
---
Get breaking news, investigations, analysis and more signature journalism from the Los Angeles Times in your inbox.
You may occasionally receive promotional content from the Los Angeles Times.