Los Angeles councilman wants to look at getting out of city's new recycling program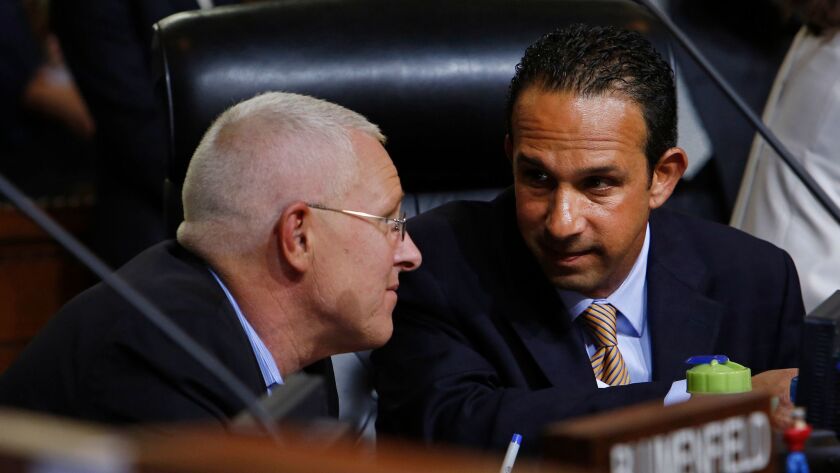 Los Angeles City Councilman Mitchell Englander called Tuesday for his colleagues to look at what it would take to pull out of the city's troubled waste franchise system, known as RecycLA.
Englander said the program, which serves roughly 70,000 businesses, apartment buildings and condominium customers, is "failing to deliver the basic city service of reliable trash pickup." His proposal, which heads to a council committee for review, instructs city lawyers to show the steps needed to exit the initiative.
"There comes a time when we must recognize that the fault lies not with the service providers but with the program itself," Englander said in a statement.
The proposal, introduced as a motion on the council floor, comes nearly a week after council members complained during a six-hour hearing about soaring bills, missed collections and other problems with RecycLA. One called the program "an embarrassment," while another said the rollout was "a hot mess."
Englander, who represents the northwest San Fernando Valley, is the first on the council to broach the possibility of pulling out of RecycLA. But other council members are signaling that they want to retain the program, which has drawn huge support from labor leaders, environmental groups and Mayor Eric Garcetti.
Councilman Paul Krekorian, who signed Englander's proposal on Tuesday, said he is not looking to exit the initiative. In an interview, the councilman said he signed it to obtain options for ending the contracts of trash haulers who offer poor customer service.
"My perspective is, everyone who has a franchise needs to be held accountable," Krekorian said.
Councilman Mike Bonin intends to vote for Englander's proposal "to hear if exiting the program is a viable option," according to his spokesman, David Graham-Caso. But he too expressed doubts about pulling the plug.
"While he wants all options on the table, [Bonin's] strong preference would be to fix the problems with the program instead of killing the program entirely, because he believes strongly in the objectives of RecycLA," Graham-Caso said.
RecycLA was created to expand recycling, improve workers' pay and conditions, and put cleaner burning refuse trucks on the street. It was established by the council in a series of votes over the last six years.
Englander and two colleagues — then-Council Members Bernard C. Parks and Jan Perry — voted in 2012 to oppose the plan for carving the city into 11 commercial refuse zones, with a single hauler operating in each zone.
Four years later, Englander voted with the rest of the council to award 10-year contracts — valued at a combined $3.5 billion — to seven haulers, giving each the exclusive right to pick up trash in their respective areas. City officials expect to receive $15.6 million in franchise fees from the program this year, and nearly $36 million in 2018-19.
RecycLA was launched in July and soon afterward, customers began bombarding the city with complaints about uncollected garbage and bills that doubled or even tripled. The biggest increases were attributed to a series of extra fees contained in the haulers' contracts, which were vetted by Garcetti appointees and approved by the council.
Haulers have charged extra fees for opening locked garage gates and pulling trash bins more than 100 feet to the curb.
Nevertheless, one advocacy group said it would be "reckless" for the council to end a program that diverts waste from landfills, improves air quality and recovers tons of food for needy families.
Under the terms of RecycLA, the city's Bureau of Sanitation recently gained the power to impose fees and fines on haulers that fail to meet the city's requirements, said Robert Nothoff, director of waste and recycling campaigns with the Los Angeles Alliance for a New Economy, which spearheaded passage of RecycLA.
"We are already seeing improvements," he said in an email.
Still, some customers are continuing to deal with missed collections. Vahe Sargsyan, who manages a 35-unit apartment building in Tujunga, said one of the city's haulers failed to pick up recycling at his property Friday — a scheduled collection day.
"I called them on Friday, they promised they would come. They didn't," he said. "I called them Saturday morning, they promised they would come. And they didn't."
Sargsyan said a sanitation inspector came to the property Monday and told him the hauler would be fined. The recyclables were picked up the same day, he said.
Twitter: @DavidZahniser
---
The stories shaping California
Get up to speed with our Essential California newsletter, sent six days a week.
You may occasionally receive promotional content from the Los Angeles Times.