Hope fades for missing Hart children as bad conditions delay search off Mendocino Coast
The search for three missing siblings feared dead after their family's SUV plunged down a cliff into the sea last week has been delayed by rough conditions on the California coast.
Strong currents, frigid water and rough waves have prevented Mendocino County Sheriff's divers and rescuers from looking for the missing Hart children, Lt. Shannon Barney said Monday.
"It's very difficult on the families because obviously they want their loved ones back," Barney said. "But almost in no scenario does it make sense to risk someone's life for a life that's already been lost."
The children are Devonte Hart, 15, who was briefly famous for a powerful 2014 photograph of the teen tearfully hugging a police sergeant in Oregon at a protest amid unrest in Ferguson, Mo., and his sisters Hannah and Sierra Hart, 16 and 12, respectively.
Authorities said they believe the three were in the car with their siblings, Markis, 19, Jeremiah, 14, and Abigail, 14, and their parents, Jennifer and Sarah Hart, both 38, when their GMC Yukon dropped 100 feet onto the rocky Mendocino County shore off Highway 1 near Juan Creek.
The fatal plunge appears to have been intentional based on the lack of skid marks and the fact that the vehicle was at a full stop before accelerating off the cliff, the California Highway Patrol said Monday.
Though the investigation is in its preliminary stages, it appears the SUV had stopped about 70 feet from the cliff's edge, then sped off it, the CHP said.
The vehicle's speedometer was "pinned" at 90 mph when investigators found it, but it could have been stuck there for any host of reasons and it does not indicate that the car was traveling at that speed when it crashed, the CHP said.
Three of the children's bodies were found outside the vehicle. The parents' bodies were found inside. Investigators believe the three missing siblings were also in the crash based on interviews with Hart family and friends.
"It's mostly the people who know the family. They feel very strongly that this couple would not come this far and leave these children behind," Barney said. "There's very little property that was recovered from the vehicle. A lot of it was lost to wave action."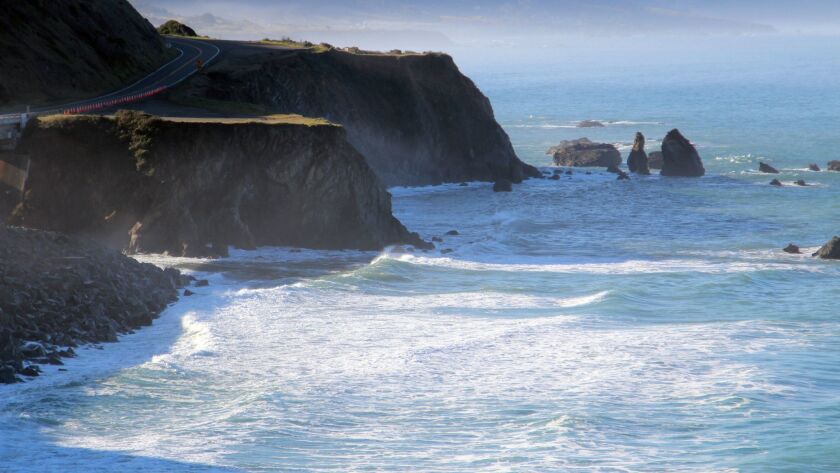 KPTV reported that a search warrant was served at the couple's home on Thursday. Investigators were seeking travel plans, bank records, cellphone records, credit card billing statements, bank receipts, notes, journals and possible suicide notes, according to the station.
The crash raised questions when it was reported early last week by a passerby who noticed the wreckage from a dirt pullout along Highway 1 at Juan Creek in the small town of Westport.
There were no skid marks or brake marks, and the couple's children had recently been identified by child welfare authorities as possible victims of abuse and neglect.
"It was a very confusing scene," Mendocino County Sheriff Tom Allman told reporters two days after the discovery. "There was no indication of why this vehicle traversed approximately over 75 feet of a dirt pullout and went into the Pacific Ocean."
Finding the three bodies in the ocean — if they're there — would present logistical challenges and safety hazards, Barney said.
Sonar equipment that could image the seafloor is ineffective because of the rocks, Barney said. The sandy shore has made the water so murky it's challenging for submerged divers to see anything. The water is cold and the currents push toward the cliff face, adding more risks for divers, Barney said.
With that in mind, Barney said the Sheriff's Department was going to consult with ocean current and human decomposition experts on Monday to formulate a plan. Authorities want to identify areas where the children's bodies could appear.
"The naturally decomposing gasses in the human body will often times float the body to the surface at some point," Barney said.
joseph.serna@latimes.com | Twitter: @JosephSerna
alene.tchekmedyian@latimes.com | Twitter: @AleneTchek
---
UPDATES:
8 p.m.: This article was updated with minor editing.
This article was originally published at 5:05 p.m.
---
For reporting and exclusive analysis from bureau chief John Myers, get our California Politics newsletter.
You may occasionally receive promotional content from the Los Angeles Times.