'Catastrophic' charter bus crash leaves five dead, L.A. driver seriously injured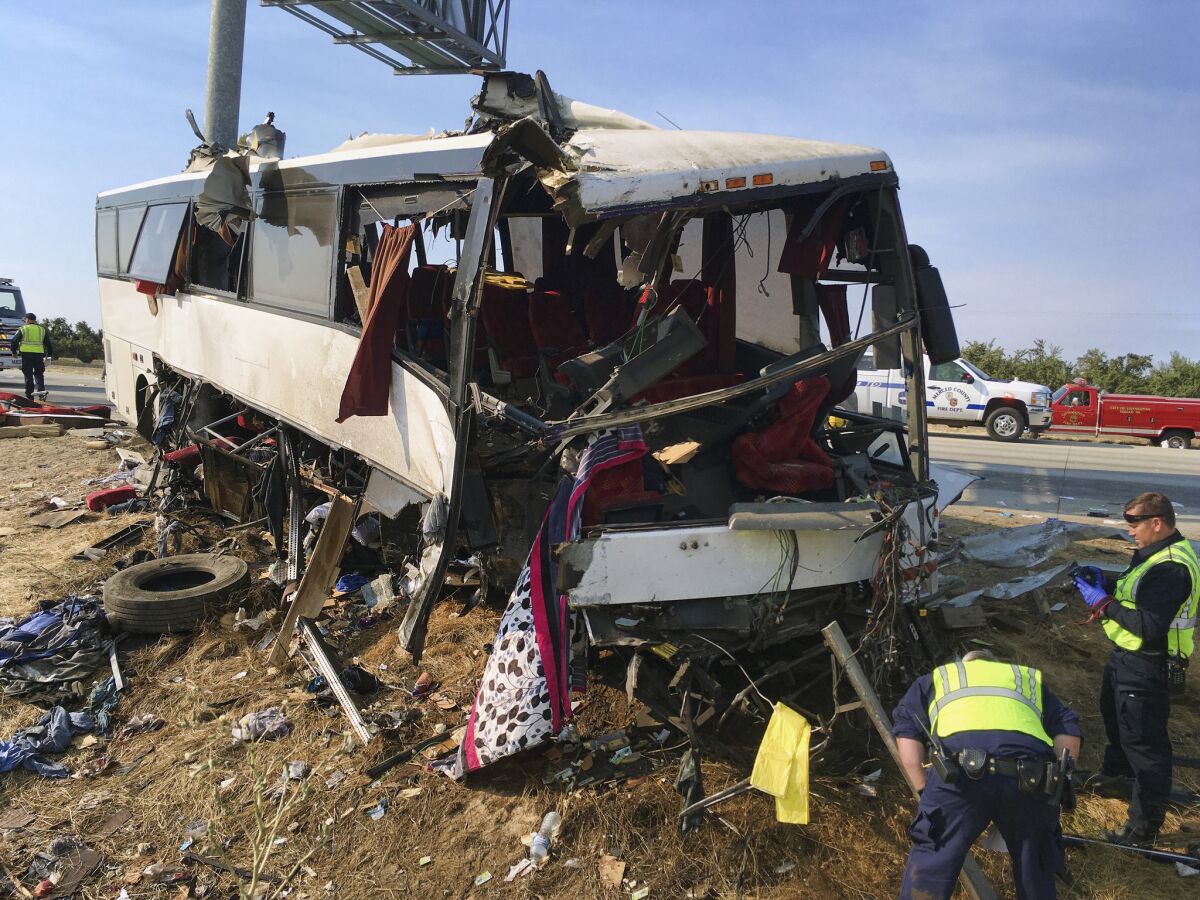 At least five people were killed and numerous people seriously injured early Tuesday when a violent crash tore a charter bus down the middle on Highway 99 in Merced County, the California Highway Patrol said.
The northbound bus struck the support pole for a sign marking the Hammatt Avenue exit near the town of Livingston, CHP Officer Moises Onsurez told The Times. The crash occurred about 3:35 a.m., authorities said.
The pole split the white bus down the middle, tearing through it as it kept moving forward after impact, Onsurez said. Video images from the Merced Sun-Star showed firefighters climbing through windows in the early morning darkness, and a road lined with ambulances.
"This collision is a catastrophic event," Onsurez said.
About 30 passengers were aboard the vehicle, and some suffered major injuries, Onsurez said. About five injured people were flown to hospitals, officials said. The cause of the crash remains under investigation.
Northbound Highway 99 was closed in the area throughout the day.
Authorities have identified the bus driver as 57-year-old Mario David Vasquez from Los Angeles, Onsurez said. Vasquez "sustained major injuries" and was hospitalized Tuesday morning, he said.
The bus originated in Mexico and had stopped in Los Angeles on Monday night, Onsurez said. It made a stop in Livingston and was headed to Pasco, Wash., Onsurez said.
Interested in the stories shaping California? Sign up for the free Essential California newsletter >>
The bus is registered to Autobuses Coordinados USA Inc., according to the California Department of Motor Vehicles. The company has an office in East Los Angeles. Phone calls by The Times were not answered.
The 1998 vehicle weighs 16,000 pounds when empty, and its registration was valid through August 31, the DMV said.
Television news trucks waited Tuesday afternoon outside the red, white and green building on Olympic Boulevard where a Autobuses Coordinados USA office is located. The building houses several bus companies, and an area with a sign reading "A-Coordinados USA" had an empty seat behind the desk.
Signs near the Autobuses Coordinados area read "Airport, Tijuana every hour" in Spanish, and displayed travel locations, including Northern California, Oregon and Washington, including the city of Pasco. Other signs read: "Payments in cash only" and "no refund on tickets."
Workers inside the building were directing reporters outside, and people working at other ticketing desks said their companies were not associated with the bus that crashed.
Adrian Meza, of Montebello, stood outside the building, curious about the news crews gathered there. His sister and 15-year-old nephew had tickets to return to Mexico on Tuesday night. He always comes to the location to drop them off and pick them up when they visit, he said.
"This is a real surprise," Meza said after hearing about the Merced County crash.
Though he was using a different bus company, he said he was going to cancel the tickets, concerned about his family's safety.
The bus involved in the crash has been cited for at least seven violations over the last two years, according to Federal Motor Carrier Safety Administration records that identify the charter bus by its license plate number.
During an inspection in Oregon on Feb. 5, 2015, Autobuses Coordinados USA was cited because the bus' driver was behind the wheel despite having a suspended commercial driver's license, records show. During that same inspection, the bus received two citations for "inoperable required lamp" and one citation for having a damaged or discolored windshield.
A roadside inspection in California on April 28 yielded three violations. The vehicle had a defective or no brake-warning device, prohibited aisle seats and other maintenance problems, records show.
Autobuses Coordinados USA has been cited for dozens of other violations over the last two years, according to the Federal Motor Carrier Safety Administration.
Twitter: @haileybranson
Twitter: @brittny_mejia
ALSO
Three bodies are found at crash site in Angeles National Forest during search for missing teens
'I tried to do CPR and nothing was working': 3 die after attending Hard Summer rave near Fontana
Man suffering from Alzheimer's is released from L.A. County jail and found dead two days later
---
UPDATES:
1:55 p.m.: This article was updated with information about the bus company's federal violations.
11:25 a.m.: This article was updated with information from the Autobuses Coordinados office in Los Angeles.
9:45 a.m.: This article was updated to identify the company to which the bus is registered.
8:10 a.m.: This article was updated with information from CHP Officer Moises Onsurez.
7:08 a.m.: This article has been updated with additional information from the California Highway Patrol.
This article was originally published at 6:25 a.m.
The stories shaping California
Get up to speed with our Essential California newsletter, sent six days a week.
You may occasionally receive promotional content from the Los Angeles Times.