Michael Hastings may have suffered PTSD from work as war journalist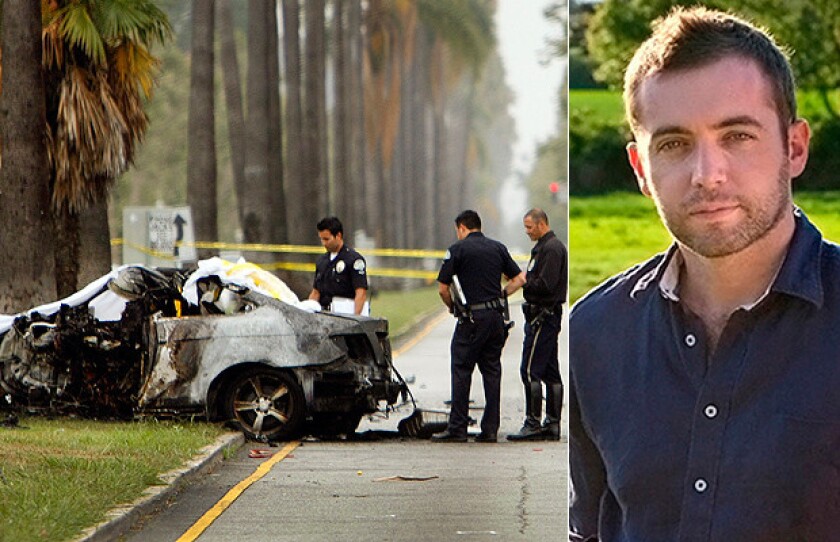 Journalist Michael Hastings, who was killed in a fiery single-vehicle crash in Los Angeles in June, may have suffered from post-traumatic stress disorder as the result of his work as a war journalist, according to a coroner's report released Tuesday.
Although there has been speculation and conspiracy theories about the cause of Hastings' crash, the autopsy report suggested that high speeds were to blame. He lost control of his vehicle and slammed head-on into a tree, dying within seconds of blunt-force trauma. His body was charred in the fire, but investigators said he probably lost consciousness immediately after crashing and that the burns occurred after he died.
Although drugs were found in his system, they weren't considered a factor.
DOCUMENT: Read the autopsy report
Toxicology reports found traces of amphetamine — an indicator of methamphetamine, and marijuana. His family told investigators he used medical marijuana, which was prescribed for treatment of PTSD, which resulted from assignments in Iraq and Afghanistan.
Hastings, according to the report, had struggled with substance abuse. His family said he had kicked an alcohol problem about 14 years earlier and had remained sober until about a month before the crash, when he had begun using drugs.
They believed he was using DMT, a hallucinogenic. One person told an investigator he wouldn't be surprised if cocaine was found in Hastings' system; it was not.
His family was about to stage an intervention to try to get the reporter into "detox" on the same day of the crash, coroner's officials said.
Hastings, according to the coroner's report, had previously been institutionalized for rehabilitative care in 1999. A witness told investigators that Hastings had been abusing Ritalin.
His family told detectives that Hastings had been in a past traffic incident in which he crashed into a pole several years ago, and that he may have been abusing Ritalin at the time.
Hastings was not known to be suicidal, but did consider himself "'invincible,' believing he could jump from a balcony and would be OK," according to the report.
Hours before the crash, Hastings had last been seen by a relative "passed out" sometime between 12:30 a.m. and 1 a.m. The crash occurred just before 5 a.m.
Hastings' widow, Elise Jordan, told CNN in an interview earlier this month that the crash was a "really tragic accident."
"You know, my gut here, was that it was just a really tragic accident, and I'm very unlucky, and the world was very unlucky," Jordan told CNN's Piers Morgan.
His death prompted numerous conspiracy theories, most suggesting that the famed journalist may have been killed while chasing his next big story.
The theories prompted the FBI to release a statement: "At no time was journalist Michael Hastings ever under investigation by the FBI."
Hastings' 2010 Rolling Stone profile of Gen. Stanley McChrystal, "The Runaway General," exposed the general and his staff's disdain for their superiors, ranging from National Security Advisor James L. Jones to Vice President Joe Biden and President Obama.
ALSO:
Pomona's wave of killing continues with deadly drive-by
Filner apparently still in harassment mediation, not at City Hall
Fatal limo fire brings company a $7,500 fine but no criminal charges
Twitter: @anblanx
richard.winton@latimes.com
andrew.blankstein@latimes.com
---
The perils of parenting through a pandemic
What's going on with school? What do kids need? Get 8 to 3, a newsletter dedicated to the questions that keep California families up at night.
You may occasionally receive promotional content from the Los Angeles Times.