Sex offender still at large following wild RV chase across L.A. and Kern counties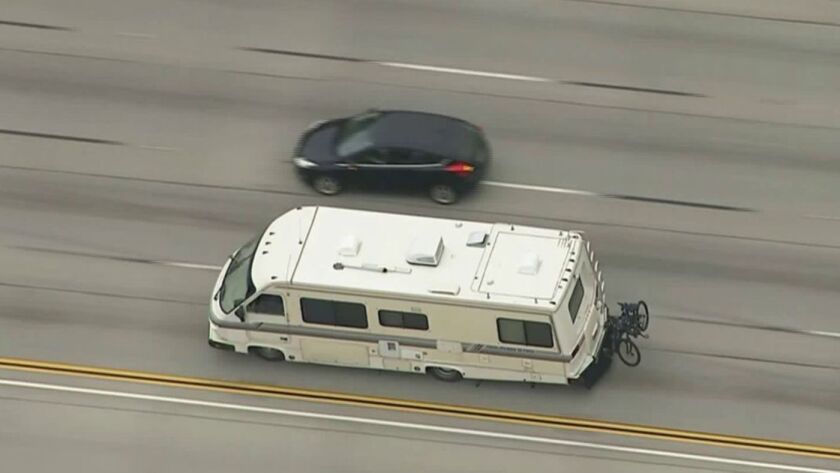 A manhunt is underway for a registered sex offender and parolee who led police on an hours-long car chase Tuesday in his motor home with two of his young children on board, authorities said.
Sheriff's officials said that Stephen Houk is considered armed and dangerous
Capt. Eddie Hernandez from the Los Angeles County Sheriff's Department's Major Crimes Bureau said law enforcement officials think Houk may be in Northern California.
"We have put out wanted posters with his name and picture on it," Hernandez said.
Houk's wife told officers that earlier Tuesday, he had pointed a revolver at her face, Hernandez said. Authorities said they could not find a weapon in the ditched motor home, leading them to think Houk might be carrying it.
Hernandez said that the wife, who has not been identified, is a victim of domestic abuse and that she told officers Houk had been physically violent with her and the children.
Houk has been on the run for almost two years and has been living in his motor home with his wife and two children as they left Oregon, Hernandez said
"They made their way from Oregon, through Arizona and had been hanging out in Malibu and the Calabasas area, camping the night before," he said.
Officials said that Houk is a wanted man in Oregon, where he is registered as a sex offender. In 2002, Houk was convicted of sodomy and sexual abuse, according to records from the Oregon Judicial Department. The 46-year-old is sought in Santa Clarita for assault with a deadly weapon, child abduction, terrorist threats and evading authorities.
Houk escaped from authorities on foot Tuesday after his motor home got stuck in an almond orchard in a rural area north of Bakersfield.
The chase began shortly before 3 p.m. near Hollywood Boulevard when Los Angeles police officers spotted the RV.
He then drove to the northbound 5 Freeway, heading through Santa Clarita, Castaic and Newhall for hours until reaching Kern County.
Once there, Houk led officers on a chase heading north on Highway 99 through Bakersfield, where he eventually ended up on a rural road in an almond orchard, said Officer Robert Rodriguez, a spokesman for the California Highway Patrol.
Large trees and thick brush obstructed officers' view of the vehicle.
"During the course of the pursuit, the suspect went through the orchard, and it created a lot of dust in the area," Rodriguez said. "It looked like he was going to try to drive in between the trees."
Houk continued driving through the orchard, but his motor home eventually got stuck in soggy ground.
With dust still swirling in the air, Houk got out of the RV, leaving his two children behind, and fled on foot.
Officers with the Kern County Sheriff's Office and three other agencies searched for Houk on the ground and from the air but were unable to find him.
It wasn't until after Houk disappeared that his 3-year-old son emerged from the vehicle.
Officers later inspected the motor home, where they found an 11-month old girl, Rodriguez said.
"The kids didn't seem visually hurt, but we did have them medically cleared and given back to the mom," Rodriguez said. "The little 3-year-old didn't know what was going on, and I'm glad it was that way because it was a horrible experience for them to go through."
Officers gave the children stickers and a stuffed animal, Rodriguez said.
Staff writers James Queally and Alene Tchekmedyian contributed to this report.
Follow me on Twitter @melissaetehad
---
UPDATES:
3 p.m.: This article was updated with additional comments and details from the Los Angeles County Sheriff's Department.
This article was originally published at 11:40 a.m.
---
Get breaking news, investigations, analysis and more signature journalism from the Los Angeles Times in your inbox.
You may occasionally receive promotional content from the Los Angeles Times.