'My God': New claims about O.J. Simpson and bloody glove trouble former district attorney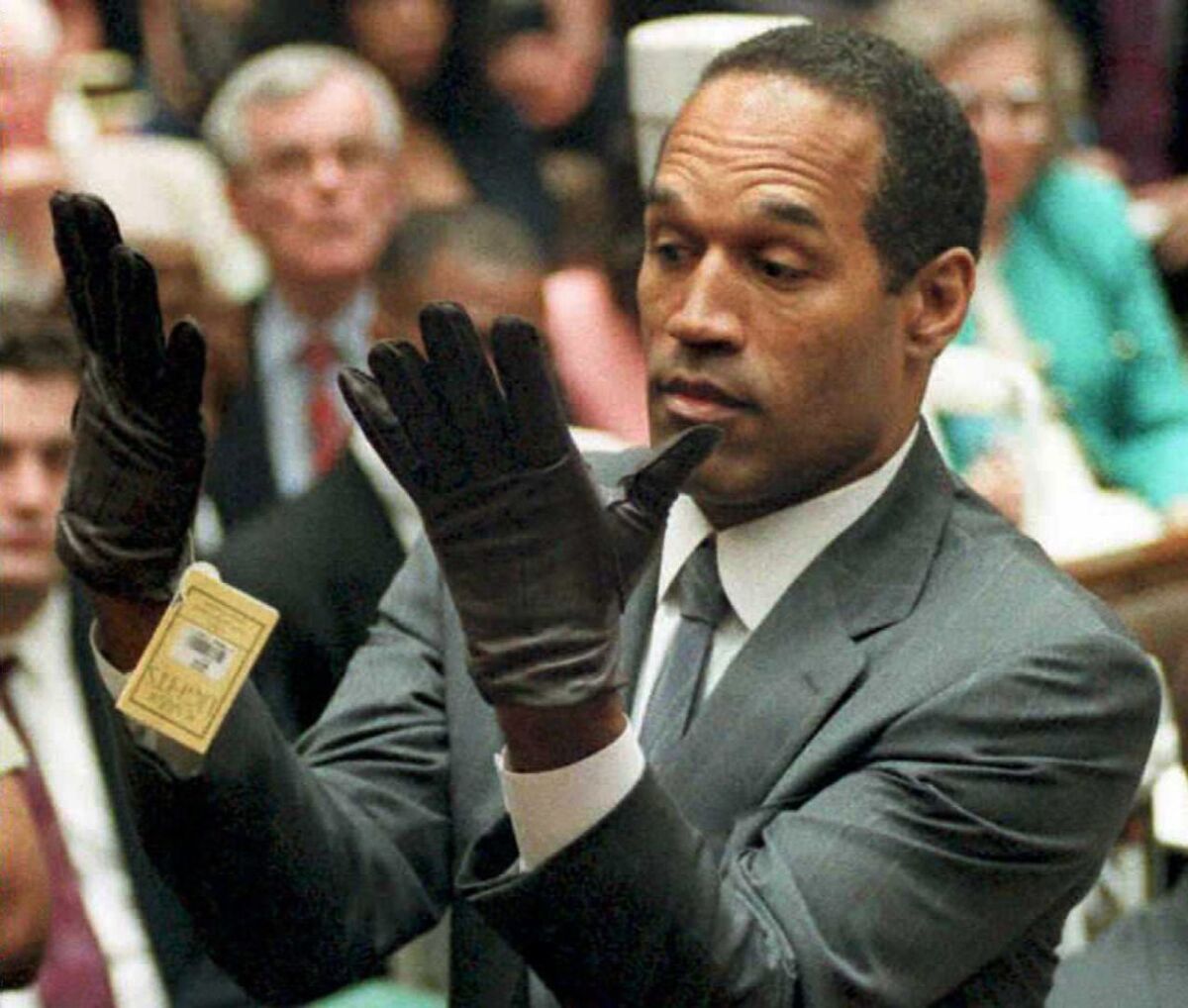 Los Angeles County's former district attorney said he was troubled to learn new details about an infamous bloody glove that played a key role in the murder trial of O.J. Simpson.
A pair of bloody gloves was key evidence in the deaths of Nicole Brown Simpson and Ron Goldman. One was found outside Brown Simpson's town house — the scene of the killings. The other was found at Simpson's home. DNA results showed genetic material consistent with both victims and Simpson.
But during the trial, the gloves fit Simpson awkwardly, leading to Johnnie Cochran's oft-quoted refrain: "If it doesn't fit, you must acquit."
Full Coverage: The O.J. Simpson case »
On Oct. 3, 1995, a jury declared Simpson not guilty.
Speaking Thursday on "Good Morning America," the district attorney at the time, Gil Garcetti, said he learned new details about the glove from an ESPN documentary about the case.
"What we didn't know until I saw it on this film was that O.J. Simpson was taking arthritic medication for his hands and he was told if you stop taking this arthritic medication, your hands will swell. Your joints will stiffen. My God," Garcetti told "GMA."
"Did it tick me off — and I would use a different word? Yes, it did," Garcetti added. "But I can't say it's really crossing the line."
The Simpson case has been back in the news recently because of several factors.
Los Angeles police are investigating and testing a knife that was reportedly recovered on property once owned by former football star O. J. Simpson.
A knife reportedly found Simpson's former home made headlines earlier this year, but the LAPD determined it was not connected to the 1994 slayings.
The Los Angeles Police Department performed a variety of forensic tests on the rusty 5-inch fixed-blade knife and compared it with the wounds inflicted on Brown Simpson and Goldman before ruling it out as the murder weapon, two sources familiar with the investigation said.
"That is not the knife," an LAPD source familiar with the investigation said. "There is no evidence related to the crime." The source said there was no blood on it.
ALSO
Why 'O.J.: Made in America' might be the first television show to win an Oscar
Prison officials post photo of a smiling O.J. Simpson
Robert Shapiro reveals what O.J. Simpson said after his court verdict was read
L.A. Stories: The city took a key role in the re-creation of the O.J. Simpson trial
---
The stories shaping California
Get up to speed with our Essential California newsletter, sent six days a week.
You may occasionally receive promotional content from the Los Angeles Times.