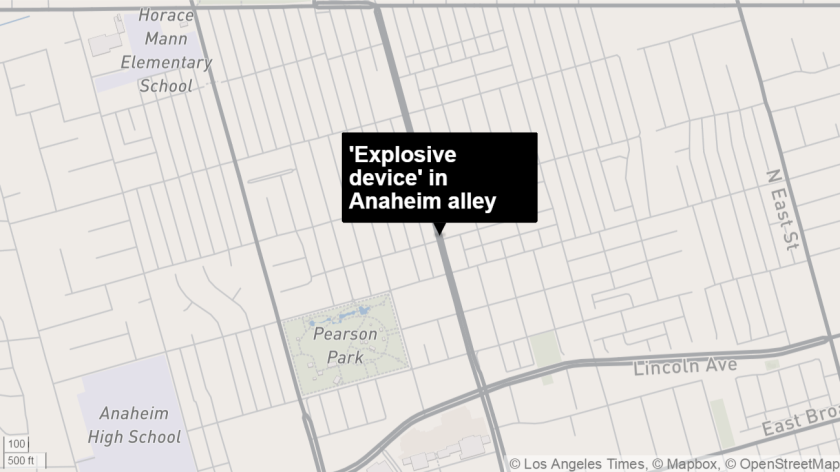 A pipe bomb detonated in an alley in Anaheim on Sunday, damaging the walls of a shuttered business, police said.
Police received a call shortly before 2 p.m. of an exploded transformer in the 600 block of North Anaheim Boulevard, near East Wilhelmina Street, Anaheim police Sgt. Daron Wyatt said.
Authorities instead found a small explosive device, described as a pipe bomb, that was located in an alley outside a closed business, Wyatt said. The explosion caused moderate damage to the exterior walls of the empty building.
No injuries were reported.
Area homes and businesses were briefly evacuated until the Orange County Sheriff's Department's bomb squad determined that the scene was safe.
The sheriff's bomb squad and Anaheim police are continuing to investigate the incident.
On Friday, Anaheim police responded to a bank robbery where the suspect left behind what was believed to be a pipe bomb.
The robbery occurred in the 900 block of South Brookhurst Street, about 4 miles from Sunday's explosion. Police and sheriff's bomb squad investigators later concluded that the purported pipe bomb was actually a "realistic hoax."
For breaking news in California, follow @MattHjourno.
---