Summer in February? L.A. heat records broken for 2nd straight day
USC students Pat Corcoran and Alexandra Plzak enjoy the warm weather on campus Tuesday as temperatures reached a record 87 degrees in downtown Los Angeles.
(Francine Orr / Los Angeles Times)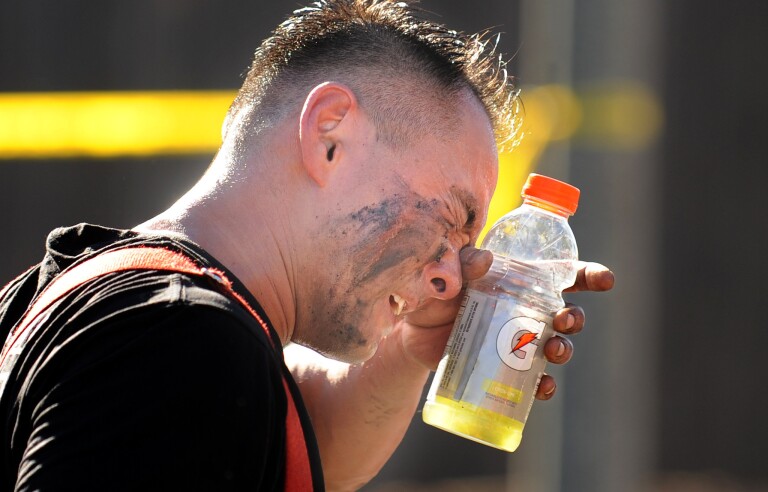 Los Angeles City firefighter Harold Kim cools down after battling a house fire in 90-degree heat Tuesday.
(Wally Skalij / Los Angeles Times)
Blakey Olsen of Laguna Beach practices yoga in front of the Broad Contemporary Art Museum as temperatures set a record at 87 degrees in downtown L.A. on Tuesday.
(Allen J. Schaben / Los Angeles Times)
A man carries a surfboard at sunset at El Porto beach on Monday in Manhattan Beach.
(Patrick T. Fallon / For The Times)
Basilios Papaioannou of West Hollywood builds a drip castle in the sand at Venice Beach.
(Katie Falkenberg / Los Angeles Times)
People play football and climb on the rock jetty at Venice Beach.
(Katie Falkenberg / Los Angeles Times)
Boys play in the ocean at Venice Beach.
(Katie Falkenberg / Los Angeles Times)
Ariel Rhone uses an umbrella for shade near the Venice boardwalk on Monday.
(Katie Falkenberg / Los Angeles Times)
Venetia Taylor of New York enjoys the afternoon reading a book at the Ace Hotel rooftop pool on Broadway Street in Los Angeles
(Barbara Davidson / Los Angeles Times)
Dan Charcoal, who is vacationing in Southern California from Maui, golfs on Zuma Beach during a hot winter day Monday.
(Wally Skalij / Los Angeles Times)
Dilip Ray performs jumping jacks during his daily workout at Warner Park in Woodland Hills. Warm temperatures and high winds are expected today.
(Mel Melcon / Los Angeles Times)
Holly Di Renzo gives her daughter Bella, 4, left, and son Dante, 3, a push, as they ride on the swings at Lost Canyon Park in Simi Valley.
(Mel Melcon / Los Angeles Times)
Feet dangle from a lifeguard tower along PCH in Malibu during a hot winter day Monday.
(Wally Skalij / Los Angeles Times)
On a warm, windy afternoon a woman heads to her car after shopping at the 99 Cents store in Simi Valley.
(Mel Melcon / Los Angeles Times)
Cedric Laheurte places an Oscars "floaty" in the swimming pool as warm weather is in store for the annual Oscars nominee luncheon today at the Beverly Hilton Hotel.
(Al Seib / Los Angeles Times)
Strong winds and high temperatures have fire crews on alert. Above, David Castro works at Warner Park in Woodland Hills on Monday.
(Mel Melcon / Los Angeles Times)
In case there were any doubts that the month of February was shaping up to be a hot one, forecasters said Los Angeles shattered heat records for a second consecutive day Tuesday.
Temperatures at Los Angeles International Airport peaked at 87 degrees Tuesday, beating a previous record of 85 degrees set in 2006, according to Stuart Seto, a weather specialist for the National Weather Service in Oxnard.
"We may get some records tomorrow too," Seto said.
See more of our top stories on Facebook >>
The heat spell has triggered more than 100 air-conditioning-related service calls throughout the Los Angeles Unified School District, according to officails, and prompted the city's Department of Animal Services to issue an alert to pet owners.
On Monday, the mercury at LAX climbed to 89 degrees, beating another 2006 record of 87 degrees, the weather service said.
The warming is expected to ease into the weekend, but unseasonably warm conditions will still persist through Sunday's L.A. Marathon. The daily high temperature is expected to fall to 78 degrees by Saturday in downtown L.A., Seto said.
The heat comes courtesy of a high-pressure ridge over the West Coast. In addition to bringing offshore winds, the ridge is pushing rain to the East Coast, according to Seto.
L.A. Marathon organizers and runners may have been expecting cooler temperatures this year, as the event is usually held in spring, not winter.
Last year, the marathon was held March 15, and noontime temperatures soared to 90 degrees at the beach, near the finish line. At least 36 runners were taken to the hospital amid the record-setting heat.
In effort to beat the heat last year, runners stuffed ice cubes under their hats and down their shirts and shorts. Some took breaks and boarded air-conditioned buses that sat idling along the course.
FULL COVERAGE: El Niño in California >>
The recent hot, dry weather has come as a bit of a blow to many Southern Californians who were hoping that record El Niño warming in the Pacific would deliver drenching rain.
This El Niño is not typical of past events, Seto said. El Niño-related rainstorms have been mostly skipping Southern California, instead dumping rain and snow over Northern California, he said.
"This one has got a character all unto itself," Seto said.
On Monday, the LAUSD received 117 heat-related service calls from schools. However, the heat wave hasn't had as strong an effect as a fall heat wave that triggered 463 complaints in one September day about problems with air conditioning.
The district has committed hundreds of millions of dollars to repair and replace air conditioning systems in schools, and the school board is scheduled to vote Tuesday on whether to spend $37.9 million on heating, ventilation and air conditioning systems at seven schools, according to officials.
Also on Tuesday, Los Angeles Animal Services issued an alert for a February heat wave and advised pet owners to keep dogs and cats protected from the heat.
Too much heat is dangerous to animals and can be fatal, animal services said. Breeds with shorter noses, such as Persian cats and bulldogs, are more susceptible to heatstroke than breeds with longer noses.
Signs of heatstroke include rapid, noisy breathing and trouble swallowing, the department said. To avoid illness, animal services said, pet owners should leave "plenty of fresh water to drink."
It is dangerous to leave a dog or cat in a car for even five minutes, animal services said. Car interiors heat quickly in the sun, even with the windows open.
"If it is 85 degrees outside, it will climb to 102 degrees inside your car within 10 minutes," animal services said in a statement. "In half an hour, it will reach 120 degrees or more. If it is 90 degrees out, temperatures can top 160 degrees faster than you can walk around the block."
Times staff writer Sonali Kohli contributed to this report.
For breaking news in California, follow @VeronicaRochaLA
ALSO
Winter heat wave sets new records in California; hotter conditions expected Tuesday
Three years later, supervisors may revisit plan to raise funds for stormwater projects
---
The stories shaping California
Get up to speed with our Essential California newsletter, sent six days a week.
You may occasionally receive promotional content from the Los Angeles Times.