San Francisco man was hanged, drugged, put in suitcase and dumped in the bay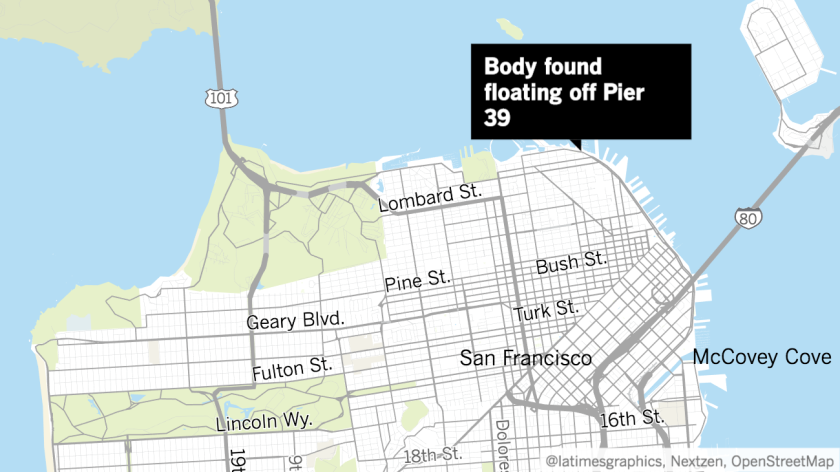 A 47-year-old San Francisco man has been charged with torturing and murdering a 23-year-old before putting the dead man's body into a suitcase and tossing it into the San Francisco Bay this month, authorities said.
Gerald William Rowe was arrested last week after the body, later identified as San Francisco resident George Randall Saldivar, was found floating in the bay near Pier 39 on Feb. 18, according to court records.
San Francisco Police Department homicide inspectors received information that led them to a room at a hotel on Market Street that was registered to Rowe, according to court records.
Police recovered video from the room that shows Rowe, Saldivar and another person referred to by prosecutors as an "unnamed co-conspirator" engaged in "consensual sexual activity" around Feb. 3, according to a motion filed Monday by the San Francisco district attorney's office.
The video shows Saldivar sitting in a chair as the unnamed third person ties his hands behind his back. Rowe and the third person then make a noose and put it over Saldivar's neck, according to a description of the video in court records.
The rope is elevated, and Rowe and the third person pull on it before placing a bag over Saldivar's head, according to court records. The third person uses a syringe to inject Saldivar with a drug, possibly fentanyl, according to the description. Saldivar then appears to collapse.
Rowe and the third person place Saldivar on a bed and slap the victim before stuffing Saldivar into a suitcase and sealing it with plastic, according to court records. The video then shows Rowe eating junk food and playing a guitar over the suitcase before pushing the suitcase into the corner of the room, where it sits for a day.
On Feb. 5 about 2:30 a.m., Rowe and the third person roll the suitcase containing Saldivar's body out of the room and down Market Street.
The body was discovered 13 days later.
Besides murder, Rowe has also been charged with conspiracy, torture, kidnapping, battery with serious bodily injury, false imprisonment, possession of a firearm by a felon and drug offenses, according to court records.
Rowe is set to be arraigned Wednesday, according to the district attorney's office.
The San Francisco medical examiner's office has not yet determined the cause of death for Saldivar.
---
The stories shaping California
Get up to speed with our Essential California newsletter, sent six days a week.
You may occasionally receive promotional content from the Los Angeles Times.