Kern County man swept away in river of mud during storm is still missing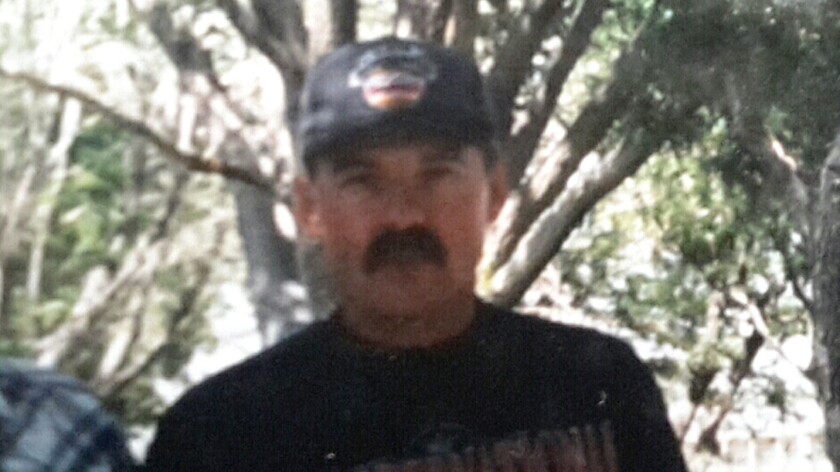 Crews searched Monday for a 67-year-old man who was swept away by a river of mud, sand and water near Rosamond when a storm inundated parts of northern Los Angeles County and eastern Kern County, swallowing hundreds of vehicles.
Richard Harvell and a friend were having a meal inside a mobile home on a mountain near 150th Street and Highgate Avenue about 10:45 p.m. Thursday when rain started falling quickly, his niece Sharon Brewer said. He noticed small rocks were rolling down the hillside.
Harvell went outside to move his truck before it was swept away when a 3-foot-wide rock went barreling down the mountain and struck his leg. As Harvell tumbled over, a wall of mud came rushing down and swallowed him. Harvell's friend searched the area, but couldn't find him, Brewer said.
There was no way he could have helped him because the mud was coming down so fast.
Sharon Brewer, Richard Harvell's niece
"There was no way he could have helped him because the mud was coming down so fast," she said.
Harvell, a Boron resident, has not been seen since Thursday's thunderstorms.
Aided by an L.A. County sheriff's helicopter, members of the Kern County Sheriff's Office Desert Search and Rescue team scoured the area but did not find Harvell, said sheriff's spokesman Ray Pruitt. Harvell's truck was found near where he was last seen.
Interested in the stories shaping California? Sign up for the free Essential California newsletter >>
The search is centered in an area about 100 yards wide and a half-mile long covered in 4 to 6 feet of mud and water.
Harvell's family also let his dog loose, hoping the animal would be able to locate him. But the dog sat near the mobile home for three days. Brewer said it was clear the dog didn't know where to start.
Harvell, the youngest of 15 children, has always preferred the wilderness, she said. He spent four to five days a week at his mobile home, where he worked building fences and on other construction projects.
"He enjoys the mountains," she said.
Although the chances Harvell could be alive are dwindling as the days pass, his friends and family remain optimistic.
"There is always hope because he is a very strong person," Brewer said. "He is a survivalist."
Anyone with details about Harvell's whereabouts is asked to call the Kern County Sheriff's Office at (661) 861-3110.
For breaking news in California, follow VeronicaRochaLA.
ALSO
Cleanup of mudslide-stricken Highway 58 continues
Remaining cars cleared from Highway 58 after massive mud flow
L.A. County deputy accidentally shoots co-worker during camping trip
---
The stories shaping California
Get up to speed with our Essential California newsletter, sent six days a week.
You may occasionally receive promotional content from the Los Angeles Times.