5 shootings, 3 injured, 1 dead: Couple charged in rampage across southeast L.A. County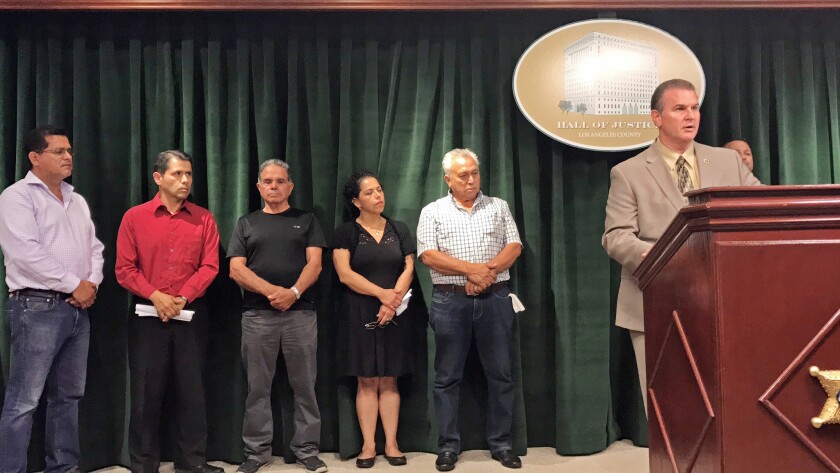 A young couple was charged Thursday with carrying out a string of violent crimes last weekend, shooting other drivers and pedestrians in a three-hour span across southeast Los Angeles County.
Their targets were random: people walking in Whittier or waiting at a stoplight in La Mirada.
By the end, one man lay dead and three others were wounded.
On Thursday, Los Angeles County prosecutors filed one murder charge and 14 counts of attempted murder against Alejandro Lazo, 21, and Reyna Gomez, 27. Both were being held in county jail on $16-million bond and, if convicted, face up to life in prison.
"These are senseless acts of violence — acts committed on innocent people that were merely enjoying the day, running errands in what they believed was a safe area," L.A. County Sheriff's Department Capt. Christopher Bergner said at a news conference.
The rampage began about 1 p.m. Saturday, authorities said, when Gomez and Lazo were riding in a white Kia Rio and shot a pedestrian near Carmenita Road and Trumball Street south of Whittier.
More than an hour later, sheriff's officials say the pair held a man at gunpoint in Pico Rivera and stole his green Nissan Pathfinder.
By 3:30 p.m., the pair were riding in the Pathfinder and shot at a man who was walking along Whittier Boulevard in Whittier, sheriff's officials said. He was wounded in the groin and expected to survive.
Minutes later, the pair shot at two motorists who had stopped at a traffic light near Colima and Lambert roads in Whittier, sheriff's officials said. Neither person was hit.
The fourth shooting occurred about 4 p.m., when a man was shot in the arm while in a vehicle at Imperial Highway and La Mirada Boulevard.
Minutes later, authorities said, the pair fired multiple gunshots at 44-year-old Jose Ricardo Sahagun, who was sitting in his car at a traffic light in La Mirada. Others in the area were also shot at, but only Sahagun was hit, and he was later pronounced dead at the scene.
Authorities say Lazo drove the Pathfinder and Gomez sat in the front passenger seat, and the duo passed the handgun between them and took turns firing.
On Saturday night, sheriff's deputies found the stolen Pathfinder at Amelia Mayberry Park in the Whittier area, but the two suspects had fled.
Hours later, Whittier police received word that two people had suffered gunshot wounds to the torso at a hotel in Santa Fe Springs. The two people turned out to be Gomez and Lazo. Both were taken to the hospital and later arrested on suspicion of murder.
Gomez and Lazo remain hospitalized and are expected to appear in court for arraignment this year, prosecutors said.
Twitter: @MattHjourno
ALSO
San Diego woman gets 3 years in prison for hiding immigrants in her home
Romance novel cover model wanted in Connecticut robberies is arrested in San Diego
An attorney for San Bernardino terrorism victims is taking on social media apps for harboring extremists. Does he stand a chance?
---
For reporting and exclusive analysis from bureau chief John Myers, get our California Politics newsletter.
You may occasionally receive promotional content from the Los Angeles Times.