Simi Valley police say the man who stabbed a worshiper near a mosque is still on the loose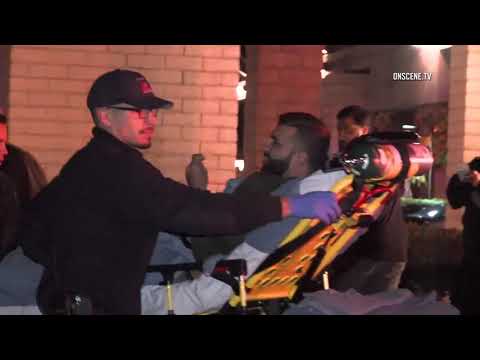 A man was arrested Saturday after a stabbing in Simi Valley.
Authorities believe the man responsible for stabbing a worshiper near a Simi Valley mosque over the weekend is still at large, leaving faith leaders shaken that a violent person with a hatred for Muslims remains a threat to their community.
Police arrested one man, 29-year-old Simi Valley resident John Henry Matteson, in connection with the attack on a group of people leaving the mosque on Erringer Road on Saturday night. However, investigators believe he was involved in the fight but did not commit the stabbing, according to Simi Valley Police Sgt. Travis Coffey, an agency spokesman.
Matteson and another unidentified man approached a group of worshipers who had just left the Islamic Center of Simi Valley at about 11 p.m. Saturday and began yelling slurs, Coffey said. The confrontation quickly escalated to a physical fight, and the unidentified man stabbed one of the mosque attendees, Coffey said.
Matteson has been booked on suspicion of committing a hate crime, making criminal threats and fighting in public, online jail records show. He was injured during the confrontation, according to a statement issued by Simi Valley Police.
The stabbing victim was treated for a non-life-threatening injury at Simi Valley Hospital. Coffey said the weapon used was not recovered but was likely a knife. He declined to identify the victim, citing the ongoing investigation.
Coffey said police do not believe the suspects planned the attack, and said the slurs hurled during the clash were racial in nature, rather than religious.
"Our belief is they hadn't staked out the mosque at this point," he said. "It appears to be an opportunity crime."
Hussam Ayloush, executive director of the Council on American-Islamic Relations in Los Angeles, said a witness told CAIR officials that the fight began after Matteson approached the worshipers and asked to use a restroom inside their prayer center, which is an offshoot of a nearby mosque on Erringer Road. The group told him the center was closed for the night, Ayloush said.
"He didn't like that. He left, apparently unhappy," and returned soon with the other man, Ayloush said. "They both started using racial slurs."
One of the men threw a beer bottle at the group, which had just left an event that featured a prayer and lecture. The stabbing occurred a short time later.
Ayloush described the stabbing victim as a 30-year-old father of two who lives in Simi Valley. The man was in stable condition, but Ayloush did not know if he had been released from the hospital.
The doors to the Islamic Center of Simi Valley, which is adjacent to the parking lot where police say the stabbing took place, were shuttered Monday morning.
A sign announcing a 1 p.m. prayer service was placed inside the door, but no one was present at the center in the early afternoon. The doors to a larger mosque just blocks away were also bolted shut. Ayloush said faith leaders in Simi Valley have told him they do not plan to make public comments about the attack.
Ayloush said the incident, which comes just weeks after handwritten letters calling for a "genocide" against Muslims were mailed to mosques throughout the state, has sowed fear among Muslims across California.
"We're not dealing with someone who only possesses bigoted views, but this is someone who has acted on them, someone who is actually violent," he said. "You can only imagine the impact of such incidents on how members of the Muslim community, especially those who were the initial target, feel today. They're wondering whether it's safe for them to go about their normal lives."
The second suspect in the Saturday night stabbing was described as a white or Hispanic male who is 5 feet 6 inches to 5 feet 10 inches tall and weighs 170 to 200 pounds, Coffey said. He was last seen wearing a dark hoodie.
Simi Valley police said they have not noticed the type of uptick in hate crimes or incidents in the wake of Donald Trump's presidential election that has been reported in other jurisdictions. Coffey said the last report to the department was in June, when a white person yelled racial slurs at a group of black men and women during a road rage incident.
A person who answered the door at the Matteson home less than a mile from the crime scene declined to be interviewed from behind a door that obscured his face.
"Unless you have money, I'm not talking to you," the man said before closing and locking the door.
A car with a "Coexist" bumper sticker, which features symbols associated with multiple religions, was parked in the driveway.
Neighbor Veronica Sandoval confirmed Matteson lived at the address after looking at his booking photo. Sandoval, 21, said police have been called to the home several times to break up verbal altercations between Matteson and his father.
"He's always in trouble," she said of the younger Matteson.
His father would often apologize to neighbors who overheard the ferocious arguments, she said.
Sandoval said the news of the stabbing in her community was horrible but not surprising. She said the recent election cycle had made her aware of what she described as prevalent racist attitudes in the area.
"Every time I talk to my work friends, they make racist comments," said Sandoval, who is Mexican and has lived in the area for six years.
Recently, she said, she has felt that the community's attitude has turned anti-immigrant with many locals proudly championing Trump's signature proposal to build a wall along the Mexican border.
"It's horrible," she said of the stabbing. "It's safe, but still ... you have to watch yourself."
The stabbing comes amid a national surge in anti-Muslim crimes, which jumped 67% in 2015, according to FBI statistics. Researchers at Cal State San Bernardino have said the rise in anti-Muslim crimes accelerated after the San Bernardino terror attack in December 2015 and was fanned by the call Trump made in his campaign to bar Muslims from entering the U.S.
Simi Valley Mayor Bob Huber denounced the attack and promised to ask prosecutors to mete out harsh sentences against anyone involved in the stabbing.
"I just get really angry when I see this type of conduct," he told The Times. "We're not going to tolerate it."
Huber said the Muslim community has been involved in multiple interfaith events in Simi Valley, including a multidenominational Thanksgiving celebration that had attendees from local mosques, Jewish temples, and Episcopal and Methodist churches in the area.
Ayloush, who was in Simi Valley for an event on Saturday morning but had left by the time of the attack, echoed that sentiment.
"It's a very engaged community," he said. "There hasn't been any history of friction or racism that is unusual in that area."
For more breaking crime and cops news in Southern California, follow me on Twitter: @JamesQueallyLAT
ALSO
HGTV's 'Flip or Flop' hosts separate after police incident
Lanes reopen after fatal crash on 101 Freeway in North Hollywood
Former JetBlue flight attendant to plead guilty to smuggling cocaine at LAX
---
UPDATES:
5:30 p.m.: This article has been updated with comments from Simi Valley Mayor Bob Huber and Hussam Ayloush, the executive director of CAIR-LA.
This article was originally published at 12:15 p.m.
Sign up for Essential California for news, features and recommendations from the L.A. Times and beyond in your inbox six days a week.
You may occasionally receive promotional content from the Los Angeles Times.