Slain 8-year-old's father: 'This is a very emotional time'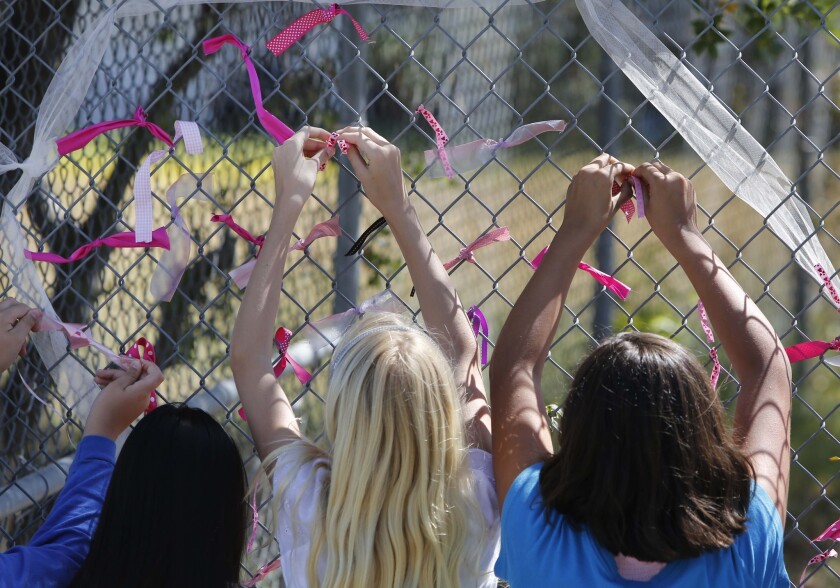 The father of an 8-year-old girl fatally stabbed in her Northern California home tied purple ribbons on posts late Monday to remember his daughter.
"That was her favorite color," Barney Fowler said.
He declined to discuss details of the case, telling the Los Angeles Times: "This is a very emotional time for us right now."
Leila Fowler's slaying has stunned Valley Springs, a small Sierra foothill town about an hour southeast of Sacramento. Authorities have scoured the rural community, interviewed sex offenders and parolees, and fast-tracked evidence, hoping to track down the girl's killer.
Leila and her 12-year-old brother were at home Saturday when her brother heard an intruder, Calaveras County sheriff's Capt. Jim Macedo said. The boy told investigators he briefly followed a man, who fled on foot, before discovering his sister with what Macedo described as "severe injuries."
The brother called their parents, who Macedo said were at a "public event" nearby, and then called 911. The parents also called 911.
Leila was rushed to a hospital, where Calaveras County Coroner Kevin Raggio said she was pronounced dead. An autopsy showed the girl died of shock and hemorrhaging as a result of multiple stab wounds, Raggio said.
Although Macedo said authorities are "continuing to investigate all leads," Sheriff Gary Kuntz told the Modesto Bee they believe the slaying didn't start as a robbery or other crime, but that the intruder's intent was to attack the girl.
Investigators are racing to analyze evidence recovered from her home, including fingerprints and possible DNA, Macedo said. He told reporters Monday night that the California attorney general's office and state Department of Justice pledged they would "not only expedite this case, but this case would be the priority case that they were working on in the state of California."
Macedo said investigators had interviewed registered sex offenders and parolees in the area, some of whom have been photographed and had their homes searched. "They have not been ruled out," he said.
"We wanted to know what their whereabouts were and to see if there was anything that was on their person or in their home that would have tied back to this case," he said. "We also spoke to them hoping that somebody in this community -- including those folks -- could provide us with some information that may have led to further information in this case."
Leila's brother was able to provide a description of the suspect that was similar to what a neighbor saw, Macedo said. A third description came from a resident who "had seen someone in the area a few days prior," Macedo said.
But Macedo said there were "some inconsistencies" among the three descriptions, which is why investigators are sticking to few details. The man is described as muscular, about 6 feet tall, wearing a black, long-sleeved shirt and blue pants.
The attack has left many residents on edge and prompted intensified patrols from the sheriff's department, including extra personnel at Jenny Lind Elementary, Leila's school, and area bus stops.
"We are trying to figure out who would do such a horrible thing," resident Keith Ashlock said during his lunch break Monday. "Things like that just don't happen here."
With no arrests made, he added, "everybody is looking at everybody else and wondering whether they know something."
On Monday, Kuntz said the extra patrols would continue until "they are no longer needed."
"We will not rest until we capture the responsible person," the sheriff said.
Anyone with information about the case is asked to call investigators at (209) 754-6030.
ALSO:
Police search homes of sex offenders in hunt for girl's killer
Investigators scour Santa Monica Mountains plane crash site
Public vies for seats in Michael Jackson-AEG wrongful death trial
---
Life is stressful. Our weekly mental wellness newsletter can help.
You may occasionally receive promotional content from the Los Angeles Times.